Chinese technology company Chasing-Innovation has announced an addition to its range of underwater drones. Introducing Dory, the smaller sibling to the already highly popular Gladius Mini model.
While the portable size and easy operation are aimed to please industrial users, such as technicians inspecting the hull integrity of ships and scientists conducting marine research, the newer, more accessible drone will no doubt catch the attention of photographers and videographers.
Chasing Dory comes equipped with a Full HD (1080p) video camera, bright f/1.6 lens and powerful LED headlights - critical features for capturing high quality images whilst working in common low-light underwater conditions.
Read more: The 10 best camera drones:
The Dual LEDs are front-mounted and positioned each side of the camera for bright, even lighting. The drone can achieve a maximum dive depth of 15 meters, yet impressively it is still controllable with a dedicated smartphone app. This is possible through the use of a floating signal buoy, which received wireless signals from the smartphone and transmits instructions to the drone via a bundles 15m signal cable. The buoy itself stores photo and video files and is fitted with a GPS, so each image can be tagged with the drone's location. It can also be used as an alarm for finding the drone, should the photographer lose visual contact with the setup.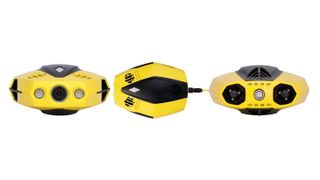 The app includes live view functionality, enabling the user to see the images being received by Dory's camera in real time. It is available for both iOS and Android and is handily equipped with 19 pre-installed image effect filters.
In terms of controllability, Chasing Dory is fitted with 5 propellers for dynamic positioning in the water, two for forward/backward movements and sideways steering, while the remaining three alter depth and dive angle. A special feature, which will be highly useful for imaging purposes, is a pitch angle lock, allowing the drone to be angled at +/- 45°. Meanwhile the depth lock enables vertical movement in the water to be stabilized at the current depth.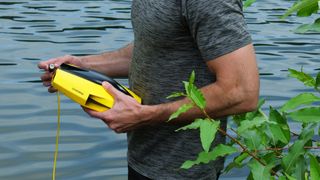 With a lightweight 1.3kg design, one hour battery life, fast two hour battery charging and advanced imaging and maneuverability features, the Chasing Dory drone will no doubt garner as much of a devout following as it's larger brother. With a manageable $499 price point, Dory has the potential to unlock professional underwater photography to a wider audience.
Pre order Chasing Dory at Adorama
Read more:
Leaked video of DJI Mavic Mini shows a potentially revolutionary camera drone
microSD card deals: best buys on memory cards for smartphones, drones & action cameras
Best drone accessories: essentials for your DJI drone and other quadcopters