Amazon's Spring Sale (opens in new tab) continues with some great savings across the whole cyber store. Our pick of the bargains today is this waterproof camera (opens in new tab)... which at £159 looks like a bit of a bargain. What's more this price is available from Amazon UK on both the black (opens in new tab) and orange (opens in new tab) versions of this camera. (Check below for some other deals).
• Amazon Prime Day 2019: (opens in new tab)what we know (opens in new tab)
The Ricoh WG-50 is perfect for snorkelling or pool parties. It is waterproof to a depth of 14m - and can stay at that depth for up to two hours – so is even suitable for scuba divers.
The camera is also shockproof, and apparently can be dropped from a height of 1.6m and still keep on shooting. Equally impressive, the WG-50 can stand a 100kg weight on top of it without cracking under the pressure.
The compact camera has a 16 megapixel sensor, and a built-in 5x zoom lens. A digital zoom lens can also be engaged - to give you a focal length that is equivalent to over 1000mm.
The lens is that it can focus down to just 1mm in its microscope mode – although resolution is then restricted to 2MP. And don't worry about the camera casting a dark shadow over your miniature subject when you are so close – six little LED lamps shine a light to keep your images evenly illuminated. These lights can also work as an impromptu torch – helping define this as the Swiss Army knife of cameras.
There is also a Handheld Night Snap mode, which automatically captures several images of the same lowlight scene to produce a single, blur-free composite image. This is in addition to the camera's normal Pixel Track shake reduction system.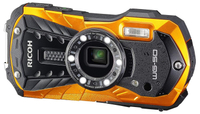 (opens in new tab)
Ricoh WG-50 in Orange £159 (opens in new tab)
16 megapixel underwater compact has a 16MP sensor and a five times zoom - but can be taken down to depths of 14m under the surf. This ruggedised zoom compact is a perfect companion for beach holidays or for the adrenaline junkie
Offer ends: unknown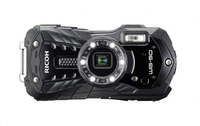 (opens in new tab)
Ricoh WG-50 in Black £159 (opens in new tab)
16 megapixel underwater compact has a 16MP sensor and a five times zoom - but can be taken down to depths of 14m under the surf. This ruggedised zoom compact is a perfect companion for beach holidays or for the adrenaline junkie
Offer ends: unknown
Resolution: 16MP
Sensor size: 1/2.3in CMOS
Movie resolution: Full HD at 30fps, Standard HD at 30 or 60fps
Lens: 5-25mm f/3.5-5.5 (equivalent to 28-140mm)
ISO range: 125-6400 (auto and manual)
Shutter speeds: 1/4-1/4000sec
LCD screen: 2.7in 230k dots
Memory: SDXC card slot
Dimensions: 61.5x122.5x29.6mm
Weight: 193g (with battery and card)

21% off Canon EOS M100 with EF-M 15-45 mm lens - Black was £328, now £259 (opens in new tab)
21% off Canon SELPHY CP1300 Photo Printer with FOC 36 Papers, Black was £119, now £85 (opens in new tab)
22% off Seagate 8TB Expansion Amazon Special Edition USB 3.0 Desktop External Hard Drive - was £180, now £140 (opens in new tab) until midnight April 10 (GMT)
25% off Microsoft Arc Bluetooth Mouse - was £54, now £40.50 (opens in new tab) until midnight April 10 (GMT)
26% off Samsung MZ-76E2T0B/EU 2 TB Solid State Drive - was £277.16, now £204 (opens in new tab)
38% off Echo Dot (3rd Gen) - was £64.98, now £40 (opens in new tab)
34% off Pentax Papilio II 8.5 x 21 Close Focus Binoculars - was £134, now £89 (opens in new tab)
26% off Seek Thermal Compact LW-EAA Thermal Imaging Camera for Apple iOS - was £254, now £187.91 (opens in new tab)
20% off Ring Floodlight Camera - was £249, now £199 (opens in new tab)
25% off 25 off Ring Stick Up Wired HD Security Camera - was £179, now £139 (opens in new tab)
22% off Ring Video Doorbell 2 - was £179, now £139 (opens in new tab)
Read more
The 10 best waterproof and underwater cameras in 2019 (opens in new tab)
What's the difference between weatherproof and waterproof cameras? (opens in new tab)