Two rare portraits of David Bowie are going up for sale at Bonham's auction house, New York. The photos were taken by the late fashion photographer Brian Duffy who worked closely with Bowie for many years and died in 2010 at the age of 77.
The album cover of Aladdin Sane which features Bowie as his alias Ziggy Stardust is one of two lots going up for auction. Taken in 1973, the look has become iconic and the album legendary. It was the first time Bowie and Duffy had worked together but they developed an instant rapport and worked on several projects together.
It was in fact Duffy who helped Bowie shape his on-stage personas, including the red and blue lightning bolt make up which is now a symbol of pop culture. Not only did Duffy come up with the idea but he executed it too, drawing on Bowie's face using lipstick. The album artwork for Aladdin Sane features one of the photos from their earliest shoot together and now the contact sheet is estimated to sell for anywhere between $20,000 and $30,000 (or roughly £15,437-£23,000).
The album featured some of Bowie's best-known songs including Panic in Detroit and Drive in Saturday. It reached No.1 in the UK album chart and went on to sell over 300,000 copies, giving it platinum certification.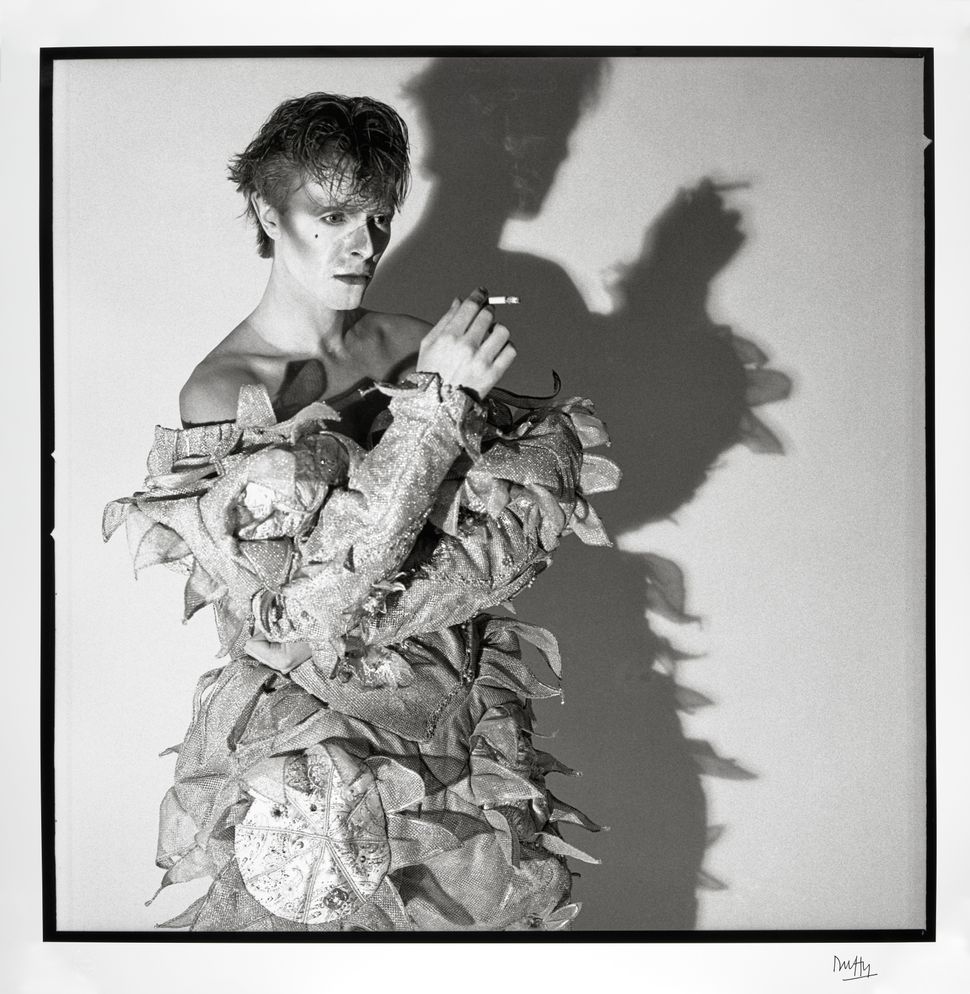 Often thought of as one of Bowie's most important projects, Scary Monsters (and Super Creeps) was Bowie's last album with the label RCA Records. It received worldwide critical acclaim and was a much-needed commercial success for Bowie, reaching 1 and 2 in the UK and US album charts.
Despite having retired from photography, Duffy was on hand to lend his creative advice and photographic skills for the final time. Lured back into the studio by Bowie himself, Duffy shot the flamboyant singer wearing an avant-garde Natasha Korniloff outfit with make-up by Richard Sharah. The stunning portrait of Bowie might not be up for as much as the Ziggy Stardust piece, but a sale price of $7,000-$9,000 (£5,374-£6,910) is a pretty penny for a single portrait.
The late singer and photographer have both left a legacy behind in the form of music, lyrics and photos but combined their talents certainly elevated each other. If you'd like to be in with a chance of owning either portrait, head to Bonham's website to find out more information on how to bid.
Read more:
• Uncensored photo book challenges Instagram's approach to nudity
• Best camera for portraits
• Best lens for portraits