Arguably the Rolls Royce of photography gear, Billingham is celebrating its 50th birthday this year.
If you've been in photography for a while or are just starting out, the best camera bags can certainly take the strain off your neck and shoulders if you're lugging around camera gear all day – but there are camera bags and then there are camera bags.
No matter your skill level or experience, we bet you've heard of Billingham and seen them used by some of the most iconic photographers, including the likes of Lord Lichfield and David Bailey.
Now a renowned camera bag manufacturer, Billingham had very humble beginnings as a country wear brand in the lifestyle market. Here is the story the legendary brand…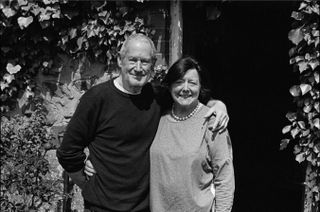 Billingham was born 50 years ago this year and has become an iconic name in photography. The story started in 1973 when newly married young couple, Ros and Martin Billingham, started a business making fishing bags to help make ends meet.
The British company had a very lucky start as Lord Lichfield, world-famous photographer and cousin of The Queen, stopped by to see Martin and Ros and was so impressed that he returned later with photography legends Terence Donovan and David Bailey.
Donovan challenged Lichfield that if he could do a certain number of press-ups, he would buy Lichfield a System 1 bag (known as the 550 today). Lichfield won the bet, Donovan duly bought the bag and handed it over to his lordship.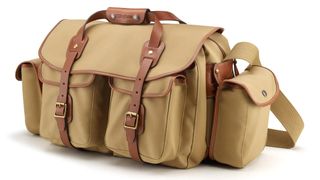 Today, Billingham remains a quintessentially British company and manufactures in Cradley Heath, in the West Midlands. It remains a family run business, with youngest son Harry being co-director of the company, and some of the staff have been working at Billingham for decades.
Billingham is now an international name, on the shoulders of the most famous photographers around the world, with a slightly higher price tag than when it first started – but it remains a British company with British values of delivering quality craftsmanship. As big Billingham fans, here are our top picks…
The best Billingham bags
Billingham Hadley Pro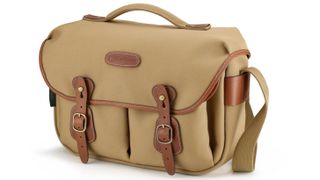 Billingham is known for its premium, classy camera bags, and the Hadley Pro is a gorgeous example. Though it's a shoulder bag it can take quite a bit of kit; if you have a mind to, you can squeeze in a full-frame DSLR with a 24-70mm f/2.8 lens and a 70-200mm f/2.8 zoom (without tripod collar) and a flashgun. You may not want to (just think of your poor shoulder!) but you can.
Of course, if you are carrying a lot of kit, the optional shoulder pad will be worth the investment to ease the weight a little, and there are also additional 'Avea' side pockets available. FYI, that is real leather on the straps, so vegans and animal lovers will want to steer clear of this one.
Billingham Eventer Mk II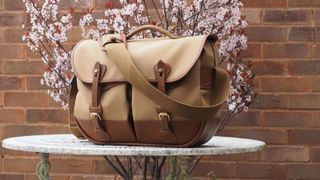 The Billingham Eventer MkII has a hand-crafted, heritage look that's just beautiful to look at and is beautifully put together, too. Its tall, briefcase-style dimensions make it easy to carry and pack away, but while it does allow for longer lenses it means you'll probably have to double-stack a lot of your kit.
Despite its many clever design touches, the Eventer MkII lacks smaller compartments and pockets for cables, cards, and batteries, and it's a little narrow for a pro DSLR or a camera with a grip fitted. And then, of course, there's the price, which puts it out of reach of most photographers. On paper it can be hard to see what's so special about the Eventer MkII, but it all comes together when you use it.
Billingham 72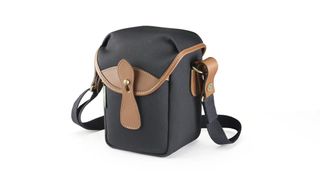 The Billingham 72 is one of the smallest bags in the manufacturer's range – designed for compact or mirrorless cameras with a lens attached, this handy carry bag is made with two overlapping layers of foam to protect the corners of heavier cameras, making sure that your equipment is well protected during transport.
This bag features an adjustable and removable shoulder strap, along with a front cockpit pocket for batteries, memory cards, and those handy optical cleaning cloths.
Made with three layers of waterproof Fibrenyte and vegetable tanned leather and brass, this is the ultimate accessory for anyone looking for a camera bag that looks great, but also offers great protection while your camera is in transit.
Billingham 445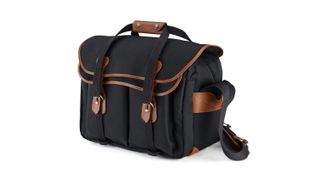 One of its most popular range of bags, the 5-series is unmistakably Billingham: classic, well-thought-through design, and hand-crafted quality.
The 445 shares the same features as the bigger 555, only their size varies, so whether you are carrying 1 or 3 camera setups, plus extra lenses and flash, the 445 will do the job.
If this article has been of interest then you might want to check out our guides on the best camera bags, best camera bags for women or pick up the best camera bag for travel.