Watch video: What is HDR photography?
If you've ever tried to take a photograph of a friend in front of a beautiful sunset, you probably ended up with two distinctly different pictures: one where the sky is perfectly exposed but your friend is standing in darkness, and one where your friend is perfectly exposed but the sky is completely blown out.
• See the Digital Camera World A-Z Dictionary of photography jargon
This is where we meet the limitations of a camera's dynamic range. Cameras can be great at exposing a very dark image, or a very bright one. However, when your image has elements that are both very bright and very dark, your camera can't accommodate both extremes.
That's because its dynamic range – which is a camera's ability to record the lightest and darkest parts of an image – can only do one or the other effectively in these situations.
This is where HDR, or high dynamic range, comes into play. This is a technique that enables you to record detail in the shadows as well as the highlights when photographing a high contrast scene.
The way this is achieved is quite simple: by capturing a number of images at a variety of exposures, these can then be merged into a single shot where the detail in both the shadows and the highlights has been registered.
Many smartphone cameras have an automated HDR function, but as with most smartphone photography it gives you very little control over the results; the phone will simply take a series of shots and then composite them as it sees fit.
By using a traditional camera, though, you have far greater control over your images. Some cameras have a dedicated HDR mode, also called AEB – for automatic exposure bracketing.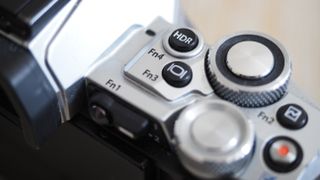 This will take a series of images and then merge them for you to create a finished result, much like a smartphone does. However, the individual images will also be stored on your memory card so you can merge them yourself in Photoshop.
For even more control, though, you can perform the entire process manually by positioning your camera on a tripod, manually changing your settings from underexposed, to capture all the highlight detail, to overexposed, to capture all the shadow detail.
Then you can simply use the Photo Merge option in Photoshop or Lightroom to have all the images magically turned into a single, HDR shot.
So when you're shooting sunsets, nightscapes, dramatic skies or even stained glass windows, don't get into a rage – use high dynamic range!
Read more:
How to download Photoshop and try it free with Adobe Creative Cloud
How to download Lightroom and try it free for 7 days via Adobe Creative Cloud
How to use Lightroom HDR Merge