Pricing your work has to be the most challenging aspect of running a photography business. While we are clearly generating a product in our images it can be difficult to define exactly what we should be charging for and how to value the effort we put it.
This is possibly due in part to the fact that we often think of taking photos for a living as an extension to our hobby and can feel privileged to be able to earn from our passion. This can lead to us gravely undervaluing our skills, which is made all the more difficult by many clients failing to recognize how much work goes into effectively shooting and editing the images from a commission.
In order to ensure our business is as profitable as possible and that the operation is sustainable we first need to understand where our main costs originate from and how time plays a part in the overall efficiency of our working day.
1- Understand your overheads
Many creative media in the digital realm can be difficult to assign a cost to, largely because a lot of the work is done at a laptop and via online intermediaries. There are many 'hidden' costs, or rather investments that we often forget about. Importantly digital processes are not free. While selling digital files from a website is definitely a cheaper operation, being free from printing costs, there are still costs involved.
Notably a website hosting platform often requires a yearly fee, or a significant one-off outlay for a professional web designer, to create. Then you have electricity bills to consider, which can quickly mount up if you are running multiple computers, on which you spend the majority of your working day. Understand the unique pressures a digital workflow has on your finances and factor these into your pricing structure. If you don't your annual profits will be significantly impacted.
2- Time is money
Another tricky aspect to value is the time we spend on a job. In the first months of starting a business it can be tempting to take on any and all jobs, but if you end up spending ten hours on a commission which is only paying £100 then you are earning significantly less than minimum wage, by the time you consider business costs. Every minute you are working you are also incurring costs so you need to ensure each unit of work you carry out yields a profit.
An hour spent editing a photo because 'you may as well' is not efficient if you could have completed an entire separate job in that time. Charge by the hour not by print to ensure you are paid for your time.
Get to grips with expenses
You can split the costs of doing business into a couple of main categories. Fixed costs are those which you cannot fully control and for which there is little you can do to reduce. These include the cost of your equipment (which you either paid for outright or are currently repaying in installments) and any outlay for studio space, marketing, web platforms and materials. You then have variable costs, which as the name suggests change from day to day and job to job. These include travel expenses, accommodation, location and assistant fees and potentially associated insurances.
3- Repeat business
Sometimes you should price your services based on the likelihood of earning future revenue from the same clients and/or the same assignment. If shooting a wedding, and the customer only wants a flash drive of digital copies, then remember this may limit the possibility of them returning to you for additional prints. While you don't have print costs, you miss out on print sales, so buffer this loss with your hourly rate. It may also then be worth offering a discount if they return to you for prints.
4- Make it modular
Running a photo business can be expensive, but you needn't outprice yourself. Upselling from a baseline package with optional extra services can be a good way to encourage clients to pay for higher value products. Start with two or three 'levels' of service, defined by number of images, hours spent shooting etc.
Then offer add-ons, such as special editing effects, photobook and canvas prints, premium album assembly, video shooting on the day or even a second photographer. Bundling these into packages can effectively persuade people to save money by paying a higher fee on the date of booking, rather than buying these at a premium later. If it works for budget airlines it can work for you!
Know your customers
Pricing can vary depending on who your major clients are. One-time individuals are unlikely to be willing to pay the same as business customers, so divide your pricing structure to account for B2C (Business-to-Consumer) and B2B (Business-to-Business) variation. A commercial client may wish you to conduct a job at shorter notice, requiring you to amend your planned work schedule, which should be reflected in what you charge. Business clients should understand this so don't be afraid to ask. It is worth creating commercial price lists separately from consumer ones, to help plan for the greater variety of shoot parameters.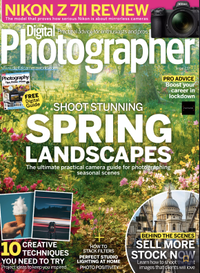 Digital Photographer is a monthly magazine, and the kitbag essential for enthusiasts and amateurs alike!
Inside, you'll find practical guides, shooting tips and techniques from working photographers, plus all the latest industry news.
Read more
Pentax K-3 Mark III set to be released next week (finally!)
Canon and Sony made FOUR TIMES as many mirrorless cameras as Nikon in 2020