Visit Fine Art Foto at The Photography Show 2018
Just ahead of The Photography Show 2018, we're taking a closer look at what some of the companies exhibiting at this year's event have in store.
FineArtFoto.co.uk is a specialist online supplier for all your inkjet needs: fine art and photo media, display products, printers and inks.
They stock a large range of inkjet media from world leading brands including Innova, Olmec and Hahnemühle. Select from archival quality inkjet fine art photo papers with a range of surface finishes from matte to ultra gloss, including resin coated inkjet photo papers in a range of weights and surface finishes. All of the inkjet fine art and photo papers are available in roll and sheet formats, and there's a range of inkjet canvases available in roll formats up to 60in wide for owners of wide format printers.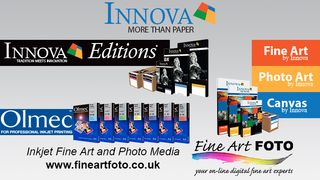 Visit FineArtFoto.co.uk on the Innova Art stand (A1/B1) at The Photography Show 2018 where you will be able to purchase A4 and A3 sheets of selected products in the Innova and Olmec ranges to take home with you. If you print on roll format inkjet fine art photo papers and canvas FineArtFoto.co.uk are offering free delivery on all orders placed at the show. So you can place an order with us at our special show prices and receive your inkjet papers via courier service the next week.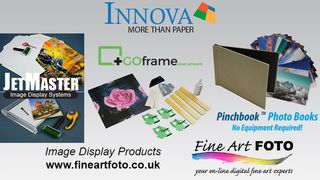 Alongside the unbeatable print media in the Innova range they will also be offering special show discounts on the Innova range of image display products: JetMaster Image Display Systems, Pinchbook Photo Books and GOframe canvas stretching systems. Learn more on stand A1/B1.
Considering upgrading your printer at The Photography Show 2018?
FineArtFoto.co.uk sells the entire Canon imagePROGRAF PRO Series of inkjet printers. From the desktop Canon imagePROGRAF PRO-1000, which prints up to A2 sheets, up to the wide format Canon imagePROGRAF PRO-6000, which prints up to 60in wide and features dual-roll capacity. The team will help you match your budget to what you need from a printer.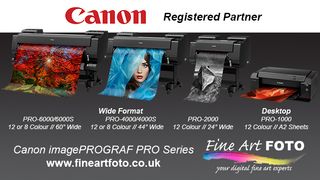 See the quality that the Canon image PROGRAF PRO Series printers are capable of. Get a free A2 print of your own work printed on the Canon imagePROGRAF PRO-2000 at the show!
Order from FineArtFoto.co.uk for same-day dispatch of all Innova products ordered before 12 noon, Monday to Friday. With more than 15 years in the inkjet fine art industry call for paper selection advice as well as technical support and information. Trade discounts are available for large volume orders. Please get in touch to discuss your requirements.
Visit the Innova Art stand (A1/B1) at The Photography Show 2018, or visit the website or blog. You can also follow Fine Art Foto on Twitter or like its Facebook page, or email sales@fineartfoto.co.uk.