About Benedict Brain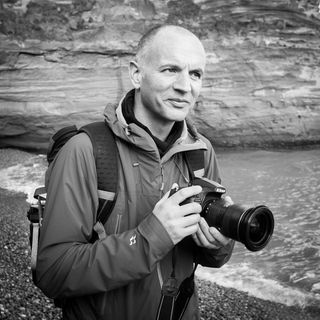 Benedict Brain is a UK-based photographer, journalist and artist. He is an Associate of the Royal Photographic Society and sits on the society's Distinctions Advisory Panel. He is also a past editor of Digital Camera Magazine.
As we find ourselves in further lockdown, mini projects like this one from my Art of Seeing series can be great boredom breakers and can provide you with ways to hone your skills.
Sometimes, maybe most of the time, it's useful to have boundaries. For a liberal-minded, creative type like me, this may seem like an odd thing to say. However, I find that having constraints can actually fuel the creative process rather than hinder it. After talking to other photographers and artists, I realize I'm not alone in this thought.
The images I'm sharing with you this month are from a self-imposed challenge to create boundaries and limitations. The set of images were all taken on a walk between two towns in the south-west, near to where I live.
I decided to challenge myself to take a photo every 200m or so; it was about a 10km walk, so at the very least I had about 50 images. I'm only showing 24 here, mainly because 50 is too much to try and squeeze onto one page, and also 50 is a little too much for this project. But having 50 or so to edit from, ending up with a set of 24, felt just about right.
I kept my kit simple: I didn't use a tripod or any fancy techniques requiring filters, just one camera body and one lens. I used a Nikkor 24-70mm f/2.8, and most of the images were taken at about 50mm. I tried to keep the ISO less than 500 and the aperture close to f/8; so I could shoot handheld, I tried to keep the shutter speed faster than 1/100 sec.
The lighting was quite flat throughout the afternoon, which made this relatively easy. I kept the processing simple, and ensured there was consistency across the collection so they worked well together.
It is such a simple but useful exercise to do. The act of stopping and reacting to the location you happen to be at is a great way to test your skills, hone your craft and challenge your creativity. Even if you don't up with anything you're happy with, the exercise alone will make you a better photographer.
• Other articles in the Art of Seeing series
Read more:
• The best standard zoom lenses
• The 50 best photographers ever
• 100 best photography quotes from famous photographers
• The best coffee-table books on photography