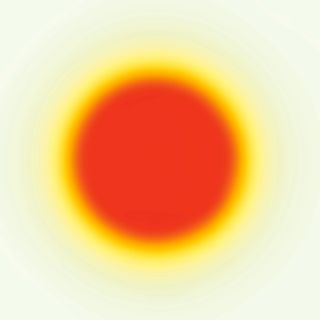 About Benedict Brain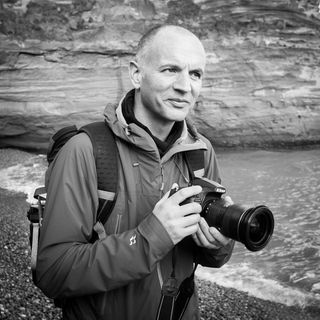 Benedict Brain is a UK based photographer, journalist and artist. He is an Associate of the Royal Photographic Society and sits on the society's Distinctions Advisory Panel. He is also a past editor of Digital Camera Magazine.
Taking out-of-focus, blurred shots of red dots is not actually as easy as it sounds. This project came about after I was simply experimenting with a lightbox and a few sheets of colored gels. I was cutting the gels, then photographing them deliberately out of focus with a macro lens to create abstract images.
Gradually I starting making the shapes more formal, and ended up with very specific circles and squares. I was really enjoying the effect the wildly blurred colors produced – especially in the area of transition from one color to another, as you can see in the yellow halo in the image here.
During this period of experimentation (or, rather, messing around), I was invited to take part in a local exhibition. Titled utopia:dystopia in the world, it was inspired by the 500-year anniversary of Sir Thomas More's book Utopia. The literal translation of utopia is 'no place', and in a odd abstract way I felt the colored circles I was making worked well with the theme. So I set about making several photographs of colored circles.
Some of the color combinations were super-intense and played tricks on the eyes. This shot was my favorite combination. For maximum impact I printed the images one meter square, and they really packed a punch on the gallery wall. Most people thought they were paintings, but I enjoyed the fact that they were actually pretty 'straight' images, more or less as they came out the camera.
The subtle gradation of tone and color was hard to get just right and I had to work hard in Photoshop, using 16-bit files with a wide color range to make sure there was no banding. BB
• Other articles in the Art of Seeing series
Read more:
• Own a Susan Meiselas photo for $100
• The 50 best photographers ever
• 100 best photography quotes from famous photographers
• The best coffee-table books on photography