UPDATE: This sale has now closed.

Calling all image collectors – you can now own a museum-quality print from some of the greatest names in photography for just $100.
The Magnum Square Print Sale is back, and this time the iconic photo agency has teamed up with The Everyday Projects, an international movement of storytellers working to dispel media-driven stereotypes and promote local norms in various countries.
And against the backdrop of the coronavirus pandemic, Magnum photographers will be donating 50% of their profits from this sale to MSF's (Médecins Sans Frontières) COVID-19 emergency response.
Which prints are available in this sale?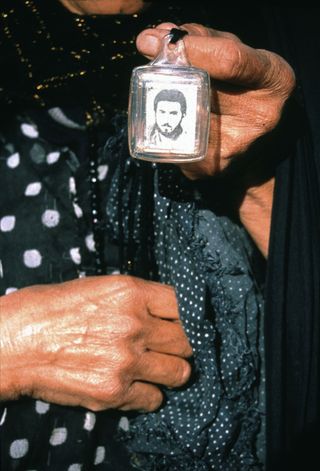 Photographers whose work features in the sale include Abbas, Cristina de Middel, Elliott Erwitt, Philip Jones Griffiths, Susan Meiselas, Robert Capa, Newsha Tavakolian, Malin Fezehai and David Hurn.
Click here to see all the images in the sale – but you'll need to make your choices quickly, as the sale only runs for a week, until Sunday 12 April at 6PM EST (2pm GMT).
Magnum square prints are printed on 6 x 6in (15.24 x 15.24cm) archival paper; the image size is 5.5 inches (14cm) on the longest side.
Each print costs $100 and is signed or estate-stamped, and will not be made available outside the sale window.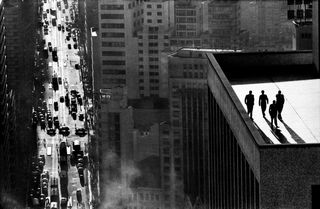 These photos are therefore incredibly collectable – iconic shots like this 1960 photograph by René Burri can be yours for a modest outlay. Here's the story of the shot by the man who took it…
"Did I know those men were there when I took that photograph?" Burri revealed in a 2012 interview.
"No. I went up there out of curiosity. I remember taking the elevator to the roof. Buildings weren't guarded in those days; they didn't have guardians as they have now.
"It was a question of getting to the top and knocking on the door, and then saying, 'Excuse me. Excusez-moi, est-ce que je peux faire une photo? Desculpe-me, posso tirar uma foto?' 'Yeah, yeah, yeah. Come in!'
"So I walked out onto the terrace and at that moment those guys came from nowhere and I shot five images."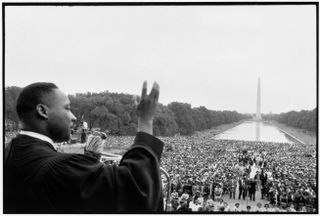 Photographs depicting key moments in history are also available in the sale, like this one of Martin Luther King speaking to the crowds at the Prayer Pilgrimage for Freedom in Washington DC, 1957.
The Square Print Sale also features an image from more recent times. The Everyday Projects' Malin Fezehai was the first photographer to win a World Press Photo Award for an iPhone image, for this 2014 shot of the wedding of two Eritreans who had come to Israel as refugees.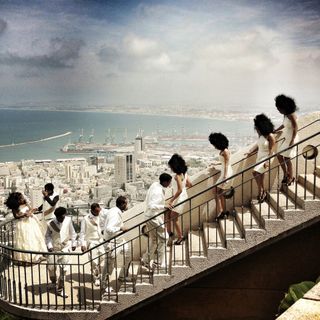 "When I started out in photography I was always worried about not being able to afford the best equipment. So for me winning this award made me realize that you can make do with what you have, and it's what you are seeing in front of you that matters."
Essential info about this Square Print Sale
'Turning Points', Magnum's Square Print Sale in collaboration with The Everyday Projects, runs from Monday April 6 at 9AM EST (2pm GMT) to Sunday, 12 April, 6PM EST (11pm GMT).
Visit the Magnum Shop to see all the images in the sale – but don't leave it too late, because this is a limited time offer!
Read more
The 50 best photographers ever
100 best photography quotes from famous photographers