Photographing the night sky can be challenging and technical, but also incredibly rewarding and fascinating. There's so much to learn about when it comes to night sky photography, and if you're a total beginner, a good place to start is our 10 quick tips on how to get started with astrophotography.
Aside from learning all the different types of astrophotography, there's also the gear. For the greatest success, you'll need the best camera for astrophotography and the best lenses for astrophotography: ideally wide-angle options with a fast maximum aperture so that you can gather as much light as possible.
With gear and technical skills covered, then, what about the career of an astrophotographer? How do you establish yourself as a professional and make money from the pursuit?
We recently spoke to award-winning night photographer Benjamin Barakat, quizzing him about his career journey and insights for becoming established in the industry. Here's what he had to say...
Benjamin is an award-winning night sky photographer. He was named the Milky Way Photographer of the year for the last two years and last year was shortlisted for the Astronomy Photographer of the Year. Benjamin has been featured worldwide by the likes of Forbes, CNN, National Geographic, Vice, BBC & many more. He is based in Switzerland but is half Lebanese and British.
When did you start out capturing night sky shots?
After spending countless nights with my wife outside on our porch stargazing, I came up with the crazy idea that I wanted to take pictures of the stars. I remembered that my father once had an old camera, so I asked him if he still had it lying about. A few weeks later, I decided to go out and capture the sky.
It was a great feeling but when I think back now, the images looked terrible. After some research, I came across the Milky Way and other night sky objects and was left in disbelief by some of the images I saw. So my next objective was to capture the Milky Way.
Eventually, I had a trip to Lebanon with some other photographers and spent a night in the mountains, knee-deep in the snow. It was worth it, but I didn't know then that I was about to step into my purpose in life.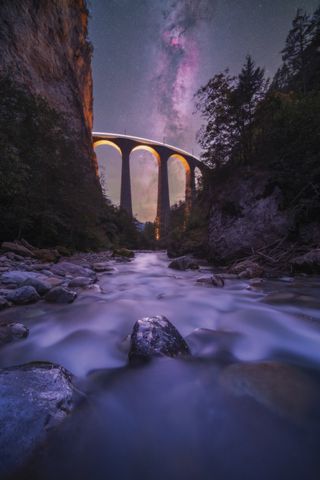 What made you start capturing images in Jordan?
Being half-Lebanese, my goal has been to explore the middle east more and share awareness of the beautiful landscapes to encourage others to visit these places. Petra is what first attracted me to Jordan, and it was a wish of mine to capture it under the night sky. Getting in during closing hours to one of the seven wonders of the world isn't easy, so I had to build a relationship with the local Bedouin people to gain such access.
Wadi Rum is another stunning highlight Jordan has to offer, with some of the darkest skies and stunning landscape scenery. I spent just over a year planning with locals to geotag all of the spots in my collection of images before capturing them all.
What challenges did you face as a startup and how did you overcome these?
My images and techniques were fairly amateur until I made a new friend, Ralph Rohner, who was a pilot for Swiss Air. He had over ten years of experience in photography and taught me the basic techniques of night photography and even some astronomy, which I was also clueless about.
I always call him my mentor and I'm grateful for all the lessons and tips he has handed down to me on a silver plate. I started to understand ISO, aperture, exposure and various techniques, such as stacking, tracking and light painting.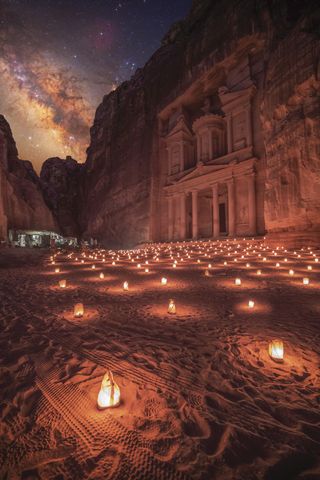 What key skills are needed for your line of work?

Patience is key to dealing with clients, especially people new to night photography. I often have clients that have done photography for longer than me but with zero knowledge when it comes to night photography. Other than that, a lot of the places I run my tours are in the Middle East and that takes a different mindset and understanding of how to communicate and make my way around in such places.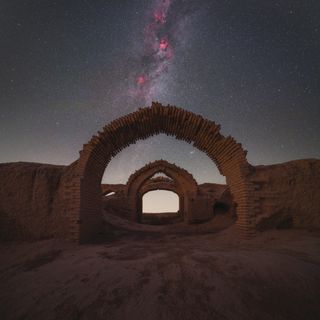 How do you decide on the locations for your images, especially when running a tour or workshop?
I'm an explorer and love to see new places that are less frequently visited or somewhat challenging. I want to offer something new to my clients and for them to be amazed by places they never knew existed. Exploring hidden islands in the Indian ocean or driving deep into the Arabian deserts isn't for everyone, especially by night.
The places I offer tours are still new when it comes to night photography and that's my goal, to be a leader. On top of that, I'm half Lebanese so I am trying to raise awareness of the beauty the Middle East has to offer.
What camera gear do you use?
Camera
I use mainly a Canon EOS R mirrorless system for my night photography shots with various lenses, including wide-angle lenses. I also use a star tracker camera mount that allows me to take longer exposures by following the rotation of the earth and keeping my stars super sharp with more details.
With this technique, I can expose correctly and separately for both the sky and foreground. I also keep the tripod and camera in the same place to mimic and match how it would look in a single exposure. I take a series of images of the same composition that I can then use stacking, which allows me to reduce the noise of an image and have a cleaner and sharper-looking image.
Lenses
The Samyang XP 14mm F2.4 prime lens offers an inclusive field-of-view and a wide aperture. It has excellent resolution for detailed night skies. I work with lots of third-party lenses, and the Sigma 40mm f1.4 AF DG HSM Art has an extra bright maximum aperture, reducing the need
for long exposures.
Tripod
I've tried all the top brands of tripods but ended up with Sunwayfoto tripod for its ease of use. In night photography, stability is essential.
To improve your photos at night, you might also like the best telescopes for astrophotography and the best light pollution filters.