As a photographer and social worker, Ronja Tomke Otto is mindful of social issues – particularly violent crimes that happen in public places.
Sexual harassment and sexual assault are pervasive issues, affecting one in three women at some point in their lives. To help raise awareness about this topic, Ronja started her project What Remains.
"In the majority of the photographs, we can approach them objectively," she explains. "This is a scene we are mostly unfamiliar with and so in the beginning, we have no preconceptions.
"Some visual details are noticeable but our background knowledge only prevails in familiar scenes. For example, we perceive large trees, waste bins and a small footpath from a neutral perspective.
"Everything points to a seemingly tranquil, quiet environment – the evening light making the scene look idyllic, for instance. But while the image might describe a peaceful place, it also shows one where a violent sexual assault occurred.
"This contrasting nature of the project only becomes clear to the viewer when the victim's story is heard. That is why I decided to include descriptions in the exhibition of the project.
"These monologues reveal the full story of what previously happened at each location, provoking an emotional reaction and altering the viewer's perception of the image from one of neutrality to disgust, anger or fear. Seen in their wider context, the photos take on a far more sinister meaning."
Tech details
Camera: Fujifilm GFX 50S
Lens: Fujifilm GF 63mm F2.8 R WR
1st Image: Aperture: f/11, Shutter speed: 1/60s, ISO: 100, merge of 2 photos
2nd Image: Aperture: f/8, Shutter speed: 1/30s, ISO: 100, merge of 3 photos
Ronja Tomke Otto is a photographer and social worker, who focuses on highlighting social issues. German-born Ronja has had her work published in magazines and her photographs displayed in numerous exhibitions. She is passionate about experimenting with digital and analogue photography.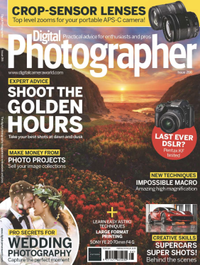 This article originally appeared in Digital Photographer, a monthly magazine, and the kitbag essential for pros, enthusiasts and amateurs alike!
Inside, you'll find practical guides, shooting tips and techniques from working photographers, plus all the latest industry news.