LIVE: Google Pixel 7a, Pixel Fold, Pixel Tablet – everything from Google I/O 2023
It's Google I/O time, and this year Google looks set to launch a whole heap of Pixel goodies - follow along live with us!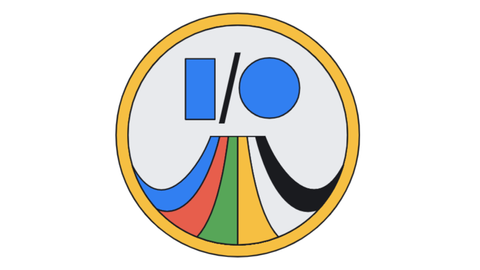 (Image: © Google)
Google is getting ready for its annual Google I/O conference, what started as a software developer conference, Google has turned into a chance to reveal the latest consumer products it has been working on.
Google I/O has consistently brought us some big announcements, from last year's reveal of the Pixel Watch, Google Pixel 6a, and Pixel Pro Earbuds. And it looks like an exciting one again this year, with the heavily teased Google Pixel Fold and Google Pixel 7a set for their full unveiling.
It also looks like we will be seeing much more of the long-in-development Pixel Tablet (or potentially tablets plural). Google also has a big update on the next version of its Android operating system, hopefully revealing some new features for Google Camera or Google Photos.
You can watch the trailer and follow along on the YouTube video below, and stay tuned here as we follow and give our take on all the announcements.
Google I/O kicks off on May 10 at 10AM (US-PST) / 1PM (US-EST) / 6PM (UK) / 4AM (AUS-ACT).
How to order the latest Pixel devices
Order the Google Pixel 7a right now!
Google Store (US) / Google Store (UK) / Google Store (AU)
Preorder the Google Pixel Fold (and get a free Pixel Watch)
Google Store (US) / Google Store (UK)
Preorder the Google Pixel Tablet
Google Store (US) / Google Store (UK) / Google Store (AU)
Refresh
Google has already spoiled its own party a little by releasing a first look at the upcoming Google Pixel Fold in a YouTube teaser (below). The video shows a distinctly Pixel-styled device, but very similar in form factor to the Samsung Galaxy Z Fold 4, with an internal screen that opens like a book.
Google is also expected to launch the Google Pixel 7a worldwide – the latest in its line of more affordable midrange phones.
Google has never been the best at making sure its devices don't leak early, and Vietnam's Zing News already has managed to get its hand on the device, and yes, it looks very similar to last year's Google Pixel 6a.
Although from early leaks, some new features could include an updated camera, a 90Hz screen, and a new sky blue color option.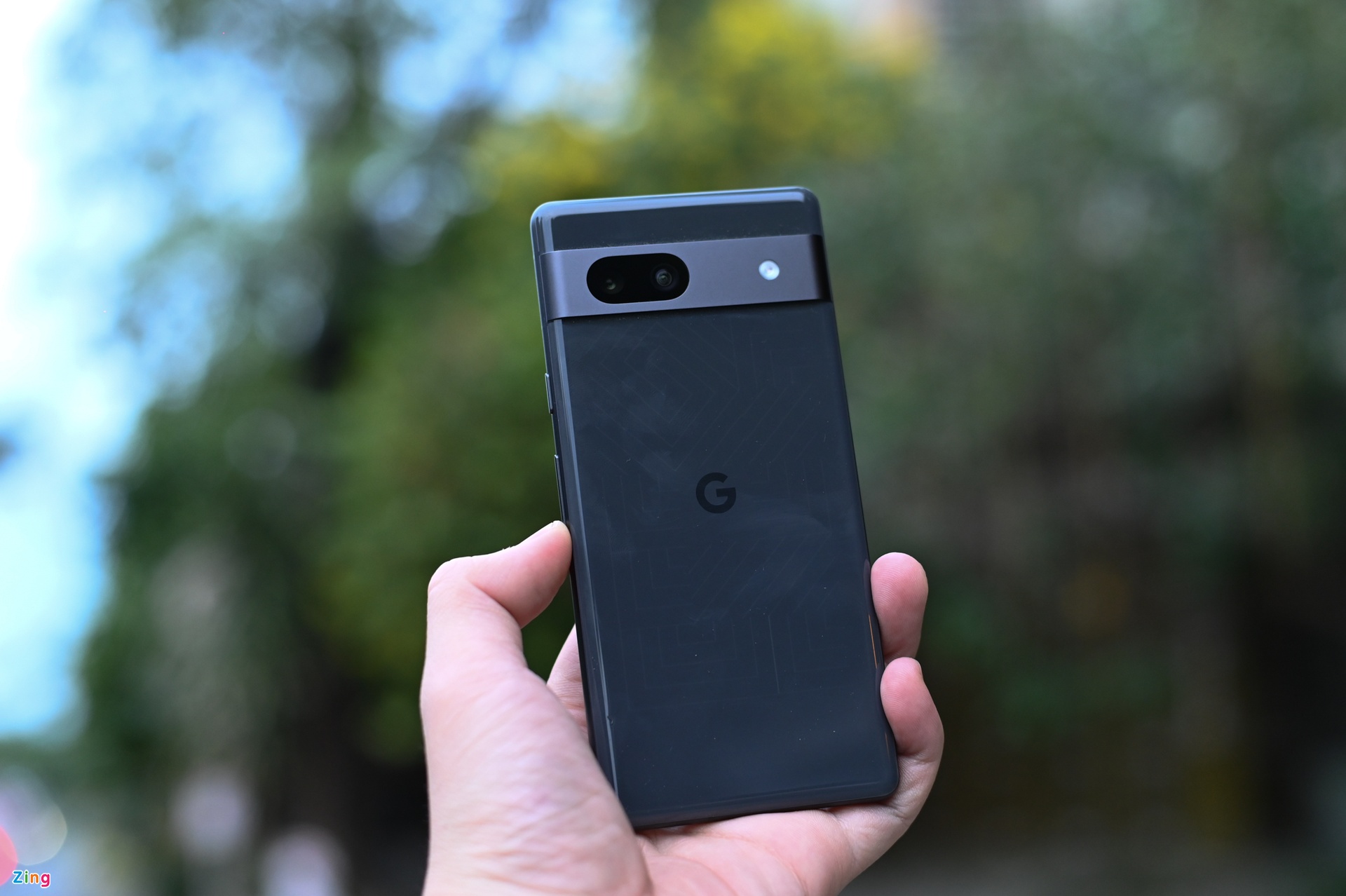 Might we also get a first glimpse of the next flagship Pixels – the Pixel 8 and Pixel 8 Pro?
While these two phones won't be coming until at least Q3 this year, at Google I/O 2022, the Pixel 7 Pro development was teased, with an exclusive first look at the design, so hopefully this year Google repeats this tactic.
Early leaks have shown a new design for the Pixel 8 Pro camera bar that moves all three lenses into one oval cutout, there is also a mysterious new sensor or lens on the Pixel 8 Pro that might be used for better macro photography, or as a depth sensor.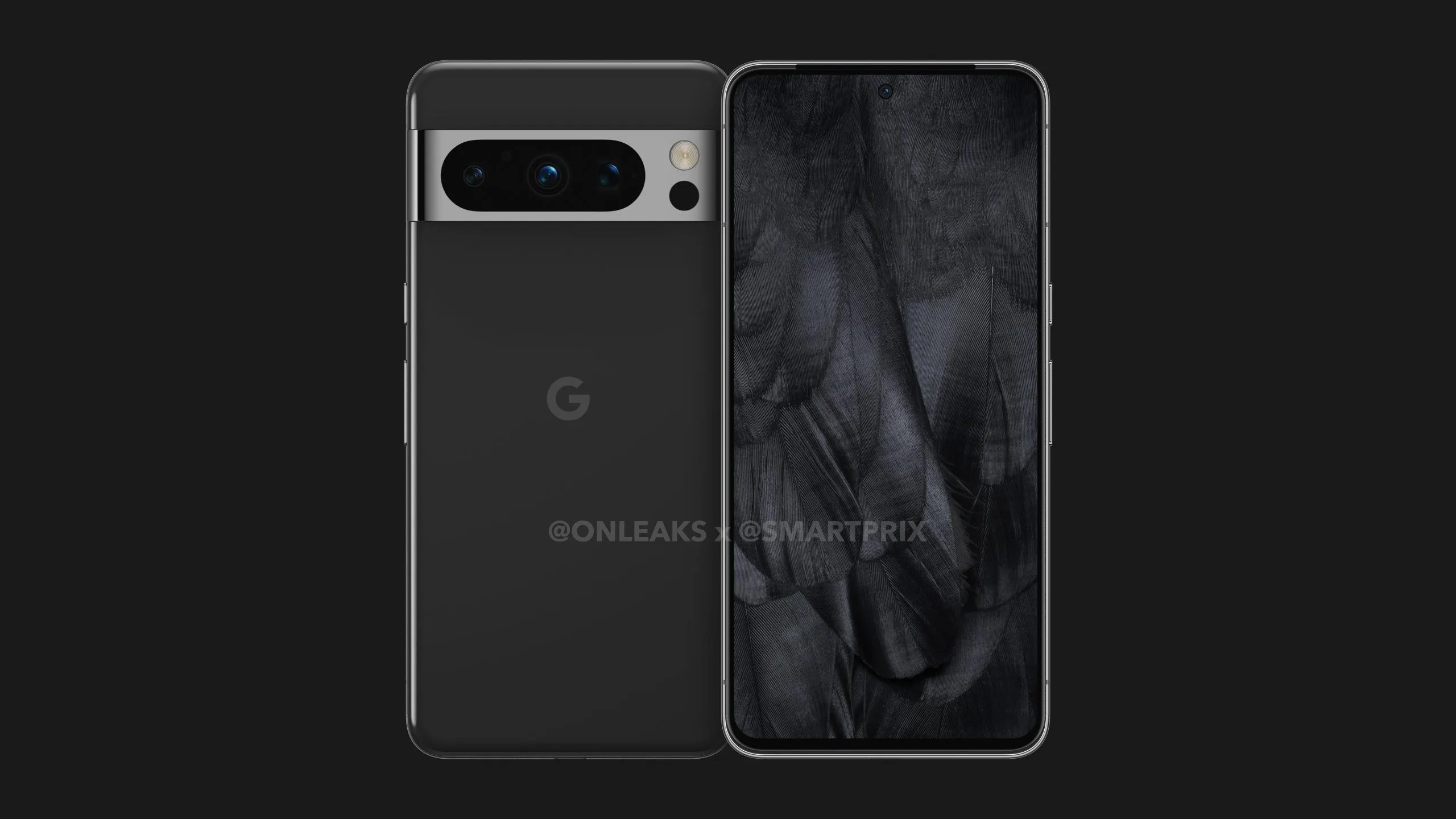 Google I/O is not all about new hardware, Google is also preparing to talk much more about its upcoming Android 14 operating system. Early builds of the OS suggest that most new features will focus on making Android better on flip and folding devices, primed for the Pixel Fold launch.
Early Android 14 beta builds also include changes to the share sheets – the way that you share photos and files with other people, as well as opening files in different apps. These changes might make editing photos and videos across multiple apps much faster and easier for on-the-go productivity.
We might also see some updates to the Google Photos or Google Camera apps announced at the event. Google has hinted that they are going to go heavy on AI at this year's I/O, so could we see more Google Photos tools like the Unblur or Motion Blur tools that debuted last year?
Are we going to see more of Google Bard at this years I/O?
Microsoft and ChatGPT have been steadily pushing out its AI image generation tools – called DALL·E 2, to a wider set of users. And you can be sure that Google is not going to want to be seen as falling behind.
It is only a matter of time, might Google be ready bake more AI creation features directly into its phones and apps?
Google also looks set to finally unveil the Google Pixel Tablet. The device has been long teased by Google itself, with a full design reveal coming last year, although we are still awaiting the final official specifications. There are also persistent (albeit very sketchy) rumors across the web that there might even be a second Pro version in the works.
What we do know is that the tablet will operate like a Google Nest device, and when not in use sit on a dock/speaker, which will charge the device. It can then be picked up and used as a traditional tablet.
The tablet looks set to be powered by the latest Google Tensor G2 with 8GB of RAM, so won't be a powerhouse, but might make for a great device for very light photo editing and organization at home.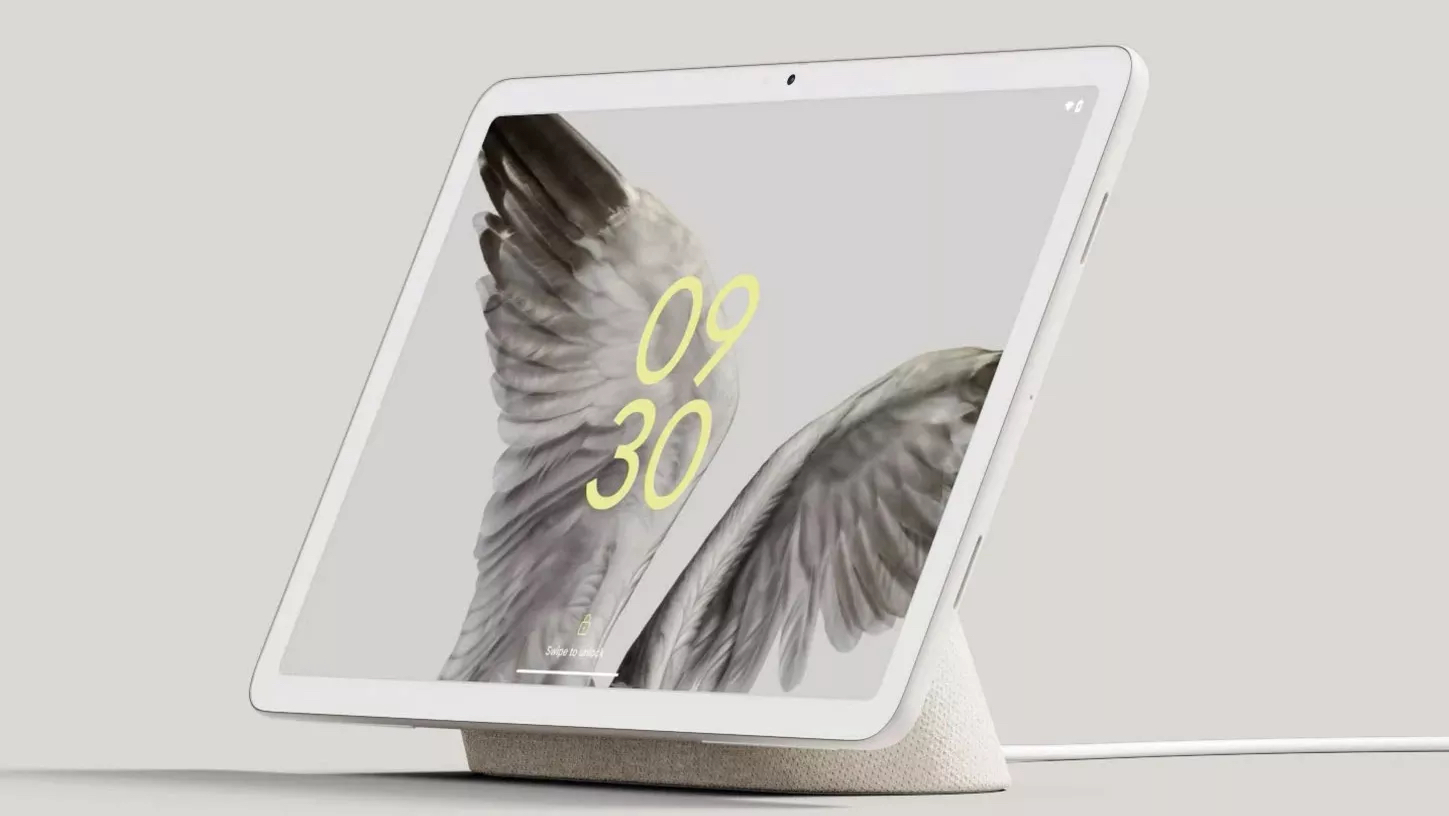 If you just can't wait for the announcement to start, you can kill some time on the official Google I/O website where you can find out more about today's speakers, what's on the agenda and find other like-minded communities of Googlers.
The countdown has begun on the official Google live stream, just over one hour to go until the main event!
30 minutes to go! We can see the stage, and DJ Dan Deacon has just taken the mic to play some AI generated music. So far it is fairly unbearable.
There are also some AI generated video playing on the screen behind. Is this a sign to come? We know that Google has gone code red on pushing its AI projects, just how much AI will we see today?
What is everyone most excited for? Personally, I cannot wait to see the Pixel Fold. A true worldwide competitor to the Samsung Galaxy Z Fold has been a long time coming, and as a Pixel 7 Pro everyday user, I am looking forward to seeing Google's take on this type of device.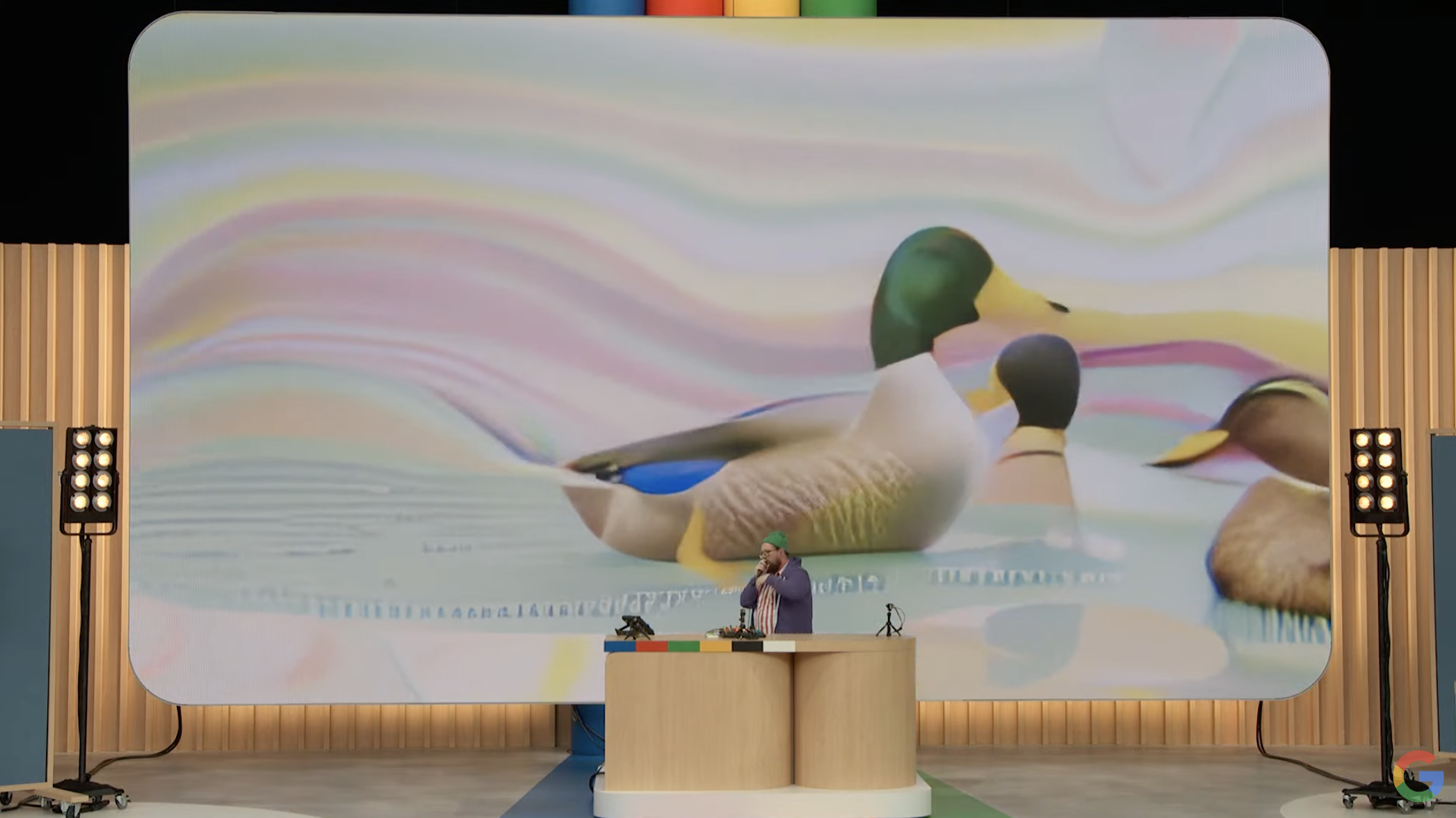 We are immediately into AI. Google is off the bat trying to tout its approach to AI as ethical. Interesting to see how Google plan to do this.
Sundar is kicking things off by talking about how AI is going to improve Google Workspace with new AI tools for Gmail.
Help me write will compose emails for you, and it looks pretty cool.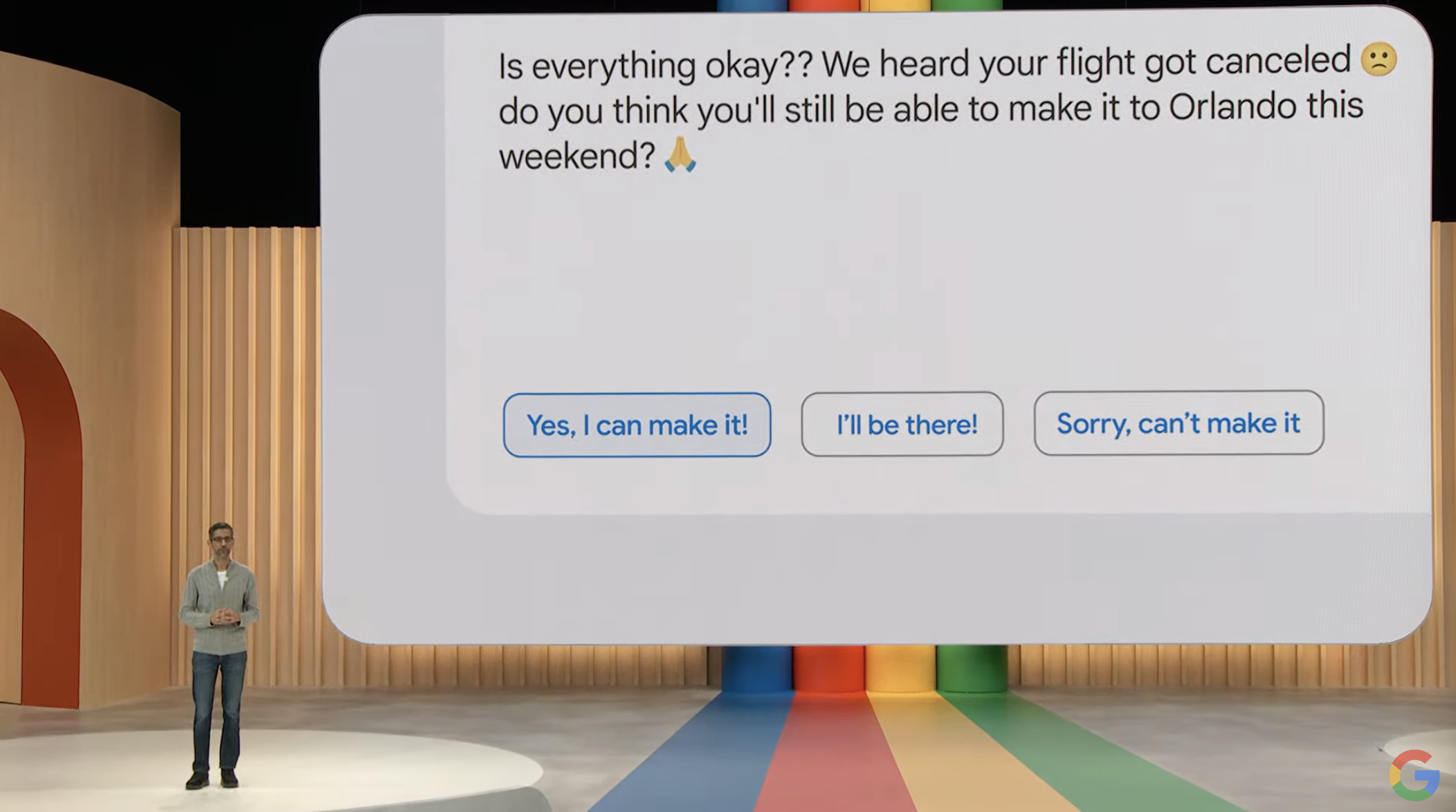 There is a new overhead bird's eye view for navigating maps, including weather overlays. Also, maps provides 20 billion kilometers per day of mapping!
We are onto Google Photos! 1.7B images per month are edited in Google Photos.
There is a new Magic Editor coming later this year. This is a much more generative AI editing, including isolating and moving subjects, content-aware additions, and changing the weather. All automatically at the touch of a button.
It looks really impressive. Adobe best watch out!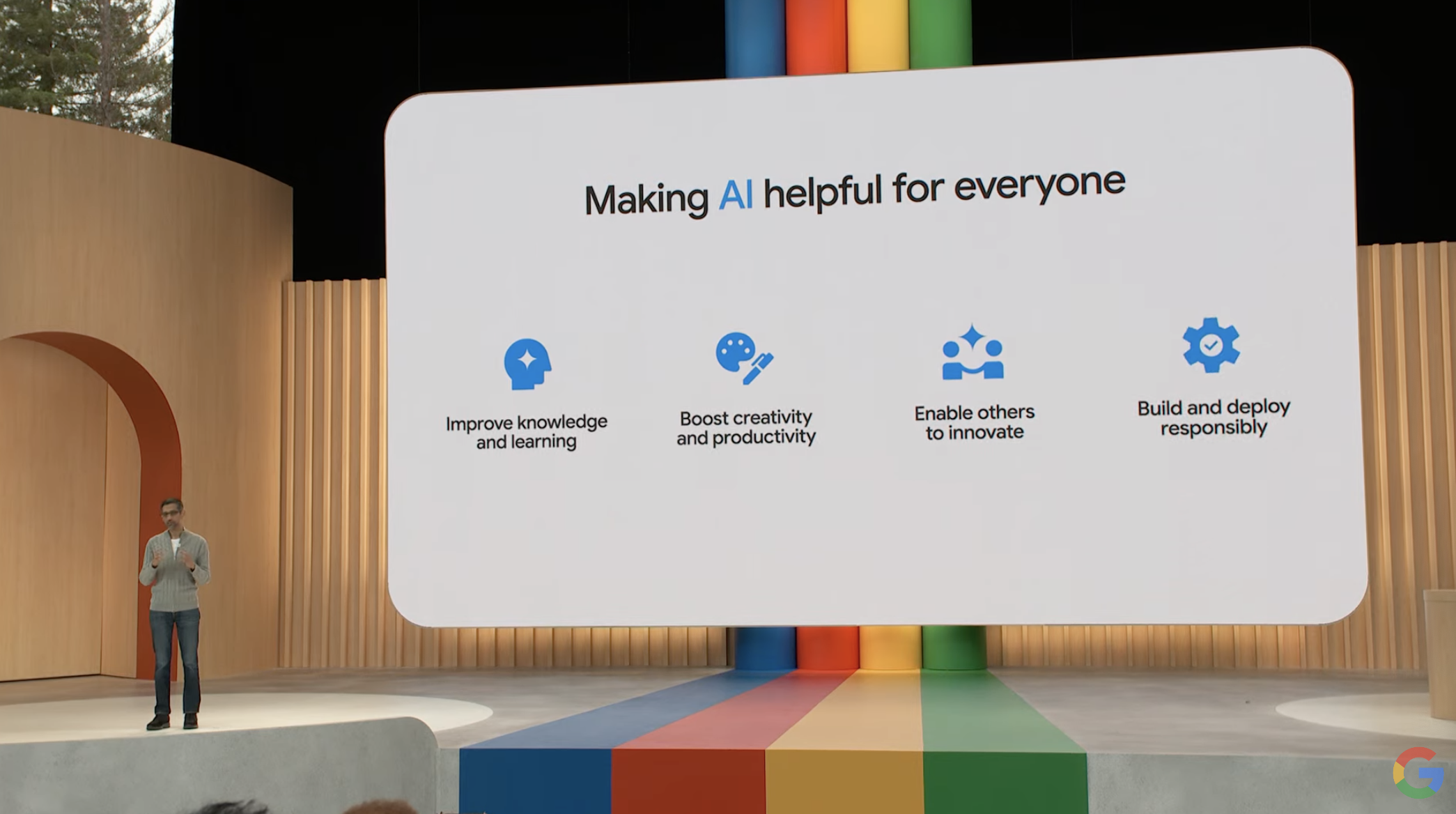 PaLM 2 is Google's new AI model that will power its new AI models, it works on mobile devices and can work offline.
We are now talking about how Google's next AI image generator called Gemini will embed watermarking and metadata in AI images. This is an important feature for many photographers who worry that their real images will be eclipsed by fake images generated by AI.
As AI images get more believable (and potentially dangerous when they involve real people), this will allow anybody to check if an image has been generated by AI.
Still no word on if Gemini will show the image sources used to generate its images.
Google Bard is becoming more helpful when it comes to images. Bard can now pull images into search results. You can use images using Google Lens and Bard to create captions and other information about your images.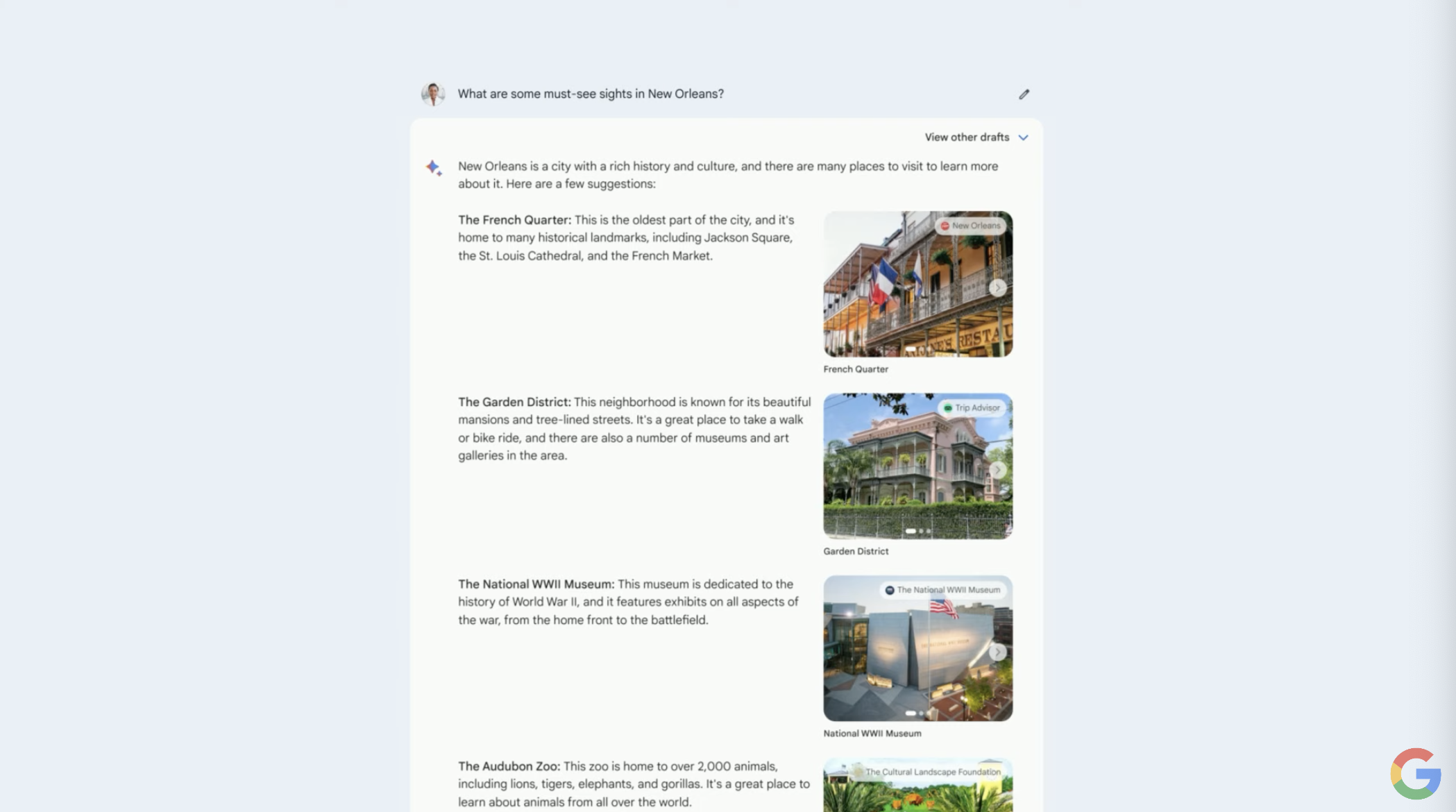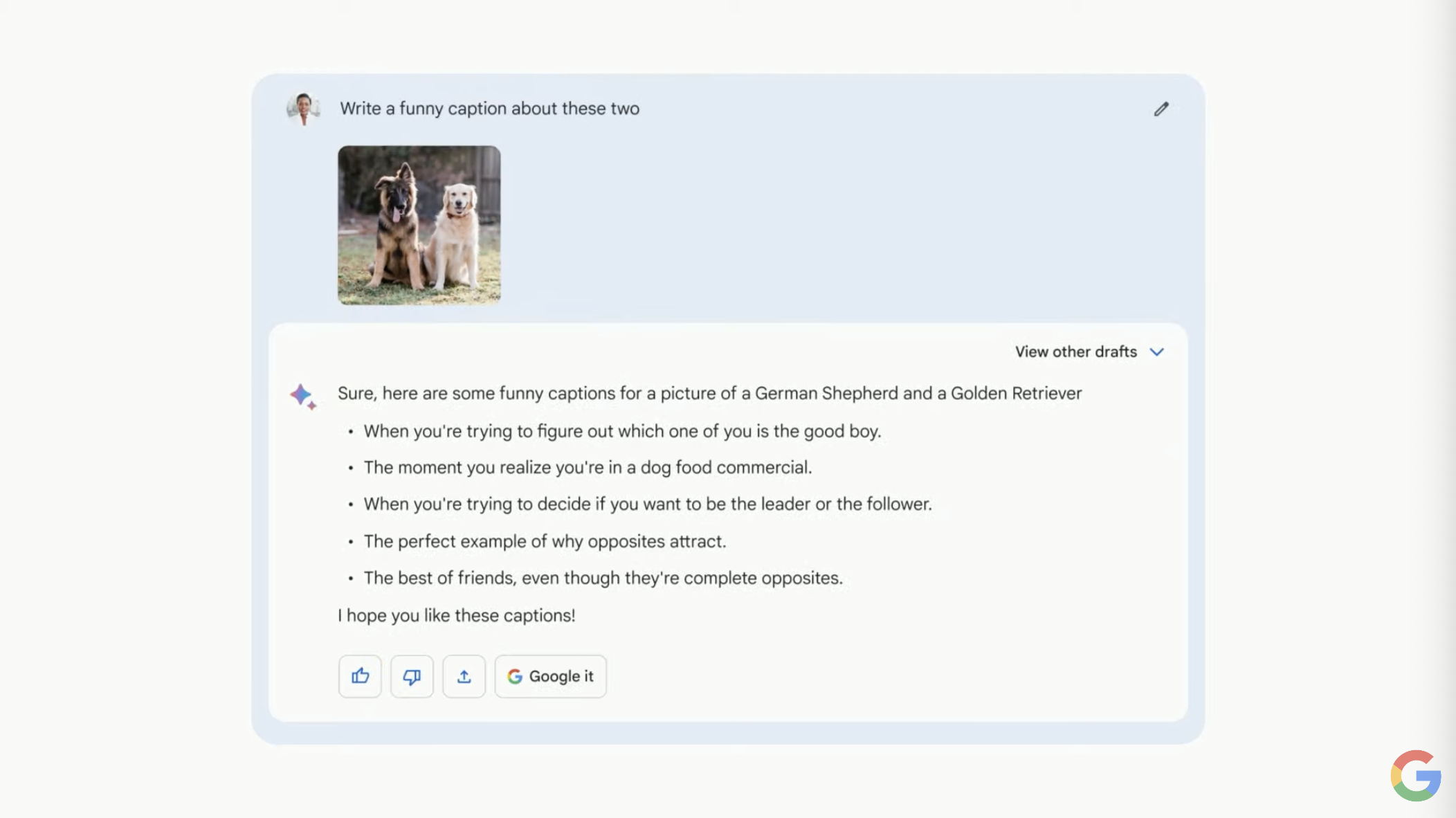 Bard and Adobe Firefly are teaming up!
You will be able to use Adobe Firefly directly in Bard search to describe an image, and Adobe Firefly will create the image from scratch with generative AI.
Microsoft and ChatGPT are already making huge strides with this with its Dall.E image generator. It will be interesting to see if Adobe and Google can compete.
Bard's image generator is able to create realistic photography directly from within Google Workspace.
Below is an image generated of cheesy pizza being dipped in fondue (for whatever reason).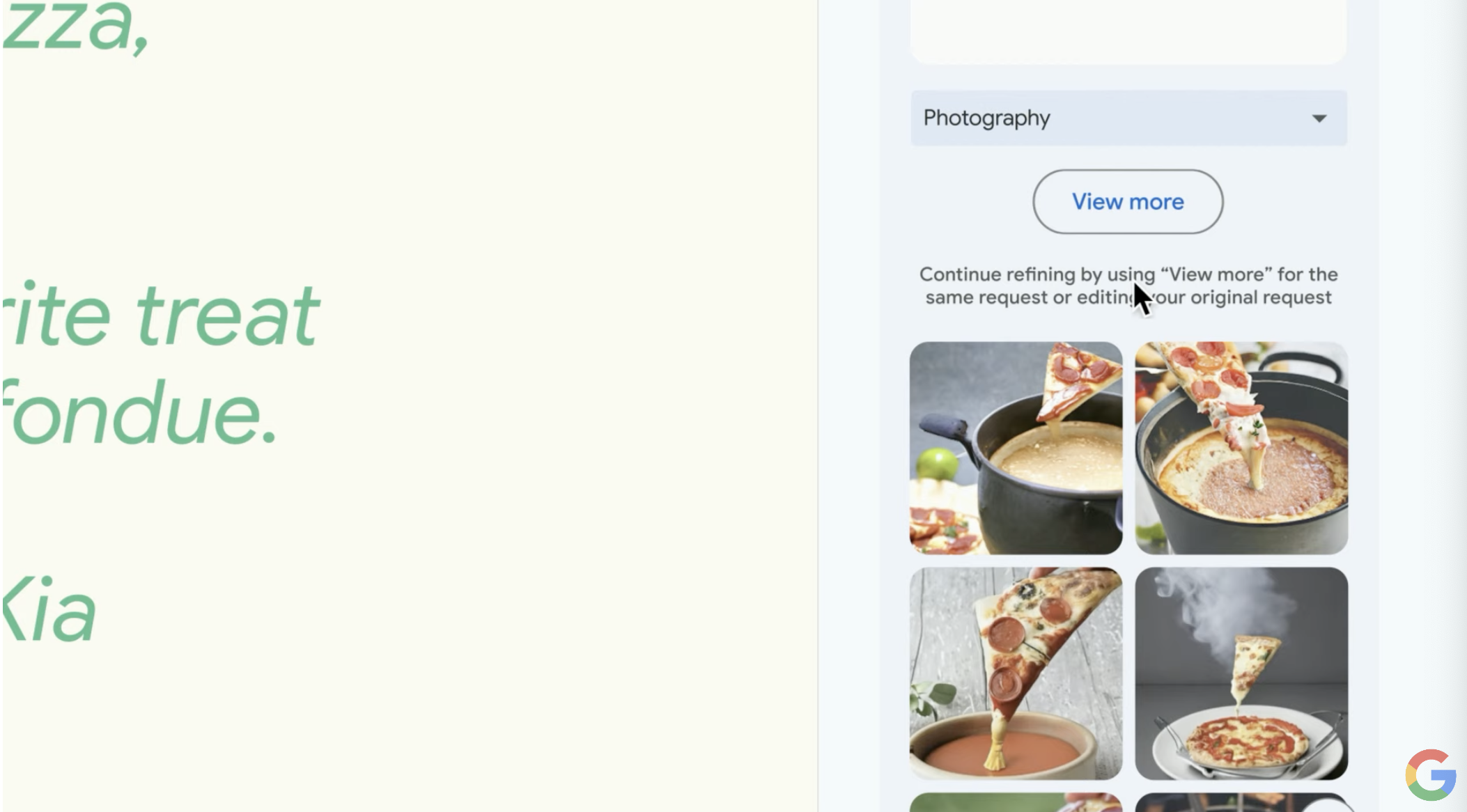 Bard can also scan a whole Google Doc without even searching for specific terms and use generative AI to create images automatically.
The AI section is still going, we are on search now. With several Pixel products to launch, Google is really testing Pixel fans' patience!
Now onto Google Cloud for business, and yes, you guessed it, more generative AI!
Google's new AI notebook – Project Tailwind – looks cool, and might be a great way for creators to compile notes and ideas on shoots, as well as get some AI suggestions based on your ideas. This is really special as Google claims this is based entirely on your own model.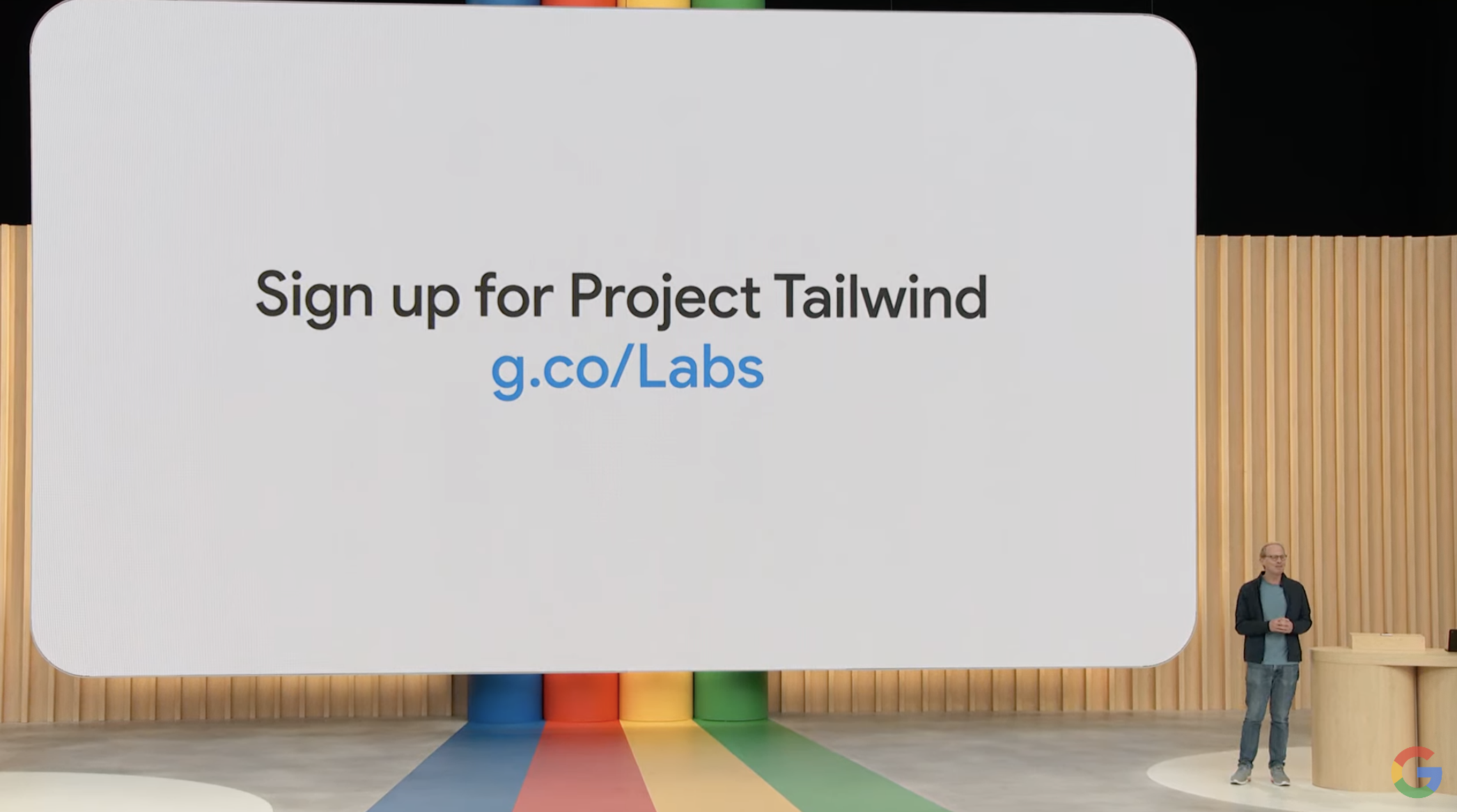 Google continues to walk a very careful tightrope, talking about making AI ethical, while also showing AI models that are going to put people out of work.
One solution to combat fake images, Google is offering a way to evaluate images directly on Google Images for authenticity. This puts too much emphasis on the user, which will not work when the fake image is widely shared without context on social media or messaging, or when authenticity is deliberately obscured.
Is Google far too optimistic about people's nature?
Its finally time for some Android and Pixel news! Hurrah!
Android used AI this year to stop 100 billion spam messages and calls!
Google has redesigned over 50 apps for tablets and folding screens. Still have to wait a little longer for Pixel announcements though as we move on to talking about Google Watch and WearOS.
WhatsApp is coming to WearOS natively!
Google is expanding the find my device network to other devices so you can track and locate more of your devices.
Google and Apple are also jointly launching unknown tracker alerts to warn you if it detects any unknown trackers that are traveling with you, which should help alleviate ongoing security concerns over Apple's AirTags and stalking.
Over 800 million people now use Google RCS (Google's answer to Apple iMessage), and just managed to slam Apple on stage for holding back communication between Apple and Android users.
Generative AI has made it into Google Messages. Using Magic Compose, you can now change the tone of a message in a touch, great for when you just aren't in the mood for certain people...
You can now customize the lock screen clock on Pixel devices, and change the lock screen shortcuts. You can also turn photos into 3D photos using AI, which moves the background behind a subject as you move the phone. It looks really cool, if a little gimmicky.
You can also now create backgrounds using emojis and colors, if that is something that you want to do. The emojis do wobble when you tap them which is kind of cute.
Finally, you can use the new Bard AI image generators to make new wallpapers on the fly, which is actually very cool.
We are finally onto Pixel devices (although still with a generous helping of AI). We are now hearing about all the ways Pixel AI makes phones better with machine translations and call screening. And of course the benefits of Google Photos like Magic Eraser and Unblur. All powered by the Pixel Tensor G2 processor.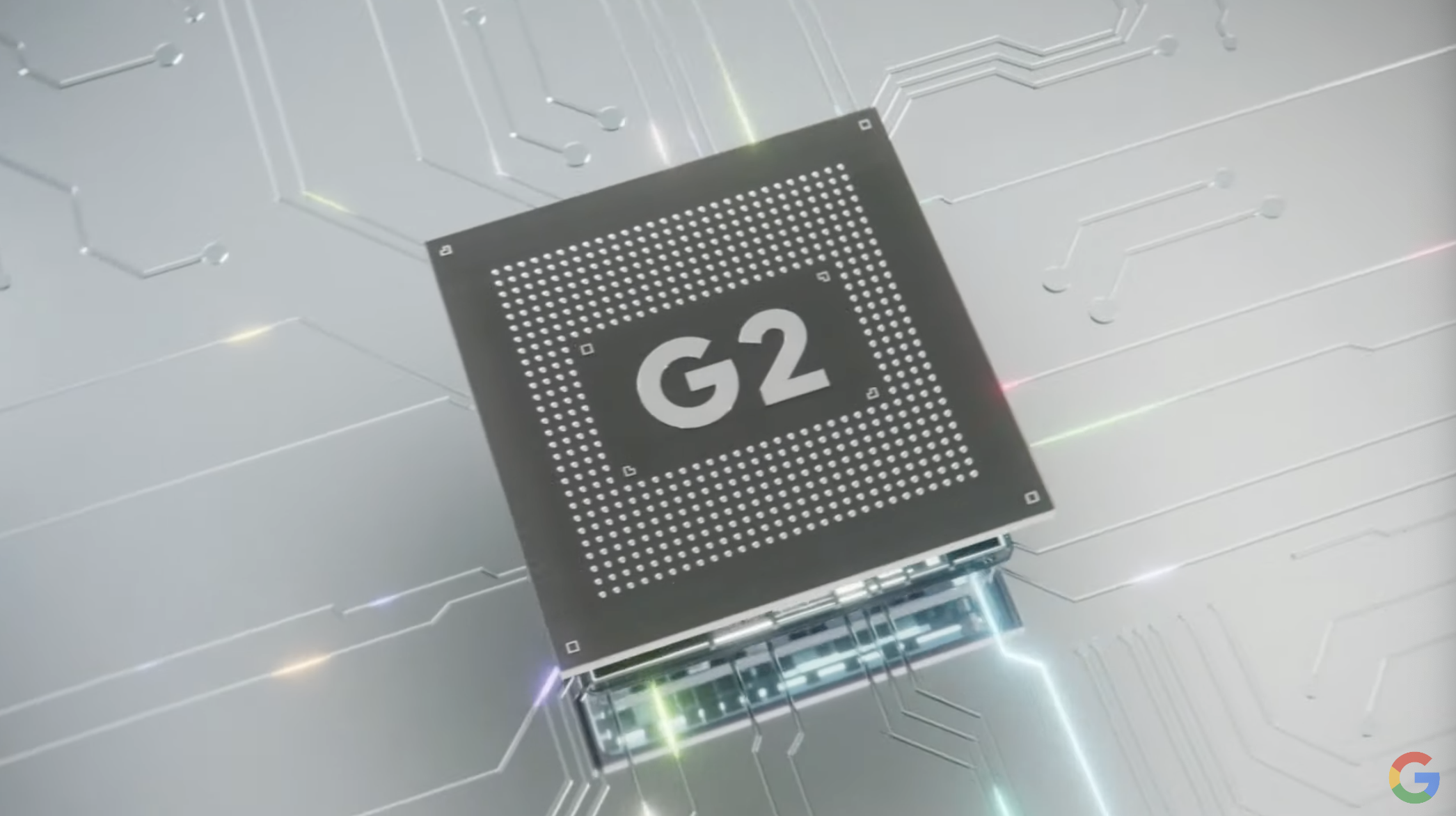 Last year's Pixel devices are the most popular ever with users and with reviewers (you're welcome). Google is the fastest growing manufacturer in its markets.
Pixel 7a is official! Powered by Tensor G2 and with 8GB of RAM
The camera sensor in the Pixel 7a is 72% larger than the previous generation!
See the best Google Pixel 7a cases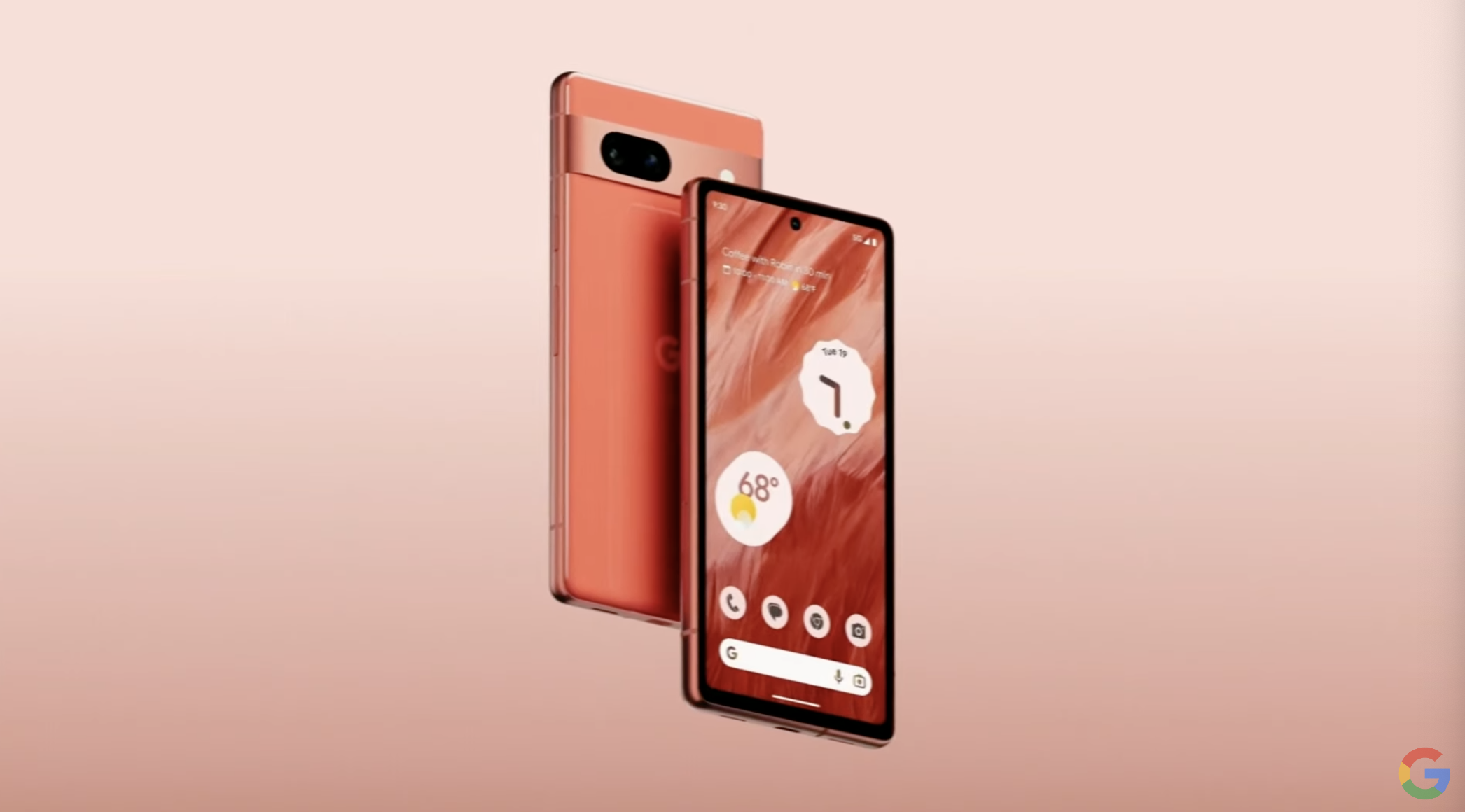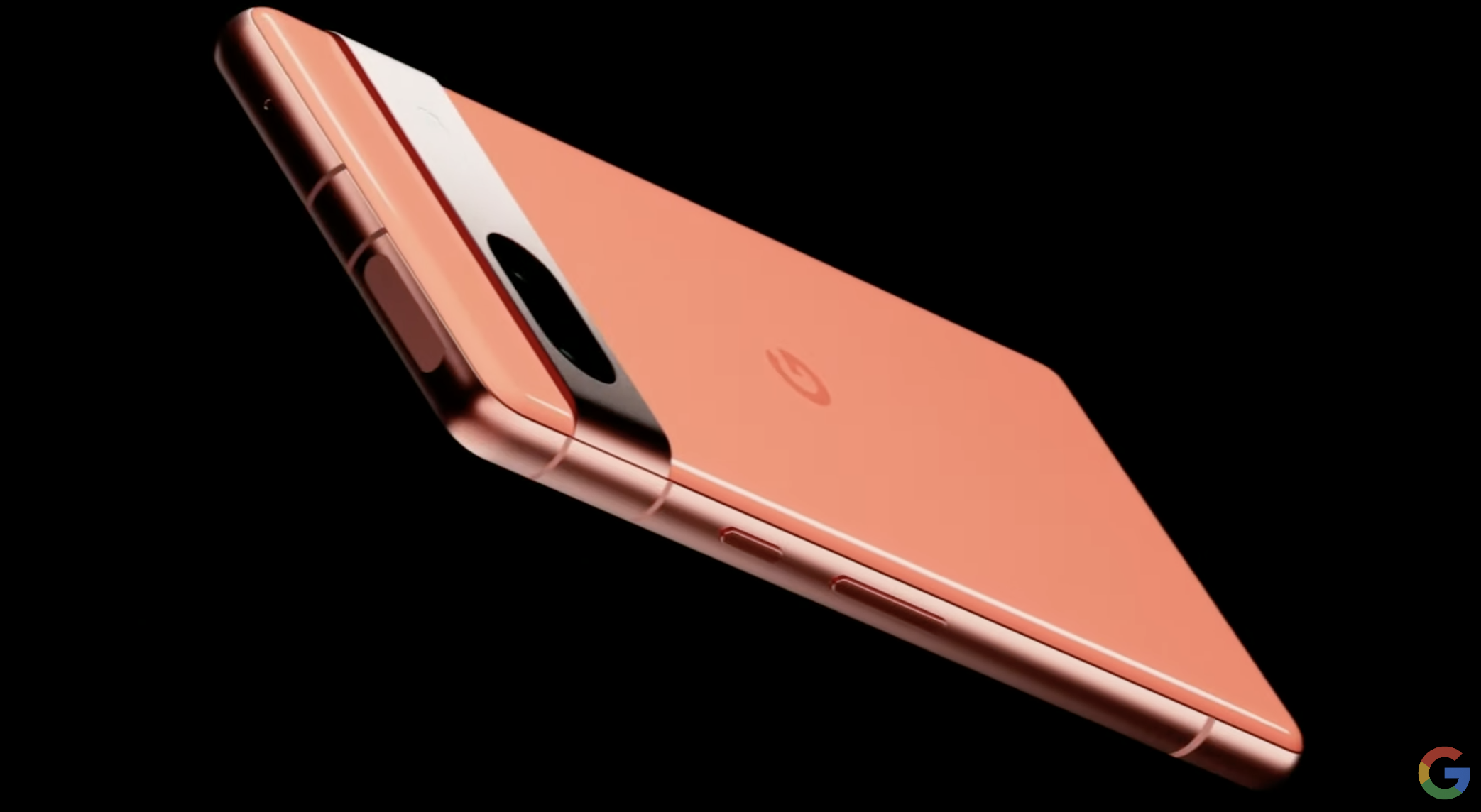 We are moving on quickly to the Pixel Tablet!
The tablet has a high-resolution display with four individual speakers. Powered by Tensor G2, the tablet is specially engineered for calling, keeping you in the frame and in focus.
The tablet is also being touted as a great place to edit photos with Magic Eraser and other Google Photos AI editing.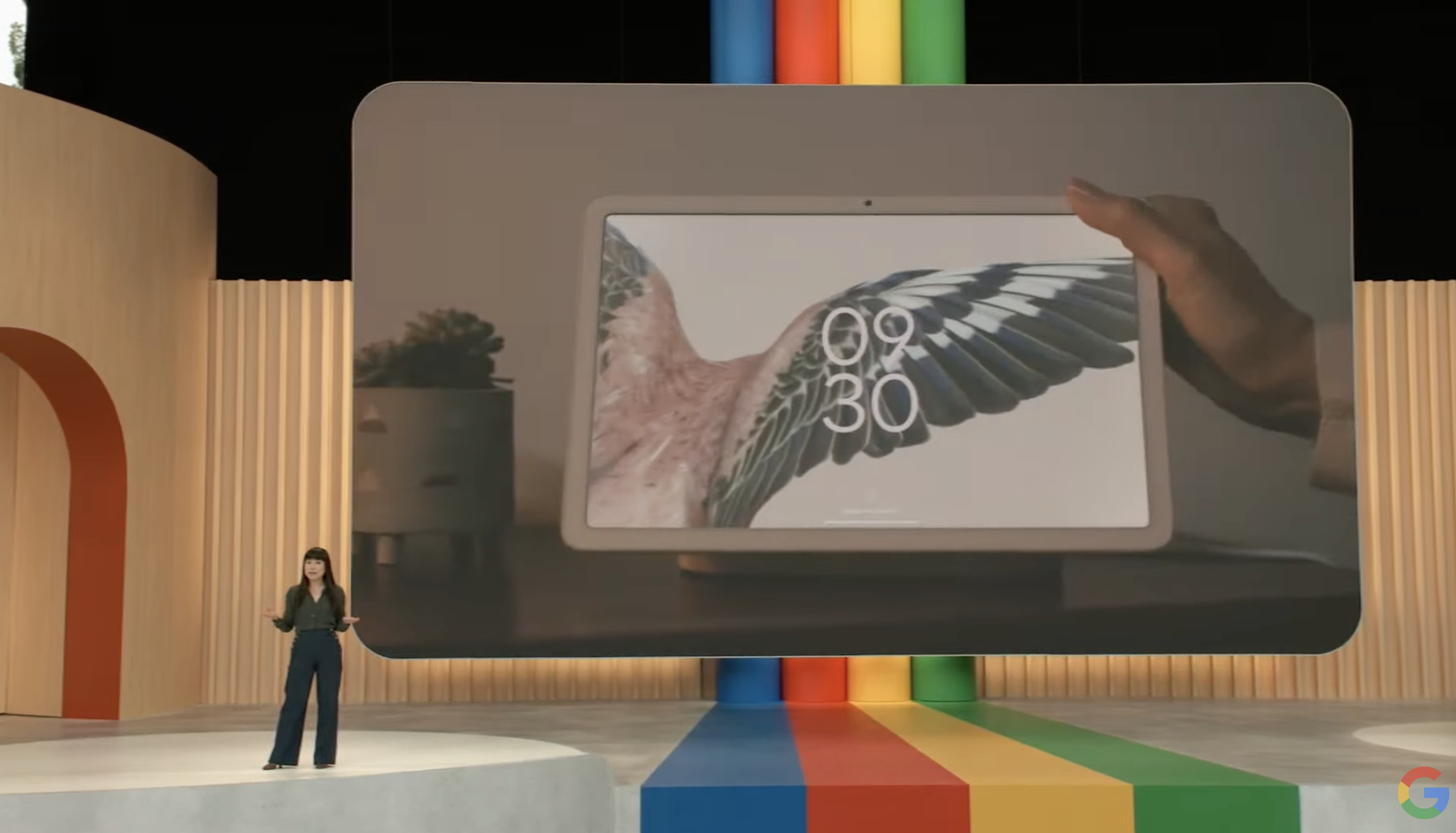 You can have multiple users on the Pixel Tablet, each user can log in with their own individual fingerprint. Great for families.
The Pixel tablet is available in three colors and will cost just $499/£599/AU$899, and comes bundled with the speaker dock included!
That is a very impressive price (and slightly confusing that it costs the same as the Pixel 7a despite sharing the same processor, RAM but having a considerably bigger screen).
Order now at the Google Store (US) / Google Store (UK) / Google Store (AU)
Last but certainly not least, we are finally onto the Google Pixel Fold!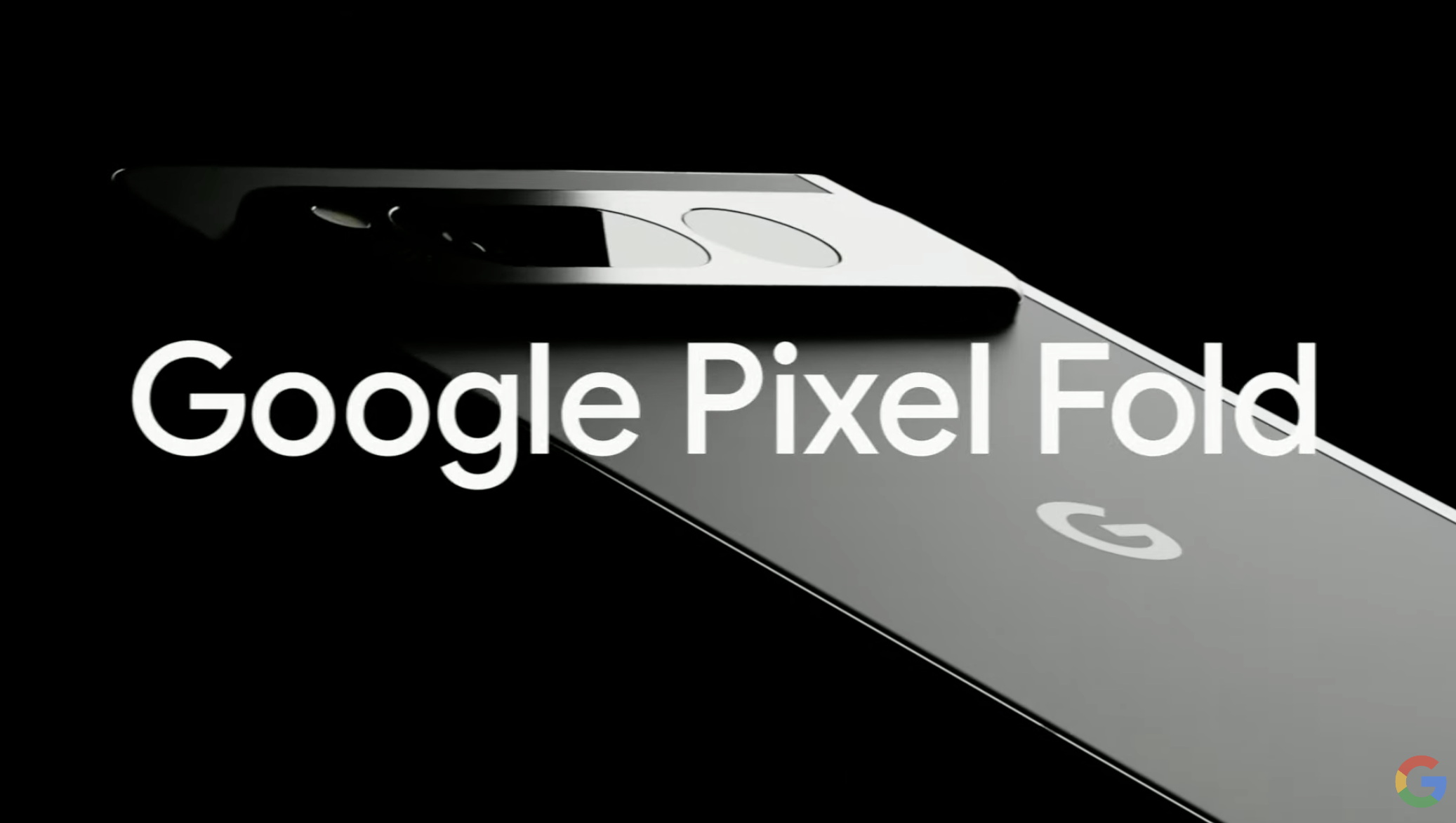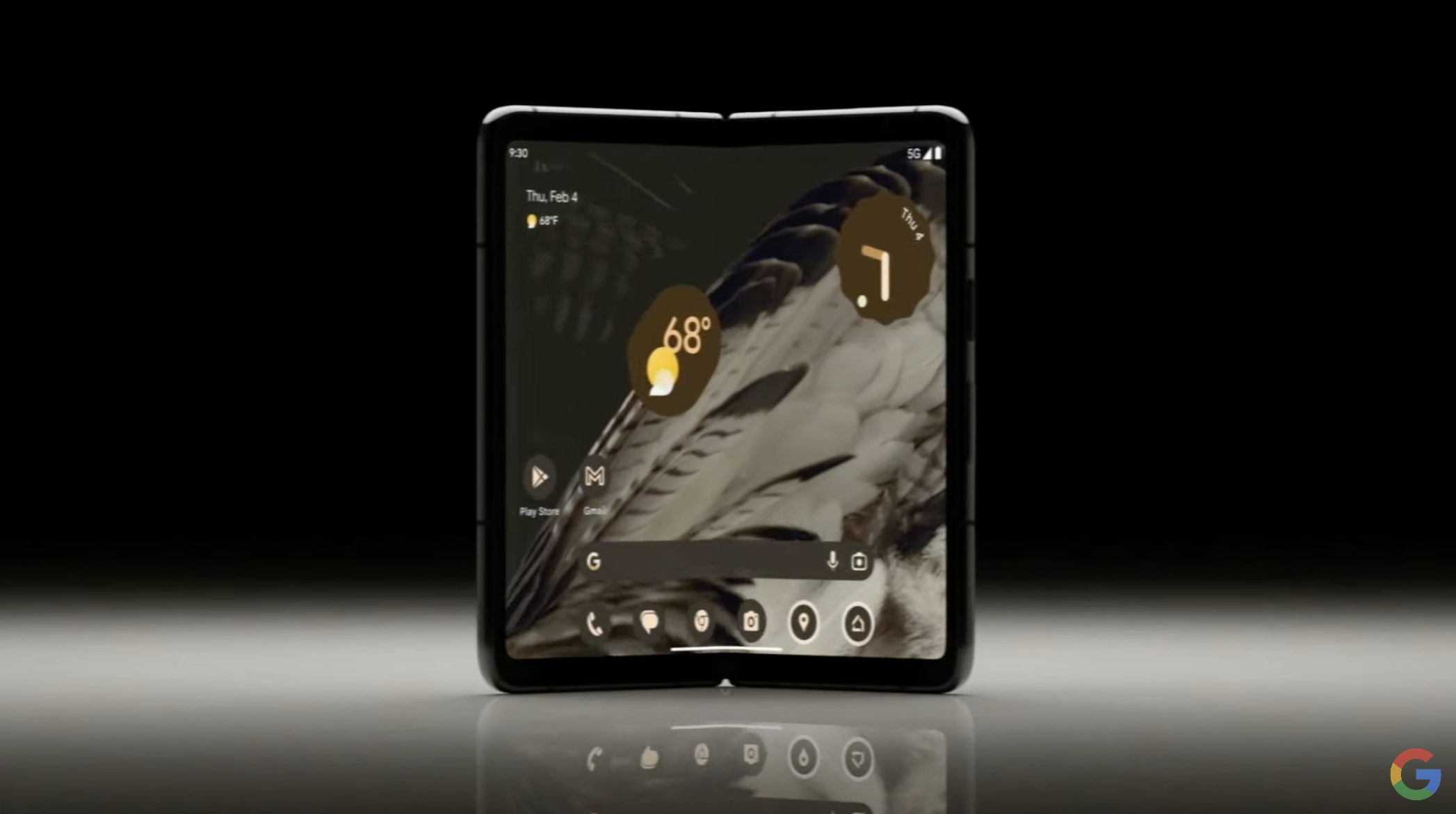 The Pixel Fold is again powered by Tensor G2, and is apparently the thinnest fold phone on the market. Google also has just claimed it is the most durable folding design on the market too!
Google are claiming the Google Pixel Fold is the best foldable camera system (although with not much to back up that claim, so we shall wait and see).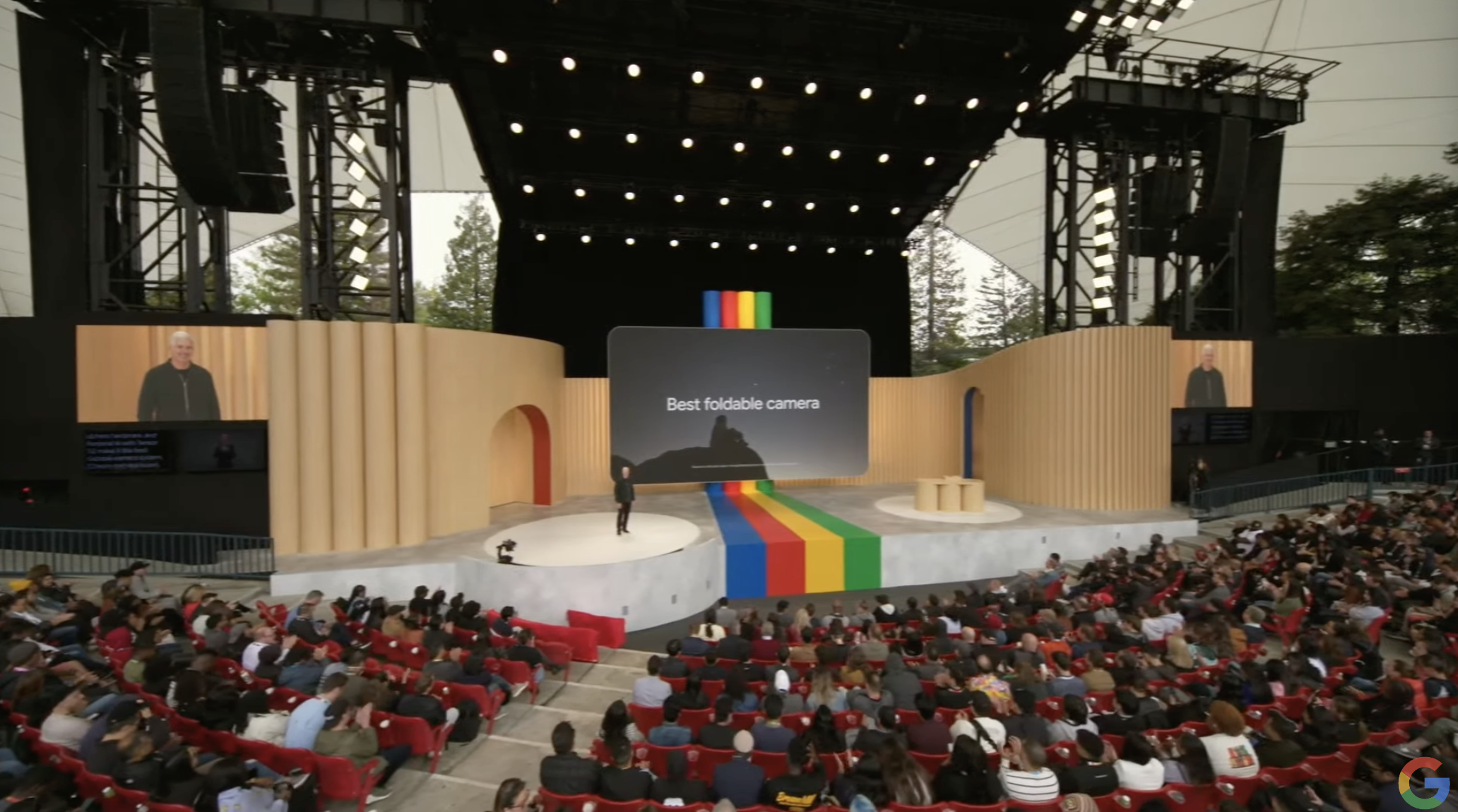 We are now watching a demo of the new and improved Android OS for fold devices. Google has improved the split screen with drag-and-drop resizing, as well as a new multitasking view. You can also move items from one app to another easily.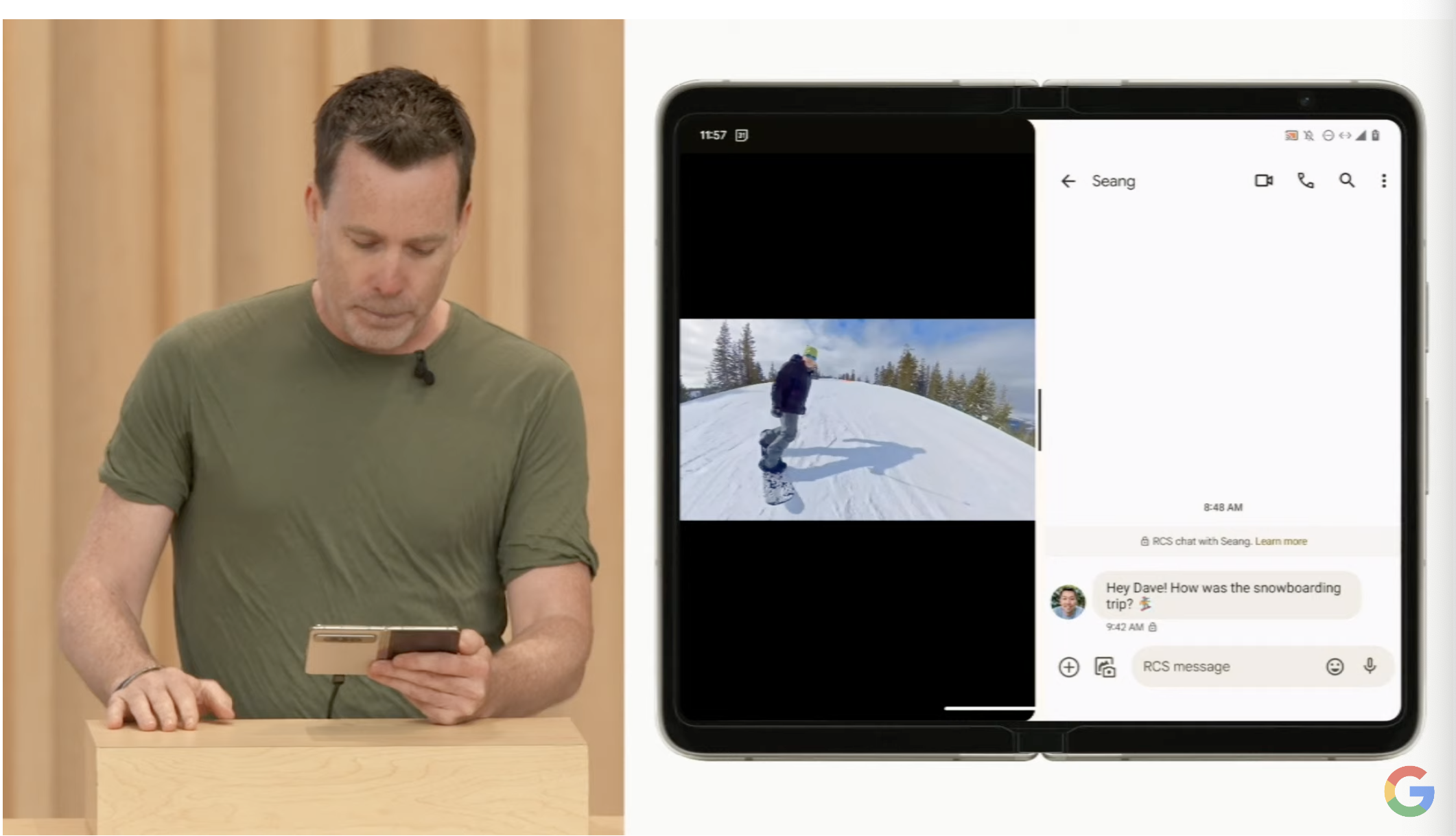 The Google Pixel Fold will be available today for preorder and it will ship next month, it is going to cost $1799/£1749, which is a premium price for a premium device, although you will get a Pixel Watch thrown into that deal for free.
Preorder at the Google Store (US) / Google Store (UK)
Our Pixel 7a review is live, and our reviewer was blown away by the quality you get in a sub $500 phone.
That is wrap for the live blog. Thanks for joining, and stay tuned to Digital Camera World as we bring you more news and reviews on the latest Pixel devices over the coming days.
Thank you for reading 5 articles this month* Join now for unlimited access
Enjoy your first month for just £1 / $1 / €1
*Read 5 free articles per month without a subscription
Join now for unlimited access
Try first month for just £1 / $1 / €1