Looking for the best monopod for your money? Good idea! Monopods may not have the rock-solid stability of a tripod, but they make up for it with loads of other advantages.
Rather than having to unfold and set up three legs every time you want to shoot, monopods allow you to simply rest your camera setup when you need to, and, using one hand to keep the monopod steady, snap an image with much more stability than you would be able to achieve shooting handheld. Monopods are excellent for shooting in low light, reducing camera-shake, or simply providing yourself with a little extra support throughout the day's shoot – this is especially useful if you're on a hike.
Another thing worth noting is that tripods aren't allowed everywhere – many popular tourist attractions forbid them for reasons of space and crowd control. Monopods, however, don't generally fall under such restrictions, and this combined with their size and portability, makes them excellent for travel.
Manfrotto XPRO 5-Section photo monopod aluminum
For strength, stability, versatility and value, this monopod can't be beat
Material: Aluminum | Sections: 5 | Max load: 6kg | Extended length: 141cm | Packed length: 41cm | Weight: 0.7kg
Strong and lightweight
Packs down well
Great value for money
Lighter max payload
Let's get the negative out of the way – this is the longest monopod here when compressed. It extends high though, and while using four rather than five leg sections reduces compactness, it ups rigidity. Combine this with the thick 20mm minimum leg diameter and twist-lock clamps that refuse to slip under much more than the rated 20kg, and the Explora rivals even the mighty Induro for stiffness. Everything stands on a good-sized rubber foot which can be removed to reveal a decent spike. Factor in the reasonably light weight and respectable construction quality and you've got unbeatable value. If you're having trouble tracking it down, you can buy it here.
Vanguard VEO 2 AM-264TR
An amazingly well-featured monopod – for a great price too
Material: Aluminum | Sections: 4 | Max load: 6kg | Extended length: 163cm | Packed length: 56cm | Weight: 0.89kg
Ultra-stable extra feet
Ergonomic twist locks
Relatively heavy
Longer packed length
The Vanguard VEO 2 AM-264TR immediately stands out among the competition for its 3-leg stabiliser at the bottom – a Vanguard staple – which really expands the range of what photographers can with a monopod, providing a level of support that's tough to beat. Should you not want to use the feet, they retract away, revealing a rubber nub at the bottom.
The rubberised twist locks are as smooth as butter – easy to loosen and tight when needed – while the rubber grip at the top is provides an excellent, comfortable hold. The Vanguard VEO-2 AM-264TR extends to an impressive 163cm and can take a maximum payload capacity of 6kg – more than enough for most DSLR and mirrorless setups. All this tech means it weighs a little more than comparable monopods and doesn't pack down as small, so bear this in mind when making a decision.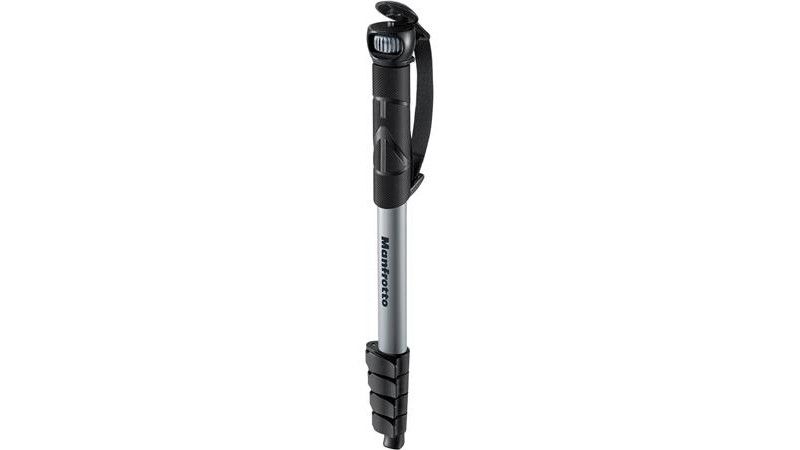 Manfrotto Compact Photo Monopod Advanced
Designed for entry-level setups, this is a perfect first monopod
Material: Aluminum | Sections: 5 | Max load: 3kg | Extended length: 155.6cm | Packed length: 41.5cm | Weight: 0.35kg
Small and light
Useful quick-attach wheel
Less payload strength
No QR plate
With a maximum payload capacity of 3kg, the Manfrotto Compact Photo Monopod Advanced isn't going to be holding anything heavier than an entry-level mirrorless or DSLR setup, with a lens no longer than 200mm or so. However, if your setup meets these restrictions, you'll find this to be an ideal monopod for all sorts of applications. It packs down really well and is amazingly light, meaning it's perfect for travel. It's also pleasingly quick to deploy, with a quick wheel just under the tripod screw that allows you to rapidly attach your camera with one hand – which works perfectly for a monopod designed to exclusively take setups light enough to be used one-handed.
Gitzo Traveler
A premium monopod for a premium price
Material: Carbon fiber | Sections: 6 | Max load: 12kg | Extended length: 142cm | Packed length: 36cm | Weight: 0.4kg
Feather-light, super-strong
Generous maximum payload
Belt clip on wrist strap
Extremely expensive
The use of Gitzo's carbon eXact fiber for the construction of this Traveler monopod is what makes it so light and easy to carry around, despite the fact that it's a six-section behemoth capable of extending to 142cm and carrying a maximum payload of 12kg – more than enough to handle pro-spec DSLR setups with long lenses. It also packs down to an impressively short 36cm, meaning it'll easily fit even in hand luggage and is therefore perfect for taking on your travels, whether for work or pleasure.
Benro Adventure MAD38C Carbon Fiber Monopod
Another higher-end model, with a unique adjustable rounded foot
Material: Carbon fiber | Sections: 4 | Max load: 16kg | Extended length: 158.5 cm | Packed length: 52.5cm | Weight: 0.5kg
Stable rubberised foot
Strong and lightweight build
Expensive
Doesn't pack down as short
Made from durable and lightweight carbon fiber, Benro's Adventure MAD38C is also equipped with a round, vari-angle, rubberised foot that expands the photographer or videographer's options for shooting angle while still providing optimal levels of stability. Quick-flip leg locks for its four leg sections make the monopod fast to deploy and simple to pack down, while the maximum payload it can support is a hefty 16kg, making the Adventure MAD38C a great choice for use with heavy pro-spec DSLRs and long lenses. If you're planning some challenging shoots with distant subjects, this should definitely be in consideration, but really it's a great choice for all stripes of user – its weight of 0.5kg makes it easy to carry, and it packs down to 52.5cm, which isn't quite as short as other monopods in this round-up but is still very much travel-friendly.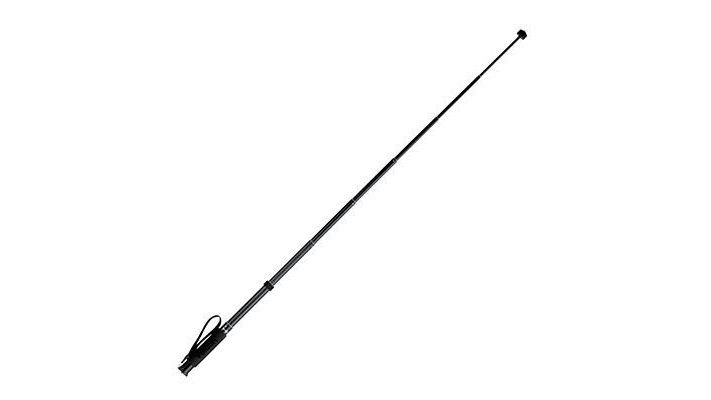 Velbon Ultra Stick Super 8 Monopod
Extends long and packs down short – though has a few handling quirks
Material: Magnesium | Sections: 8 | Max load: 3kg | Extended length: 156cm | Packed length: 26cm | Weight: 0.34kg
Eight leg sections
Huge length range
Locks can be stiff/fiddly
Low payload capacity
The Velbon Ultra Stick Super 8 Monopod is so named for its impressive eight leg sections. These, when fully extended, allow it to reach a maximum height of 156cm, and when fully retracted it allow it to compact itself down to just 26cm. It's also amazingly light, weighing just 340g. Having a monopod with this kind of versatility is certainly a boon, though it's worth noting that the leg locks themselves are quite stiff and take some practice to get the hang of using – in our testing, we found one in particular towards the bottom gave us a lot of trouble. It's also worth noting that the 3kg payload limit also restricts this monopod to entry-level DSLRs and mirrorless cameras – if this describes your setup, this monopod represents tremendous value for money.
3 Legged Thing Alan
A hugely impressive – and costly – combination of portability and strength
Material: Carbon fiber | Sections: 5 | Max load: 60kg | Extended length: 149cm | Packed length: 45cm | Weight: 0.6kg
Massive payload capacity
Premium carbon fiber build
Not the tallest
Costlier than others
No, that isn't a typo up there – 3 Legged Thing's Alan monopod can really support a whopping 60kg of camera kit. This is far, far more than even the most deranged of gear-heads could possible need, meaning you can have absolute confidence that Alan will be able to handle your setup. Like the Vanguard, it also has a retractable foot for extra stability, but it also weighs just 600g, making it easy to carry around on your travels. Taller photographers may find themselves wishing for a little more height than 149cm, and it's certainly one of the pricier models in the round-up.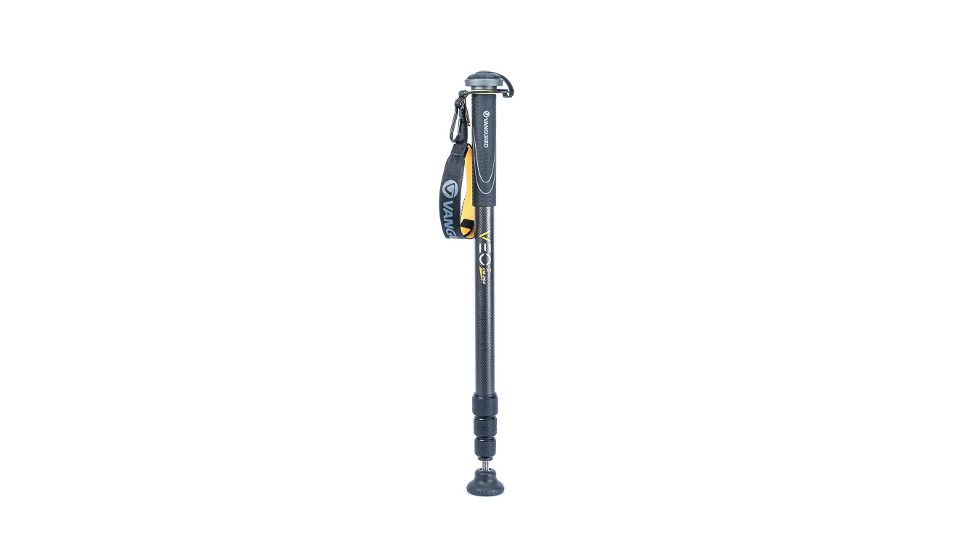 Vanguard VEO 2 CM-264 Carbon Fibre Monopod
Carbon fibre construction with Vanguard quality, all for a great price
Material: Carbon fibre | Sections: 4 | Max load: 6kg | Extended length: 160cm | Packed length: 53cm | Weight: 0.43kg
Superb build quality
Spiked rubber foot
Lower max capacity
Long-ish packed length
It's amazing that this Vanguard monopod is constructed from carbon fibre, given its extremely affordable price. Equipped with a spiked rubber foot for extra balance, as well as a hand strap and carabiner hook for easy transportation, the Vanguard VEO 2 CM-264 is also one of the most lightweight monopods of its class on the market, weighing just 436g. With a solid 6kg of capacity it'll handle most DSLR and mirrorless setups, and its extension height of 160cm is more than adequate for most purposes. This is an extremely solid monopod for all different types of photography.
iFootage Cobra 2 A180
Hefty, but strong, with height that's well-suited for 360-degree shooting
Material: Aluminum | Sections: 4 | Max load: 8kg | Extended length: 180cm | Packed length: 70.5cm | Weight: 1.51kg
Huge maximum height
Adjustable feet
Very heavy
Doesn't pack down much
Extending the iFootage Cobra 2 to its enormous maximum height of 180cm and unfolding its ultra-secure adjustable feet will transform it into a perfect base for 360-degree footage – giving you the height and stability you need with no danger of tripod legs creeping into shot. It functions great as a monopod, with a solid aluminum construction, four leg sections and a maximum capacity of 80cm. It's worth being aware that it's very heavy at 1.5kg, and even when packed away still measures more than 70cm in length, so it isn't one for travelling light. As long as you're up for carrying it, this superbly engineered monopod will serve you well for all sorts of photo and video applications.
Joby GripTight PRO TelePod
And finally, a monopod and also much more – though only for small setups
Material: Aluminum | Sections: 3 | Max load: 1kg | Extended length: 69.8cm | Packed length: 10.2cm | Weight: 0.24kg
Multiple functionality modes
Extremely portable
Low capacity
Low maximum height
Joby has long had a reputation for thinking outside of the box, and the GripTight PRO TelePod is no exception. It can function not only as a monopod, but also as a handgrip, a miniature table-top tripod or a stationary stand for lights and similar devices. If versatility is what you're looking for then naturally you're spoiled for choice – though be aware that it's only designed for light devices like action cameras, smartphones or small mirrorless cameras. It's maximum payload capacity is just 1kg, so you won't want to mount a DSLR or anything similar on there. If you're happy that your setup meets these requirements, then the GripTight PRO Telepod is a great monopod with a difference that can help you in a host of shooting situations.