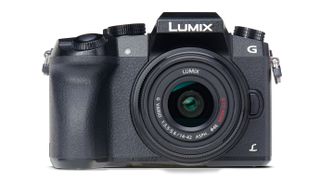 Get this great Panasonic G7 twin lens bundle for £499.99 after cashback from Jessops. Includes a 14-42mm kit lens and 45-150mm telephoto zoom.View Deal
Mirrorless cameras make a great alternative to DSLRs. They're smaller, lighter and offer a full time live view. But to get one with an electronic viewfinder – which we always recommend – you have to pay a little more.
That's why this Panasonic G7 twin-lens bundle is such a great deal. The G7 is styled like a scaled-down DSLR with an EVF on the top and is packed with many more features than your average entry-level camera. These include 4K video and Panasonic's unique 4K Photo mode for capturing 8-megapixel stills at up to 30 frames per second.
The two lenses in this bundle are a 14-42mm kit lens (28-84mm equivalent) and a 45-150mm telephoto zoom (90-300mm equivalent). That gives an extensive overall zoom range for a very modest cash outlay!
See also: The best camera deals on Black Friday and Cyber Monday 2017