If you make a point of calling your product the 'ultimate' version of anything, you're immediately setting a very high bar in terms of the user's expectations. So the Chinese-made Stealth Cam DS4K Ultimate arrives from overseas with a lot to prove if it wants to be named one of the best trail cameras.
Separate it from its packaging and, on initial inspection, the house brick-sized image capture device doesn't appear massively different from its trail camera competitors. Except, unusually here, the grey-ish plastic faceplate is somewhat warped and misshapen, resembling a piece of rotting wood bark and therefore potentially better blending in with natural surroundings when left out in the wild to record whatever steps within its sensor's range.
Deliberately or otherwise, it looks like something that fell out of the ugly tree and hit every branch on the way down. Fortunately, a strap for securely fixing this stealth camera to a tree is provided out of the box so your own product doesn't suffer the same fate. Plus, for anyone nervous about potential theft when left out in the wild, a lockable brace is available as an optional accessory.
As expected, batteries aren't included out of the box with this one and neither is the removable SD card required. But the same is true with rivals. So how does the Stealth Cam DS4K Ultimate fair as a standalone product?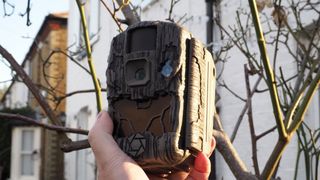 Stealth Cam DS4K Ultimate: Key Features
On paper at least, the Stealth Cam DS4K Ultimate's feature set places it among the best in its class, offering a 32-megapixel resolution, 16:9 ratio images, 4K video recording at 30fps day or night, plus a 100ft range, even if the stated 0.2-second trigger speed is so-so. The SD card slot here can cope with capacities of up to 128GB, instead of the standard 32GB of some basic trail camera models.
However, this still falls somewhat short of the 512GB capacity offered by the Browning Strike Force HD Pro X trail camera we recently reviewed, for those who really do want to leave the device out for long periods without having to change the media in use.
Like all trail cameras, the above features are all designed to work in combination and provide remote observation and the capture of still and video imagery of skittish subjects that would otherwise be near impossible without. Settings can be adjusted to allow for between one and nine images to be captured sequentially when the unit's sensor is triggered. We can set up the camera to be always on, which is the default, or choose certain times of the day or night for it to be operational, as well as alter resolution of stills or tweak the duration of any video, as well as selecting capture with audio or without.
Add in the ability for time-lapse operation and the automatic enhancement of images while reducing blur – an issue if capturing subjects in motion in complete darkness – and we have to say this is one of the most comprehensive feature sets to be currently found on a trail camera in its price bracket.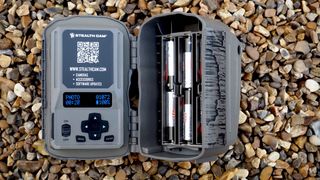 Stealth Cam DS4K Ultimate: Handling
Like the rest of its trail camera ilk, the Stealth Cam's operational controls are hidden beneath a hard plastic faceplate, secured in place via a plastic clamp to prevent accidental adjustment and the changing of settings when left by the user out in the wild.
Reassuringly, neither of these aspects of the build is flimsy, although we still wouldn't want to accidentally drop it onto a concrete surface. There is some degree of protection afforded the actual camera unit, however, as it sits within a rubber surround, rather than being flush to the inner edges.
One surprise here is that the unit requires so many batteries – 12 in all for the Stealth Cam DS4K Ultimate, which is twice as many as most rivals demand, and obviously adds to the weight and bulk. Indeed, half the camera's width is taken up by the battery compartment, which comprises a simple dual-sided plastic tray into which six cells are loaded on each side.
Alternatively, if you're not placing the camera out in the wild and utilizing it instead as a home or workplace security device, then you might want to take advantage of the provided 12V external power jack.
The base of the unit features a standard screw thread for attaching it to a tripod or similar mount if desired, while a strap can be threaded through the plastic loops positioned on the back to otherwise secure it in place.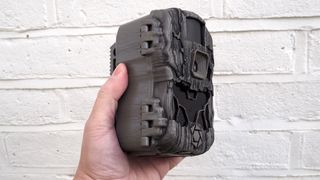 Stealth Cam DS4K Ultimate: Performance
Unlike some rivals such as the Browning Strike Force HD Pro X trail camera, the provided LCD on the Stealth Cam DS4K Ultimate doesn't reveal whatever is in front of the lens to enable us to get our setup and potential framing spot on. This means, once again, it's a case of point-and-hope regarding results, as to be fair it is with the majority of trail cameras. However, we liked the fact that operational buttons were larger and more spongey, in fact resembling the keys on a ZX Spectrum of old, than most rivals. This meant selections were less fiddly to make; something particularly welcome in the wet and the cold.
Though a brief print manual is provided out of the box, we didn't need to refer to it to ascertain which button did what as they are self-explanatory to anyone who has used a basic point-and-shoot digital camera. Here we are gifted an on/off switch, a menu button, an enter/set button plus a four-way control pad via which to navigate settings. A slim LCD window is provided above, which just gives a read-out of the various operational settings and their parameters.
Once the camera is switched on, the device counts down from 30 seconds to give the user the chance to get out of the area and avoid its accidental activation. The same display also shows the number of shots remaining on the SD card inserted, plus an indication of remaining battery life; all pretty standard stuff.
To test its image-capturing mettle, and because it was winter at the time of testing, we left the Stealth Cam DS4K Ultimate outdoors overnight in sub-zero temperatures. The result was that the device had a layer of frost when we went to retrieve it. With the unit having first been activated and then clamped shut, fortunately, we found no dampness had penetrated its innards when we got it back in the warm, and we were impressed that after a very cold night indeed the battery indicator was still displaying 100% capacity.
While widescreen ratio infrared images taken in pitch black are rendered in black and white – their shadowy sharpness on a par with the results from security cameras – during the day we instead automatically get color results. The latter more closely resemble video grabs than shots taken from a dedicated digital camera. Expectedly, results aren't on a par with what we'd expect from a 32-megapixel sensor DSLR; but in fairness, we wouldn't leave a DSLR and wide-angle lens out overnight in the frost either – so it's very much a case of horses for courses.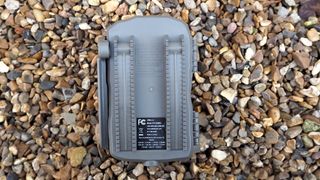 Stealth Cam DS4K Ultimate: Rivals
As we've mentioned in previous trail camera reviews, the options currently out there on the market are essentially variations on the same theme, meaning similar features, size and performance.
Similarly specified options to the Stealth Cam DS4K Ultimate include the almost identically named Bushnell Core DS-4K No Glow trail camera, which also boasts a 32MP resolution, plus the Wi-Fi and Bluetooth-enabled Browning Strike Force HD Pro X trail camera, which therefore provides even more options for remote use. In addition, if our pennies won't quite stretch that far, the Bushnell Prime L20 Tan Low Glow trail camera is a third alternative we feel is worth consideration.
As the closest alternative, we have experience with, the Bushnell Core DS-4K No Glow trail camera distinguishes itself, particularly when compared against both the Stealth Cam DS4K Ultimate and the Browning Strike Force HD Pro X trail camera, by not only featuring the increasingly standard 4K video resolution, but also a speedy 0.15-second trigger response, as opposed to the 0.2-second trigger response of the others.
Less well-specified trail cameras we've previously covered additionally include the Spypoint Force 20, which offers a less impressive but still usable 70ft detection range plus lower resolution 1080x720 pixels video clips, saved to an optional 32GB SD card. Another option is the GardePro E6 No Glow trail camera, with its 24MP stills resolution and 1080P video at 30fs.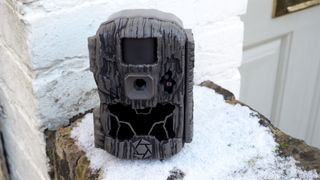 Stealth Cam DS4K Ultimate: Verdict
With a twisted tree bark / crushed Halloween mask-type outer design that seeks to blend in rather than win style awards, the Stealth Cam DS4K Ultimate aims for practicality first. Results are exactly as expected in resembling video grabs or the feed from a security camera, but the thrill of being able to achieve stolen moments with skittish creatures we might not have otherwise got is exclusively the appeal here.
The 'Ultimate' is a pretty heady claim to make, however, and we'd also recommend comparing and contrasting features and prices with similarly performing models from Browning and Bushnell, against which this option, fortunately, holds its own.
You might also like the best cellular trail cameras, and if you're into wildlife, the best portable hides for photography and the best camera for wildlife.