As an experienced drone pilot with plenty of commercial missions under my belt, I have plenty of admiration for the Mavic line. I've been on video jobs where the client was most excited by the biggest and heaviest drone I had, but the shot that ended up in the final edit came from a trusty Mavic 2.
The demands on the newer commercial drones are much higher, however, which is why DJI has split its line between drones with content creation in mind and those with serious tasks like data gathering and the mucky business of search-and-rescue and law enforcement where moments matter.
The Mavic 3 Enterprise series is similar to, but not quite, the same as the Mavic 3 at first glance, but is sold with a different controller and, crucially, different control software. There are two main variants, which have different camera units. The 3E has dual cameras, the main sporting a mechanical shutter which is useful for aerial surveying. I tested the 3T thermal drone which sadly lacks a mechanical shutter on its main visible light camera, but boasts a thermal camera for missions including search and resue.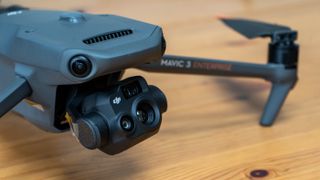 DJI Mavic 3T: Key features
The headline feature of the DJI Mavic 3T is the thermal camera, which has 640 x 512 pixels. Alongside it, in the same housing, are two other cameras, a 48-megapixel wide angle plus a telephoto zoom which can be pushed as far as a 56x digital hybrid zoom for remote inspection. The system is capable of smart low-light shooting.
The DJI RC Pro Enterprise controller allows for missions to be planned and launched for mapping – including thermal maps – without the need for a computer. It boasts a 5.5-inch multi-touch display with 1000 nits brightness, good enough to see outdoors, and up to 15km control range. It can display optical and thermal cameras split-screen.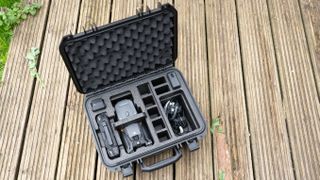 DJI Mavic 3T: Specifications
Wide camera: 1/2-inch CMOS / 48 megapixels / 24mm EFL
Tele camera: 1/2-inch CMOS / 12 megapixels / 162mm EFL
Thermal camera: 12 μm pixel pitch, 30 Hz, 40mm EFL
Recorded video: 4K at 85 Mbs
Max speed forward: 21 m/s
Max speed descent: 6 m/s
Weight: 920g (max 1050g)
Size: 221 × 96 × 90 mm (folded) 348 × 283 × 108 mm (unfolded)
Range: O3+ 15Km in FCC areas, 8Km in Europe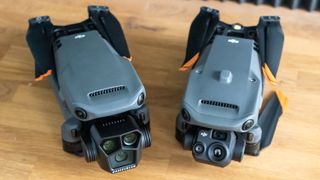 DJI Mavic 3T: Build & handling
The Mavic 3 is a familiar design in the drone world, with fold-out arms which take a compact frame and make it a sizeable and powerful tool. Little more needs to be said of which is undoubtedly a successful airframe.
In the Enterprise series, above the camera housing, stands a USB-C plug (covered with a rubber door) flanked by two screw mounts. These provide the fitting point for accessories like the RTK adaptor. I couldn't help but notice that, with the vent, these appear a bit face-like. At the back is a fixed beacon bulb that can be turned on and off in software, so no longer will you need to surrender the accessory port to fit a beacon (unlike the Mavic 2 Enterprise).
It feels rugged and — with the battery — even a little weighty. Perhaps I've flown too many ultralight! If we were looking for flaws the rubber cover over the back, just above the battery, which conceals the MicroSD card and USB-C charging port could be a little less fiddly. The legs also afford very little ground clearance, so always have a drone landing pad with you or be ready to do a hand launch.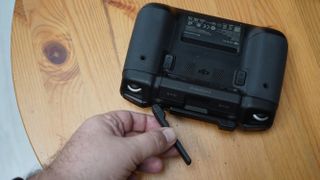 The RC Pro Enterprise controller isn't what you'd call light, but the rubberized grips feel reassuring. Unlike the DJI RC (the controller with built-in-screen popular with consumer models), this looks a bit old-school with its fold-out antenna. If, however, you're flying at the end of visual range they do seem to offer a more reliable signal. What's really notable about the controller, though, is the 1,000-nit display which is perfectly viewable in daylight.
How easy you find the controller to use depends on your experience of Android-embedded devices because that's what's going on here. Luckily the processor seems up to the task, and there are 3 hours of charge in the battery, as well as a MicroSD card port for storage or, in my case, to save screen recordings to. There is also a mini-HDMI out socket too, should you need to share a live feed.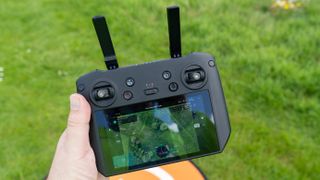 We tested the drone around obstacles and as far as the law allowed with no sign of the video signal dropping out, so we're confident in DJI's 15Km / 8Km perfect-world range claims.
DJI Mavic 3T: Performance
Given it's purpose, it's worth pointing out that the Mavic 3T is very quick to take flight. You can keep a charged battery in it (in fact you can use it to charge a battery), and both the controller and drone boot in about 15 seconds. It takes about ten seconds to open the arms and set the drone on a flat surface (it's best to carry a drone landing pad). From there you can take off – no need for any calibration, and if you've synced the remote with your phone it can check the airspace restrictions for you too.
Ordinarily, this heading would largely cover the quality of the output, but using the Mavic 3T is more about getting in the air and achieving tasks. Since I wasn't able to wait for a real S&R situation to occur (and may still leave that to more official responders), I tested the drone by releasing my family into the wild. Well, a disused golf course, at any rate, to see if I could track them down using the thermal camera.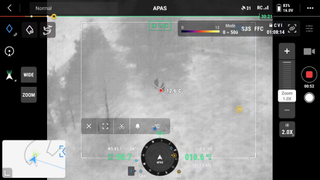 Drone hide-and-seek proved a success. Despite a chill wind (we were testing in the UK, in spring, but you wouldn't know it) the drone was very quick to highlight the warm spot with a red dot. I could then zoom in and hover a bit closer to indicate a win for 'team drone.' The 30 Hz refresh rate meant there was no painful waiting for jerky thermal video either.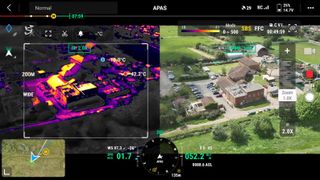 The Side-by-Side feature looks great for building inspection as well as helping navigate to the search location. You can opt to apply the a digital zoom to the thermal view or not – a very nice touch since using the tele to get a closer look optically is easier with a higher resolution. Easier, I found, than getting too close in hide-and-seek (though in a real rescue there would be operatives on the ground to direct). In any case here is the tech for thermal insulation inspection at a high resolution.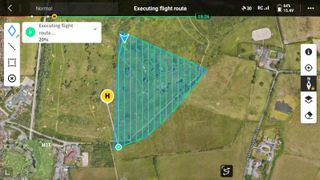 I wouldn't want the screen to be any smaller for the task, but linked with my phone's Wi-Fi hotspot, I could see the satellite view for the location and then plan an orthography mission for the drone. This is a brilliant tool, as you can drop these images into whichever map stitching software you opt for later.
Sadly the Mavic 3 doesn't have RTK built into the kit; an additional antenna is needed for around $600, which is what the accessory port is for. More significantly the thermal version lacks a mechanical shutter (which provides crisper images for map stitching. On the plus side, you can capture data from the thermal and optical cameras simultaneously – though at the 15 m/s speed I chose there seemed to be some evidence of blur in the thermal ones.
I didn't have the RTK kit to test – this system offers much higher accuracy than the satellite positioning systems – but I can at least confirm the software was reasonably easy to configure on location, and was able to set up and initiate a mapping mission.
Above: This video is an assembly of clips to give an idea of the user experience; many are captured using the ability to screen-record straight onto the RC Pro. Frustratingly one of the quirks which affected me more than it likely will you is that — when you're performing a screen record — the icon that indicates it is near the bottom at the center. In other words, above where the compass is, and it can block some buttons at times. It is a busy screen, with a good amount of data, but navigation is assisted by the big buttons on the remote and the time-served organization.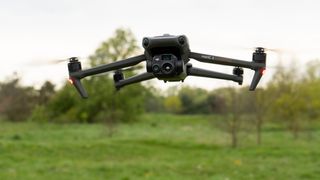 DJI Mavic 3T: Verdict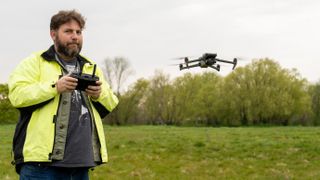 The Mavic 3T is an excellent machine. Not the first Mavic 3 drone I've reviewed, so I'm familiar with the basics, but if you're not there are tutorials accessible via the remote. Once these have walked you through the on-screen display and revealed features like the side-by-side camera mode, you'll find things switch from enigmatic to straightforward in minutes.
Looking for problems – that's my job here, after all – I think it's fair to say that DJI is a little optimistic about their stated flight time. If you ignore the time from take-off to reaching the start of work, and the time lost returning at the end when the battery alert is on, the operation can be as little as 25 minutes. That sounds a lot less but, of course, predecessors had the same constraints and less useful time in-between so it is still a big plus, just don't get over-excited.
The optical collision avoidance systems are nice to have, but I tend to think a pro shouldn't rely on them. For subject tracking, look at the Mavic 3 Pro series. Here the triumph is more in the zoom which enables you to target an area before zooming in. It also takes some getting used to, but is immensely helpful in ensuring you don't lose a target.
Everything about the software has been rethought to make things quicker and more practical for first responders and surveyors, not photographers, and while there might be a slightly steeper learning curve the device will be paying dividends fast. The only worry we can see is those areas of America (Florida, Arkansas) where legislators either know something we don't about DJI's software or are putting politics ahead of practicality. Because in this size, at this budget, this drone feels unbeatable.
See also our guide to the best thermal drones, and our rundown of the best DJI drones