Roller bags are a great accessory for making it easy to transport heavy camera gear when travelling. But with the wheels taking the strain, it's tempting to buy the biggest camera bag you can afford. For maximum travel versatility, however, we've selected five of the best roller bags that are just small enough to qualify as airline cabin luggage. However, size limits vary hugely across carriers, with budget airlines usually having the strictest rules, so make sure you check requirements with your airline before you show up at the airport.
Spoiler alert
Providing unmatched gear support and protection, with plenty of easy access pouches, the Manfrotto Pro Light Reloader-55 is the pick of the bunch.
Read on to find out more...
Five things to look for...
Flight friendly? A bag measuring 55 x 35 x 23cm will see you through most airline check-ins – but many airlines won't allow more than 10kg in weight.
Divide and conquer: Interior width is critical when packing larger lenses. Well-designed dividers can adapt to super-telephotos.
Built to last? Roller bags can take a lot of abuse. Wheels should be replaceable, while reinforced outer corners and undersides add longevity.
The complete package: Look for bags that boast a laptop slot and a tripod attachment system. Easy-access outer pockets are a bonus.
Little extras: A roller bag with a pair of backpack straps helps with stairs or rough ground. Expandable compartments are also useful to have.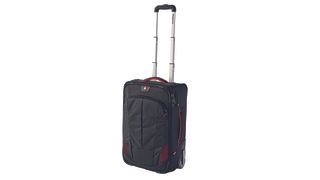 1. Manfrotto Pro Light Reloader-55
Easy-access storage in a tough exterior
Exterior dimensions: 35 x 23 x 55cm | Weight: 4.2Kg
Integrated zip locking point
Dedicated space for laptop and accessories
Practical interior layout
Reinforced key wear points
The Reloader-55's boxy design and 55 x 35 x 23cm dimensions fully use the carry-on size limits of most airlines. That gives it the most practical interior layout here, only rivalled by the Think Tank bag. You can also fit a 17in laptop and 10in tablet in slots on the outside of the front flap for easy access, and the underside of the flap contains plenty of pouches for filters and memory cards. Compared to the feature-packed Calumet bag, the Reloader's extras are more subtle. One nice touch is an integrated zipper locking point on the side of the bag, which secures the main zippers more elegantly than a padlock. This bag nails the basics though. Manfrotto's extra-thick dividers are sized to fit perfectly around full-frame kit while giving unmatched gear support and protection. Outside, the tough exterior is well-reinforced on key wear points, and includes user-replaceable wheels of a common size.
2. Calumet RC1188 Rolling Camera Case
Practical and spacious at a reasonable price
Exterior dimensions: 36 x 25 x 53cm | Weight: 6.5Kg
Extra space in expanding front flap
Rugged exterior
A bit on the heavy side
Tight squeeze for larger lenses
This may be by far the cheapest option here, yet the RC1188 feels every bit as rugged as pricier rivals. You get reinforced outer corners, rigid sides, and plenty of scuff protection underneath – although all this toughness adds up to a 6.5kg unladen weight, making this the heaviest case on test. Its 25cm thickness could also be problematic at some check-in desks.Inside, the padding and dividers are adequate, if not as impressive as the exterior quality. A 30cm internal width is about 3cm narrower than a case like the Manfrotto Reloader, yet that's enough to make it a tight squeeze to fit fast full-frame lenses alongside each other. But Calumet claws back ground with extra features. The entire padded interior can be lifted out and has its own lid and carry handles. The practicality doesn't stop there: the front flap will expand by a whopping 19cm, effectively doubling the capacity of the bag.
3. Tenba Roadie Universal
Weatherproof and ready for the elements
Exterior dimensions: 36 x 25 x 53cm | Weight: 4.8Kg
Superb handles all round
Weatherproof ballistic exterior
User-replaceable wheels
Less height than other bags here
Tenba is keen to promote the construction and material quality of the Roadie, and it does indeed feel extremely rigid and robust. There are features like a weatherproof ballistic nylon exterior – reinforced in vulnerable areas – plus superb handles all round and user-replaceable wheels. Size-wise, a 51cm height makes the Roadie a shade shorter than the Manfrotto and Think Tank bags, but helps ensure it can stay with you as cabin luggage. You'll still be able to carry a couple of bodies and up to eight lenses, with enough width to fit typical full-frame lenses three abreast. Ample interior padding offers good kit protection, if not quite up there with the Reloader-55. Out on the front panel there's an easy-access slot for a 17in laptop, along with a well-designed tripod attachment system. Round the back, a rear pouch containing a steel security cable can tether the bag with an optional padlock.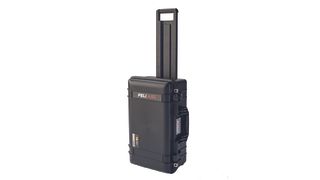 4. Peli 1535 Air Case
Light in weight but a hard case to crack
Exterior dimensions: 36 x 23 x 56cm | Weight: 4.5Kg
Ultra-tough hard case
Dustproof and waterproof
Shorter handle extension
Customisable dividers are extra
Peli's entry is sized to fit within most carry-on limits, but should it need to go in the hold, this ultra-tough hard case will shrug off any abuse. Hard cases are usually far from light, but Peli's Air range uses a clever honeycomb construction and light plastic to reduce weight without compromising toughness. The result is the 1535 Air weighs less than the Calumet and Tenba bags – including a full foam interior. This is easily customised to suit your gear and offers great padding, though it's tricky to adapt to differing kit loads. Peli does offer a customisable divider set instead, albeit at extra cost. Other drawbacks with the Air case compared with the other bags on test include a handle that extends around 10cm less, meaning the case is more prone to clipping your heel as you walk. The hard utilitarian design won't suit all occasions, and you can forget extras like laptop or tripod pockets.
5. Think Tank Airport TakeOff V2.0
Backpack or roller bag, choose your mode of transport
Exterior dimensions: 36 x 22 x 53cm | Weight: 4.0Kg
Can be worn as a backpack
Plenty of interior space
Pretty light considering
Lack of corner reinforcement
Recognising that wheels aren't always the best mode of transport, Think Tank has come up with a roller bag and backpack in one. Simply open the rear pouch to reveal two backpack straps, and the pouch's padded flap folds down to offer lower back cushioning. This set-up is fairly comfy, although without a hip belt, you'll only want to wear the bag as a backpack when wheels won't do. As one of the largest bags here, there's plenty of space inside for various kit configurations, while still staying within most airlines' carry-on limits. A decent set of dividers includes three with U-shaped cutouts to cradle cameras with attached lenses. Premium fabrics and fittings help justify the price, but some corners have literally been cut. A lack of exterior corner reinforcement is surprising, and the overall toughness doesn't feel quite on a par with the Tenba Roadie, though the TakeOff is noticeably lighter at just 3.9kg.
Read more:
Best camera bags in 2019