A motorized star tracker camera mount is a key piece of kit for long-exposure astrophotography – and in this guide we show you some of the best star trackers available.
But why does your DSLR or mirrorless camera need a star tracker for astrophotography? The trouble with photographing the night sky is that the stars move, or rather, they appear to. Earth rotates once every 23 hours 56 minutes and 4 seconds – and so do you – so the position of stars appears to constantly move. Try a long exposure of just 30 seconds and you'll get blurred stars. The ultimate proof of that is a star-trail photo, which literally shows the path of stars in the night sky over a few hours.
• See also: Best timelapse cameras
So what do you do if you want to shoot the night sky with long shutter speeds over 30 seconds – and as long as four or five minutes? Cue a rotating star tracker, a device you place between camera and tripod, which when aligned with the north celestial pole (if you're in the northern hemisphere) or the south celestial pole (if you're in the southern hemisphere) will keep your camera in sync with Earth's rotation. That's so useful because long exposures of two minutes or more are necessary to capture enough light, color, and detail to properly reveal the Milky Way, as well as faint celestial sights such as star-fields, galaxies, nebulae, and even gas clouds.
For close-ups, astrophotographers tend to strap their cameras with zoom lenses to telescopes mounted on equatorial mounts; star-trackers like these are all about portability, and are best used with a wide-angle (which are generally considered the best lenses for astrophotography). However, don't forget that a slowly moving platform means a sharper, lighter-filled and cleaner star fields, but a blurred foreground, so you need to be prepared to do some blending and post-processing whenever you use a star tracker.
There are a few issues you need to be aware of when purchasing a star tracker; portability, the weight they can hold, the ease of polar alignment, and battery life. There are several star trackers available, though all are different, meeting slightly different requirements. It all depends on what your goals are.
Here are the best star trackers for nightscapes and astrophotography…
Best star tracker in 2021
If you're restricted on the weight of your camera bag, but need a long battery life, look no further than the iOptron SkyTracker Pro. A more basic version than the brand's souped-up iOptron SkyGuider Pro, the SkyTracker Pro's built-in battery lasts for 24 hours, though it can be recharged via an external battery via micro USB. Alignment is via a precision polar scope that has an impressive eight brightness levels, as well as a smartphone app (iOptron Polar Scope for iOS and Polar Finder for Android). It's important to know that both iOptron products use a platform that can't handle motion time-lapses, but the SkyTracker Pro nevertheless offers four tracking rates; stars, 1/2 speed, lunar and solar, so you can also use it to photograph the Moon and even solar eclipses.
Off to visit the world's darkest skies with a wide-angle camera? Although it's not physically able to take lenses with a focal length of more than about 100mm, this pocket-sized platform will prove incredibly useful for wide-angle Milky Way and star-field photography. Lightweight and portable, easy to use, and with accurate star-tracking, this little rotator offers super-easy polar alignment using a green laser. Lightweight, but sturdy when used with wide-angle lenses, it nevertheless has a few fiddly screws that are easy to lose, a poorly illuminated control panel makes it tricky to set-up in daylight, and battery life is relatively short. However, for entry-level astrophotographers, it's the business - and kit prices start at just $258. As a bonus it also works as a motion time-lapse platform in daylight, which landscape photographers will love – a good value, innovative, and nicely-sized addition to a camera bag.
Read more: Move Shoot Move 2-in-1 Star Tracker review
Designed to work with wide-angle lenses to image star-fields and the Milky Way, the Vixen Optics Polarie Star Tracker's has a built-in compass and latitude meter (which are illuminated in red light for set-up at night) for finding the celestial pole through a sight hole or polarscope (there's also a Vixen PF-L Assist phone app for iOS and Android). Like the iOptron suite of products, the Polarie can track the stars, Sun and Moon, with a 1/2 speed for motion time-lapses at night. Like the Sky-Watcher it runs on two AA batteries, though at just two hours the battery life is going to be severely limiting. Happily, the Polarie can also be run from a portable battery over micro USB. Although the load is very limited, an upgrade kit of counterweights is available to increase its load to 6.5kg, thereby making it possible to use with 200mm+ lenses.
One of the smallest and smartest star-trackers around, this package is very similar to the iOptron SkyTracker Pro. With your smartphone already armed with the free Star Adventurer mini Console app on Android or iPhone it's possible to perform a polar alignment with the included polar scope using a Polar Clock feature (as well as change the speed for time-lapse modes). That polarscope comes complete with a red light mode to save your night vision, while the platform itself has a built-in intervalometer, so if your DSLR doesn't have one built-in you can just attach it to the camera mount itself. Reckon on about 60-second exposures when using a 100mm lens, though a counterweight is available that ups the load limit to 3kg. As a bonus you can also perform motion time-lapses using the Sky-Watcher Star Adventurer Mini. It uses two AA batteries, so it's easy to refuel on the go.

The iOptron SkyGuider Pro can safely support a whopping 5kg, which means a zoom lens and even a (small) telescope. As well as making 'deep sky' shots possible, it has four tracking rates; stars, Sun, Moon, and, as a bonus, a 1/2 speed for motion time-lapses during the day or night. Shipping with a 1.35kg counterweight, it has a built-in shutter triggering port, so you don't need to use an add-on intervalometer. Aligning using the SkyGuider Pro system – an electronic polar finder scope known as the iPolar – is easy (there's also an iOptron Polar Scope app for iOS and Polar Finder for Android), while its built-in rechargeable battery has a decent runtime (though you can also run it off a portable battery). Although it can support long zoom lenses, reckon on short exposures when at long focal lengths; only wide-angle lenses can stand five-minute exposures. It's also not able to perform motion time-lapses.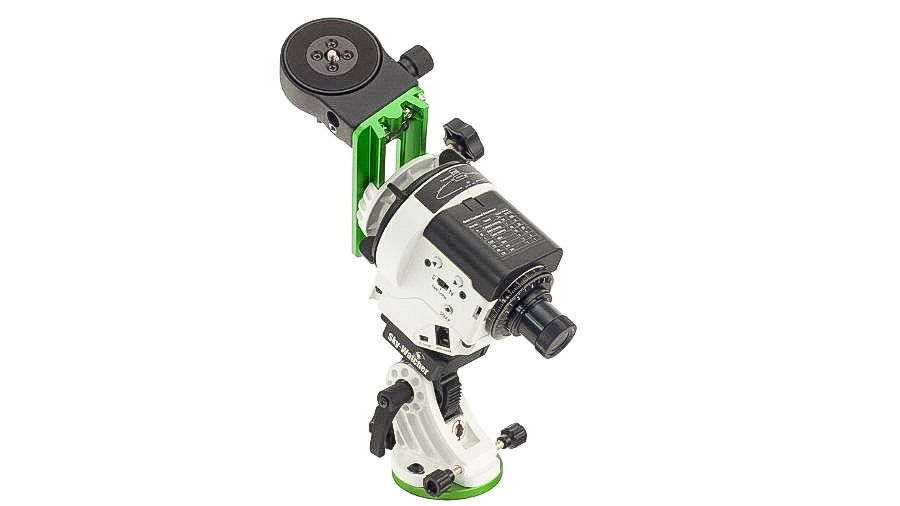 Offering almost twice as much load as its 'little brother' the Sky-Watcher Star Adventurer Mini, this Pro version also ramps-up the battery life by using four AA batteries that together last for 72 hours. That's plenty enough for a field trip into remote areas while also being simple to swap-out mid-shoot. The original portable tracking mount that's easy to set-up (it uses a polarscope with Sky-Watcher's free SynScan app for iOS and Android), the Pro is nevertheless a heavyweight in terms of design. That's extended by the inclusion of a counterweight kit (a dovetail L-bracket and an equatorial wedge) for using the Pro with zoom lenses up to about 400mm focal lengths. Able to track stars, Sun and Moon, the Pro also offers various motion time-lapse modes and has a built-in intervalometer to attach a DSLR to, which makes this competent platform completely automated.
Read more:
The best lenses for astrophotography
The best camera equipment for astrophotography
The best telescopes for astrophotography
The best CCD cameras for astrophotography