Trouble streaming the above video? View/download it here
Off-camera flash can be wonderful for portraiture. The best Nikon flashguns are invaluable if you're looking to pick out your subject and give your shots a unique style. But many of us who use it pay little attention to the colour temperature of the light our flash is blasting out. By controlling the colour and our camera's white balance settings, we can create all kinds of interesting effects.
Measured in degrees kelvin, colour temperature is a scale for the colour of light, from warm orange shades (lower kelvin value) to cool blue shades (higher kelvin value). Natural light shifts back and forth along the scale at different times of day, from morning warmth to midday cool to sunset warmth again. We can alter our camera's white balance so no matter the colour of the light, white objects appear white in our photos. If we choose to add light of our own, we can tint our light sources with gels to work in combination or as a contrast to the ambient light.
But here's the mind-bending part, we can create a warmer scene and enhance those sunset vibes – not by warming our flash, but by cooling it down. This may sound counter-intuitive, as surely a warming gel warms the scene? In fact, this would tint our subject's skin tones orange, so if we wanted to keep the skin tones natural, we'd have to cool the image in Adobe Camera Raw CC to correct it. So, if we reverse this process by directing cool flash light at our subject we have to warm the white balance to correct the skin tones, which in turn has a doubly warming effect on the rest of the scene.
Download the project file(s) to your Downloads folder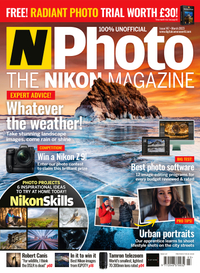 N-Photo: The Nikon Magazine is a monthly magazine that's written by Nikon enthusiasts for Nikon enthusiasts, you can be sure that all the content is 100% relevant to you! So for the best Nikon-focused news, reviews, projects and a whole lot more, subscribe to N-Photo today – with our unmissable sub deal!