With its near-limitless potential for subject matter, stock photography is without a doubt a quick way to make money from your camera.
But from the millions of images on Flickr's Creative Commons site to the tens of thousands of daily uploads at more exclusive stock agencies, the global demand for low-cost imagery has made stock photography incredibly competitive.
Here we'll share some tips for giving your shots the edge, and get some exclusive advice from the prolific Yuri Arcurs, one of the world's biggest selling microstock photographers.
Tip 1: Get the classic look
The clothes your subjects wear will date your photos, albeit subtly. Current fashion trends may change in a year's time, and when a picture editor is looking at your images, they may like what they see but be put off by clothes that date the image.
So if you're using models, ask them to wear classic styles that don't show their age – solid colors, blacks and whites, and absolutely no branding or slogans.
Tip 2: Go for multiple interpretations
The images with the longest shelf life are those that are open to multiple interpretations. When Lehman Brothers crashed in 2008, for example, an image of Lehman's London office shot from a low angle under a brooding sky would have sold quite well; now it's really dated.
So rather than literal images, try to shoot suggestive pictures; they'll sell better over the longer term than a straight interpretation of a very current subject in the news.
Tip 3: Take the thumbnail test
An easy way to tell if your picture's message is clear enough is to reduce its size. Cut it down to 15% or so, turn your head away, and then look back again. Is the theme still really obvious?
By viewing your image as a thumbnail, you'll put yourself in the shoes of a picture editor – they tend to be busy, overworked people who simply don't have the time or inclination to open all your images and pore over them in the way you would. Instead, they'll scan your shots on a contact sheet, and if they can't immediately tell what's going on with the shots, they're more than likely going to end up in the bin.
Tip 4: Be tech-savvy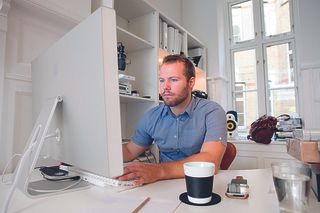 Dated technology is as obvious as dated clothes and news stories. Is your business traveller running Windows 2000 on a laptop? Is that lady on the beach talking on a 2004-vintage Nokia 7710 phone or an iPhone 4? Why is she using such an old phone if she can afford such an expensive beach holiday?
With its incredibly short shelf life, technology will instantly put a sell-by date on your image. This isn't to say that you can't ever include technology in your pictures; a laptop or telephone is often a great device for expressing communication. But if you're going to do this, place yourself so the make and model are either not visible or are not an obvious point of interest. Even better, see if you can borrow a more up-to date phone or laptop from a friend.
Tip 5: Fill the frame
You don't need a high-end DSLR or mirrorless camera to shoot stock photography, but you should have a frame-full of your subject. In other words, leave your wide-angle lens in your bag. Don't make a person a tiny speck in the distance; they'll be lost in your composition, and so will the point of your image.
This might be okay if you're shooting moody landscape shots, but unless you're very lucky, most people aren't going to buy your personal photos thousands of times over. If you're going to use people in your image, it should be clear to the viewer why they are there. People are best used large in the frame to express a mood or concept – check out annual reports and other types of corporate literature.