Watch video: Home photography ideas – 4 macro hacks
With all that's going on in the world right now, even the most creative photographer might feel like they've shot all they can shoot in and around the house. However, macro shooting can transform your four walls into a whole new photographic playground – and you don't even need a macro lens to do it!
• Get more Home photography ideas
Maybe you've always wanted to give macro a go, but aren't sure if you want to shell out for an expensive macro lens. Maybe you're just going a little stir crazy and want a fun photo project to occupy you for an afternoon. Either way, here are four brilliant macro photography hacks for your camera, lens and even your smartphone – so you can get some brilliant shots without breaking the bank or leaving the house.
If you get a taste for the art of shooting small, you can take your images to the next level by checking out the best macro lenses. Until then, though, check out these top tricks and get experimenting…
1. Shoot through your lens backwards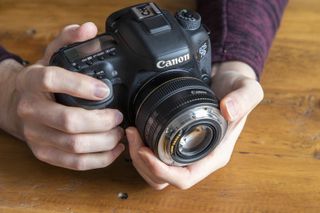 Take a standard lens, such as a 50mm f/1.8, off your camera's lens mount and turn it around 180º to shoot through it the 'wrong' way (just hold it in front of the mount). Right away, you'll be able to focus much closer to capture macro images!
This is a very rudimental way of shooting macro images but, providing you have a standard lens, it doesn't cost a penny. Since the lens won't be able to communicate with the camera (as the electronic connections are facing the wrong way), lenses that don't have an aperture ring will shoot wide open. You can always use an old prime film lens with an aperture ring to get more control over depth of field.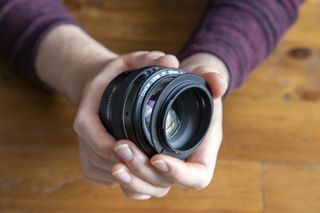 If you don't want to physically hold the lens in front of the mount, you can also invest in a reversing ring to fit the front filter thread of your lens. This will enable you to mount the lens backwards and use it with more freedom and precision.
2. Use extension tubes to take you closer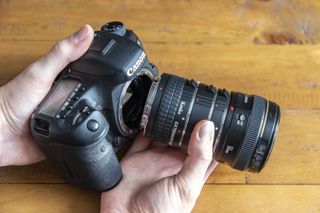 Extension tubes sit between a standard lens (such as nifty fifty, as above) and your camera body. The way they work is simple: the larger the gap between the lens and camera body, the higher the magnification you'll be able to achieve.
There are two types of extension tubes, automatic and manual. The latter are the more affordable choice, as you are limited to shooting in manual mode, while automatic tubes have electronic connections so that you can still adjust your exposure parameters and shoot in semiautomatic modes like aperture priority.
3. Add magnification to standard lenses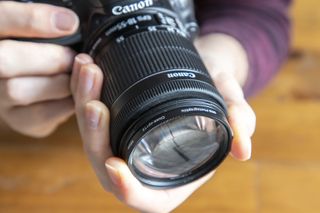 A magnifying glass uses convex glass elements to enlarge whatever it's pointed at. You can get a similar device that screws into the front filter thread of a standard optic, such as a kit lens or 50mm, reducing the minimum focus distance and enabling it to take macro images. These devices are called close-up filters and usually come in different strengths, so you can fine-tune how macro you want to go.
4. Give your phone macro functionality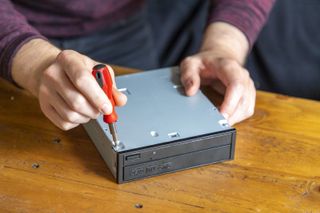 A few of the best camera phones have a dedicated macro lens module, but this is limited to expensive and exotic models. If you don't have one of these niche phones, you can always pick up one of the external lenses for iPhone and Android handsets – but these can easily cost you a hundred notes.
So we're going to show you how to create your own similar device using an old CD or DVD drive, or even a laser pen, by removing the tiny lens element from inside one of these devices…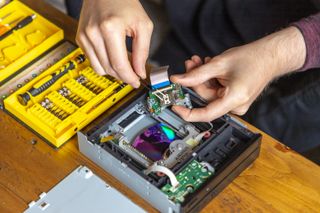 In this case, we've removed the lens from an old DVD-ROM drive. You may well have an old PC or laptop laying around that you're happy to cannibalize, but if not you can pick up a drive for just a few bucks on eBay.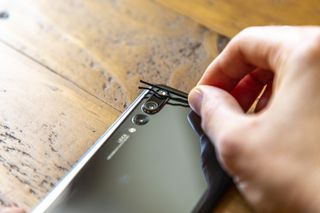 Now use a hair clip to hold the lens element in place on the back of your phone, so that it covers the main camera lens. You may need to bend the hair clip a little bit, to get it to sit nice and flush.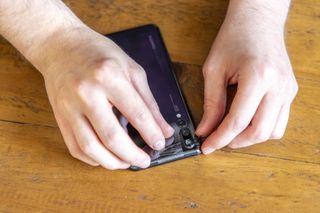 Finally, tape the hair clip to the back of your phone so that it sits flush with the camera lens, give it a quick wipe with a microfibre cloth to remove any unwanted fingerprints, et voila! You'll now be able to take super close-up images with your standard smartphone camera.
Read more
The best macro lenses in 2020: get closer to your subjects than ever before!
Stuck at home: 11 fantastic photo projects to try indoors during the COVID-19 crisis
Home photography ideas: Whip up a storm with flash and a glass of water!