Watch video: Get primed for super telephoto wildlife photography
There is a special joy when photographing wildlife with a massive super-telephoto 500mm prime lens. You really feel like you have a big, powerful optic that will help you capture frame-filling shots of the smallest subjects. However, there are both pros and cons to super-telephoto primes.
• Whether you want to go prime or zoom, these are the best lenses for bird and wildlife photography
Prime lenses generally offer superior image quality, due to fewer moving elements compared with zoom lenses. There's also the wider apertures, such as f/4 on the Canon EF 500mm f/4L IS II USM we've used. The faster maximum aperture blurs backgrounds for a dreamy bokehlicious look, so subjects stand out from their surroundings.
They also enable faster shutter speeds for sharper shots at the longer focal lengths, by overriding camera shake when shooting handheld as well as freezing fast-moving nature subjects.
Furthermore, with huge 146mm diameter glass (as on our EF 500mm) letting lots of light in, it will enable your camera's autofocus to perform at its best and lock on to subjects rapidly.
With prime lenses you need to get used to knowing how close or far back you need to be to get frame-filling shots of your wildlife subjects, so you need to "zoom with your feet" compared with zooming in and out with telephoto zoom lenses. Being aware of your optic's close focusing distance is key.
These kinds of lenses are very heavy, too, so you'll only be able to shoot handheld in short bursts unless you're The Rock. One of the best monopods will help you manage the weight.
Not only are these pro primes heavy, they're also costly. Some of the best budget telephoto zooms can get you up to 400mm of reach but, while the difference compared to 500mm isn't as big as you may think, it's the slower aperture from f/4 at 500mm to f/5.6 at 400mm that will affect your photos.
It will produce noticeably less background blur, and also will mean that your camera's AF system won't be getting as much light inside, so will perform slightly slower than the prime lens.
There are some key camera settings and big lens techniques for the best wildlife shots, which we explain below. Join us as we head to our local river to photograph western yellow wagtails…
1. Super-power your prime
If you mount your lens on a crop-sensor camera, it increases the effective focal length. Here we've used the EF 500mm f/4L on an APS-C-sensor Canon EOS 7D Mark II, whose 1.6x crop factor produces an effective focal length of 800mm – ideal for getting decent-sized shots of small, shy birds such as the western yellow wagtail.
2. Exposure settings
We shot in manual mode, and set the aperture wide open at f/4 and ISO to 800 to get a fast shutter speed of 1/2000 sec for sharp shots. Shooting wide open with this extreme focal length creates super background blur for birds to stand out really well in shot.
3. AF and drive modes
To make sure that your focusing and hit rate are improved, set your camera's AF mode to continuous ("Servo" on Canon cameras) so that you can focus-track moving birds. Now switch your drive mode to high speed continuous, so that you can fire bursts to help get sharp, shake-free shots.
4. Pre-focus on a perch
Switch your focus point selection to a smaller group of AF points. We tend to use a cluster of nine AF points, adding active points around the main focal point. We also used back button focus and pre-focused on the branches that we noticed the birds favored, then fired the shutter when they landed.
5 Muscle man!
The hefty EF 500mm lens weighs over 3kg, so you'll give your biceps a good workout when shooting handheld. We still preferred the flexibility of shooting handheld, making use of the image stabilizer, and we also used branches, fence posts, and even our own knee when knelt down, to support the big lens.
6 Extra lens settings
Depending on your super-telephoto prime or zoom, you may have extra settings to help you focus smoother and faster. For example, our optic has three options to limit the focus distance – Full, 3.7-10m, 10m-infinity – which speeds up AF lock times by reducing focus hunting.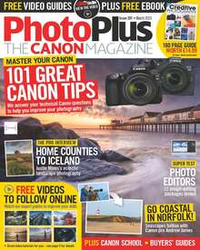 PhotoPlus: The Canon Magazine is the world's only monthly newsstand title that's 100% devoted to Canon, so you can be sure the magazine is completely relevant to your system. Every issue comes with downloadable video tutorials too.
These are the best cameras for wildlife and the best wildlife photography tips. You might also like the best photo editing software and the best photo-editing laptops.