The Motorola RAZR (2022) hopes to mark the end of Samsung's monopoly over the world of folding phones, along with recent contenders like the OPPO Find N2 , Find N2 Flip, and Honor's Magic Vs. Specifically, it's a flip phone, so sports a nostalgic clamshell style, going toe to toe with the Galaxy Z Flip 4, which we loved in our time with it.
But this isn't the first time Motorola's launched a RAZR phone. A naughties icon, the original RAZR felt like a slice of the future when it first hit the scene in 2005, and when folding screen phones debuted in 2017, the RAZR was resurrected once more.
Also read our guide to the best Android phones.
The 2017 Motorola RAZR reprise, however, unfolded to a lukewarm reception, as did the 2021 RAZR 5G. A year on, and the 2022 edition hopes to right the wrongs of its predecessors, and, finally, oust Samsung as the champion of flip phones.
Costing £949 in the UK (approximately US$1,160) it's the first flexible display RAZR to sit below the £1,000 mark. While a US release is still in the pipeline, you can pick it up right now across Europe and Asia.
But does this lower-cost RAZR pack enough of a punch – especially in the camera department to make it a compelling option for photography enthusiasts?
Motorola RAZR (2022) Design
The main design difference between the last two RAZRs and the 2022 edition is the lack of a chin. Motorola has ditched the bump beneath the display, so the phone's two halves are uniform in thickness. The phone's shape, however, still feels very 'RAZR' with heavy bevelling, and a rounded top and bottom when open. This is in contrast to OPPO and Samsung's more classical, cube-like folding phones.
Durability is the first concern when picking up any tech with moving parts, and unlike Samsung, Motorola hasn't weather-proofed the Motorola RAZR with an official water resistance rating, though it is IP52 water-repellant. That means splashes and raindrops shouldn't break it. There's also a hard plastic shell in the box, so you get some material protection too.
When closed, the phone's glass front and back feel rich. An almost graphite finish, matched with a matte texture, the back plate keeps fingerprints at bay, while the reflective glass front collects them with gusto. Beneath these inevitable fingerprints, is a 2.7-inch touch display.
As for the hinge, it shuts and opens very securely, and the RAZR (2022) can sit partially open between a roughly 45º and 135º angle. Side by side with Samsung's Z Flip 4, Motorola's hinge doesn't feel quite as secure. There's a slight creaking sound as you travel through the range of motion, and a bit more wobble to the two halves of the phone.
Practically speaking, in our week with the phone, we didn't encounter any durability issues. The one nuisance we did experience – a strip of dust gathering along the crease, is also an issue on Samsung foldables, owing to neither phone having a fully closed hinge gap when shut.
Motorola RAZR (2022) screen
The RAZR (2022) has two screens, one on the front when closed, and one inside. They both feature OLED tech, so have punchy colors and rich dynamic range.
Both screens are also easy to see outdoors when the sun's out, though you'll want to make sure auto brightness is on, as that unlocks the phone's 1,000+ nits high brightness mode.

The outer screen is large, and is more useful than that of the Galaxy Z Fold 4, as it can run apps natively, rather than just widgets. This can be great for battery saving when you want to quickly glance at your calendar, or make a quick call.
The main display is where Motorola is really flexing its experience with foldable display tech. It's a 10-bit screen with a 144Hz refresh rate. At 6.7 inches, it's a comfortable size for easy swiping and tapping, and with a resolution of 1080 x 2400, it's also sharp enough – even if it won't topple the crispest displays out there, like those of the OnePlus 10 Pro and Sony Xperia 1 IV.
When open, the 20:9 display on the Motorola RAZR (2022) is a great aspect ratio for widescreen content. We watched Andor on Disney Plus, and can confirm, cinematic 21:9 shows like the Star Wars live-action franchise showcase minimal crop and look fantastic.
There is a crease along the middle of the main screen, and it's less pronounced than that of the Samsung Galaxy Z Fold 4, while being more pronounced than that of the Oppo Find N2 Flip. We didn't find it to interrupt the user experience at all, and it really does illustrate how far foldable screens have come in the last few years.
Motorola RAZR (2022) camera specs
The Motorola RAZR (2022) has a 50MP primary camera with an f/1.8 aperture lens. The large sensor (for a smartphone) measures 1/1.55-inch, featuring 1-micron pixels. Interestingly, Motorola has opted for an Omnivision sensor – a manufacturer known for supplying budget camera phones. That said, it's great to see that there's nothing budget about the spec of the RAZR (2022)'s primary camera, and the fact it's matched with PDAF, and OIS is a boon.
The ultra-wide camera combines a 13MP sensor with an f/2.2 lens, sporting a 120-degree field of view. It also features autofocus, which is handy, so it can double up as a macro camera, shooting objects as near as around 4cm.
With up to 8K video recording at 30fps, and 4K at 60fps, video capture specs are competitive too, and there's an extensive list of modes to shoot in. These include Slow motion, Video, Photo, Portrait, Pro, Spot color (photo and video), Night vision, Panorama, Group selfie, Ultra-res (50MP mode), Document scan, Dual capture (photo and video), and Timelapse.
Motorola RAZR (2022) camera review
If you want a champion camera phone, then the Motorola RAZR (2022) isn't it. But for a folding phone, and specifically a Motorola folding phone, it isn't too bad.
Just like we found with the Motorola Edge 30 Ultra, the first barrier to greatness for any Moto phone is its photo processing. Motorola boosts contrast with its automatic processing too much for traditionalists, so shots look like they've already had a whirl through the Instagram filter machine. Dynamic range isn't great, particularly in shadow areas, and there's an artificial drama to shots we didn't love.
There are upshots to the RAZR's photos – they're generally sharp, colors are balanced, even in challenging scenes, and the large sensor pulls out a pleasing, shallow depth to nearby objects.
What also saves the RAZR (2022)'s camera from a bad review, is that folding phones notoriously have worse cameras than their non-folding counterparts. So the fact it has no telephoto camera, and that its processing isn't as nuanced as some competition isn't a deal breaker in its category.
The phone's clamshell design, which supports half-folded capture, is also worth mentioning. This means you can rest the phone on a surface while snapping a long-exposure photo. Matched with a comprehensive Pro mode that supports RAW capture, as well as respectable performance from the main camera across lighting conditions, enthusiasts prepared to dive into the camera settings shouldn't totally write off the RAZR (2022).
Selfies are captured using either the inner selfie camera or the main camera, which activates the front display as a preview. A point to note – the front display is horizontal – not vertical like OPPO's Find N2 Flip. This is counter-intuitive for photography, as it isn't the same orientation as the camera sensor alongside it. In turn, it previews with a heavy crop when taking selfies and using it as a viewfinder.
On the plus, selfies shot using the RAZR (2022)'s main camera look excellent. Much better than those using the inner 32MP camera, which should be used mainly for video calls and casual snaps in well-lit environments.
Motorola RAZR (2022) additional specs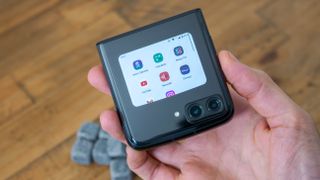 Running Android 12, Motorola's folding flagship supports a wealth of apps out of the box – all you need is a Google account to get you off the ground. It's also loaded up with plenty of value adds in Motorola's Ready For feature.
Ready For activates when you plug your compatible Motorola phone into a PC or external monitor and offers different experiences for each.
Hooked up to a Windows device, the RAZR (2022) can display apps, mirror your phone UI, use the handset as a webcam, and activate wired tethering on your computer.
Hooked up to a display via HDMI to USB-C, the phone can project a desktop UI to the screen, so it's poised for mouse and keyboard productivity. It can also shortcut you straight to big-screen gaming, video calling, or watching with compatible apps like Netflix and Disney+. There are plenty of highlights of this feature when matched with the RAZR specifically, from the fact it outputs to a full 3840 x 2160 monitor, through to the cover screen doubling up as a trackpad.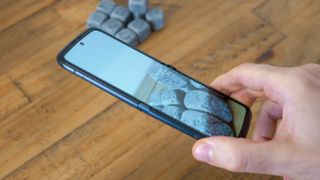 The Motorola RAZR (2022) packs stacks of power, with a Qualcomm Snapdragon 8+ Gen 1 chipset, and either 8GB or 12GB RAM. Thanks to the fact it also ships with either 128GB, or 512GB storage, it should also give you space for all your files, photos, and videos. Though there isn't an SD card slot, so if you don't think 128GB will be enough, pick up the higher-capacity version.
Biometric security comes in the form of a side-mounted fingerprint scanner, which is located on the power button, and this securely unlocks your phone whether it's open or closed.
With a 3500mAh battery, the RAZR (2022) has one of the smallest cells we've seen on any phone in the last year. The Samsung Galaxy Z Flip 4 has a 3700mAh battery, and the Oppo Find N2 Flip's battery is 4300mAh.
In real-world use, folks who don't game for hours or watch tons of content on their phones won't have any issues making it through a full day. The cover screen is small, but powerful, so should limit how much you engage with the phone's main battery drain – the main display. Power users who would keep the RAZR open most of the day, though, will definitely struggle to make it through from morning to night, so should look elsewhere.
Unlike Samsung's folding phones, the RAZR (2022) misses out on wireless charging, though it does support 30W wired fast charging.
Motorola RAZR (2022) verdict
The Motorola RAZR (2022) is a welcome upgrade for anyone coming from a RAZR or a RAZR 5G. Its design is a little hardier and more refined, its cameras perform better, and thanks to Motorola including Ready For, and a flagship-grade processor onboard, performance is on the money too.
Speaking of money, the RAZR's sub-£1,000 price should also be noted. Folding phones are becoming less expensive, and the RAZR (2022) marks a beautiful boost in quality and a drop in price for the line.
Foldable phone cameras still have a way to go, as do Motorola's phone cameras. But with the trajectory set by the RAZR (2022) suggesting both are going in the right direction, it's fast become one of the best folding phones out now.
If you're thinking about a Motorola RAZR 5G and want to try Ready For, check out some USB-C hub options to help you hook it up to an external display.
Alternatively, for a phone range with more nuanced photo processing and great value, have a look at the best Google Pixel phones to see which might be right for you.