Motorola is going from strength to strength – finally cracking the foldable nut with the RAZR (2022), delivering a mighty flagship for last year – the 200MP Edge 30 Ultra – and now we've got the Edge 40 Pro, one of the finest-looking phones we've seen in a long time.
While it's the Edge 40 Pro in the UK and Europe, Motorola has also launched the Edge Plus (2023) in the US, which packs virtually identical specs save for a slightly larger battery capacity.
Both the Edge 40 Pro sports the latest internals, stacks of power, plenty of storage, and OLED screens with class-leading, smooth 165Hz refresh rates.
At £799 ($800) the Edge 40 Pro is super-competitive given its specs, costing the same as the excellent OnePlus 11, and just undercutting the Pixel 7 Pro.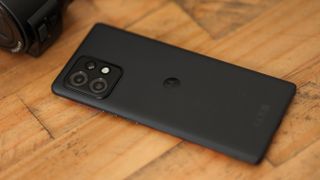 Interestingly on the photography front, Motorola has opted for an OmniVision camera sensor in its Edge 40 Pro and Edge Plus (2023) – a sensor maker we don't usually see taking center stage on flagships.
But does this imaging gamble, and Motorola's notoriously heavy-handed photo processing hold the Edge 40 Pro back from greatness?
MOTOROLA EDGE 40 PRO REVIEW: DESIGN
The Edge 40 Pro is an instant win when you get it in your hand. The curved glass front and back taper into the metal frame, and you'll be hard-pressed to find a rough edge on this sleekster.
The phone is relatively light for a flagship-grade handset, weighing 199g. And at 8.6mm and with the tapered design, it's elegant even if it isn't the slimmest phone around on paper.
With the front and back constructed of Gorilla Glass Victus and IP68 dust and water-resistance, it's ticking all the right durability boxes, and available in Interstellar Black and Lunar Blue, whether you're after a classic or more light-hearted look, Motorola obliges.
When you're using the phone, the right side is where the buttons live and there's a USB-C port at the base.
Thanks to the fact its screen isn't one of the biggest around, the Edge 40 Pro's footprint should be agreeable to most, and all said and done, this is one of the most balanced-looking smartphones around.
MOTOROLA EDGE 40 PRO REVIEW: SCREEN
With a 6.67-inch screen, the Edge 40 Pro gives you a good amount of space to see movies and messages without being uncomfortably large.
The phone's Wide Full HD resolution might sound a little low when set against QHD phones like the OnePlus 11, but we couldn't spot any pixels unless we peered right up close, with the 394 pixel-per-inch pixel density being absolutely fine for the price.
More important than best-in-class numbers, the Edge 40 Pro has a great-looking OLED screen. It's punchy, calibrated to look vibrant and rich, and helps content pop.
Anyone who wants to dial back the screen's look can dive into the settings and choose between Natural and Saturated modes, and there's also scope to control color temperature too.
With 10-bit color, HDR10 support, Dolby vision, and an impressive 1300 nits max brightness, you shouldn't struggle with seeing content even on a sunny day.
If you think we're done waxing lyrical about the screen, we haven't covered its highlight feature – a best-in-class 165Hz refresh rate that's smoother than anything on the block.
The competition generally caps out at 120Hz, so there's no denying that Moto's nailing it with screen quality this time around.
MOTOROLA EDGE 40 PRO REVIEW: CAMERA SPECS
While most high-end smartphones are launching with Samsung or Sony sensors, from the 1-inch Sony IMX989 in the Vivo X90 Pro, to the 200MP Samsung ISOCELL HP2 in the Galaxy S23 Ultra, the Motorola Edge 40 Pro packs a 1/1.5" OV50A OmniVision sensor. Getting into specs, the main camera marries a 50MP resolution with an f/1.8 lens, as well as OIS.
While the ultra-wide camera matches the main camera with its 50MP resolution, its sensor is smaller at 1/2.76", and its lens combines a 114º field of view with a f/2.2 aperture.
Finally, for the rear camera mix at least, the telephoto camera has a 12MP resolution and a super-wide f/1.6 aperture with a 2x zoom, though no OIS.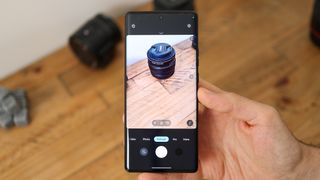 The 60MP selfie camera seems a bit ridiculous on paper – sixty million pixels worth of detail in a selfie – sounds like a pore-fest. Thankfully for our self-esteem, the Edge 40 Pro's 1/2.8" selfie sensor actually produces 12MP shots, and they pack modest detail.
Shooting modes are exactly what we've come to expect from Motorola: Photo, Video, Slow motion, Portrait, Pro, Spot Colour, Night Vision, Panorama, Ultra-res (50MP), Scan, Dual capture (photo), Dual Capture (video), Timelapse and Spot Colour.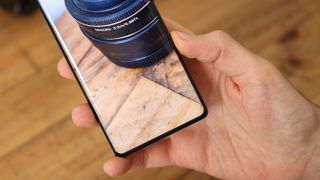 MOTOROLA EDGE 40 PRO REVIEW: CAMERA
The Motorola Edge 40 Pro's photos generally look good until you crop into them. They're loaded with contrast and saturation, and provided lighting is abundant, are sharp too.
You can see shots captured at three focal lengths below: ultra-wide, wide, 2x optical telephoto, and 16x hybrid telephoto. A bright, sunny day makes the Edge 40 Pro's job a lot easier, and all the images look good in isolation, but when you look at the sky in the first three photos, it's clear that Motorola's colors aren't consistent across all three sensors, making it feel like less of a unified camera system than some phones like the Xiaomi 13 Ultra.
While we can't say for sure, this could have something to do with the fact the three sensors around the back of the Motorola Edge 40 Pro are made by different manufacturers – OmniVision (primary), Samsung (ultra-wide), and Sony (telephoto).
So while most daylit photos from the Edge 40 Pro look good from a distance, there's room for improvement. When you crop into photos or edit them, though, Motorola's heavy-handed processing holds the camera back.
Cropped shots have a mottled look, a sign of a lot of sharpening and noise reduction. Meanwhile, trying to edit photos taken in auto mode is like swimming upstream – so much image information has been lost to the processing phase, there isn't a huge amount left to work with.
This might sound very damning, but we are nitpicking – the Edge 40 Pro will absolutely be good enough for most users. That said, it definitely isn't one of the best camera phones of 2023, and if you're a discerning photographer, it probably won't be for you.
The Edge 40 Pro's night mode isn't bad. Shots taken from the main camera are loaded up with detail, though the ultra-wide and telephoto cameras fall behind. Dynamic range is also respectable, as you can see in the shot below with a strong light source and varied exposure across the shot.
If you do pick up the Edge 40 Pro, we'd suggest you lean into the Ultra HD mode, which takes 50MP pictures when there's plenty of light. It dials back the sharpening and processing a bit and makes shots more croppable.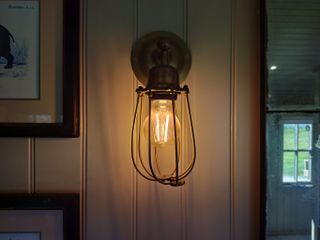 The Edge 40 Pro also has a strong macro mode, using the ultra-wide camera for close-up photos. This does require you to get right up close to your subject which can often result in an unsightly shadow, though the Macro mode automatically activates a 2x digital zoom into the Ultra-Wide, which really helps combat this, and works to great effect on a sunny day. When the lights drop, though, it's less impressive, and you could just be better off shooting with the main camera, then cropping your shot.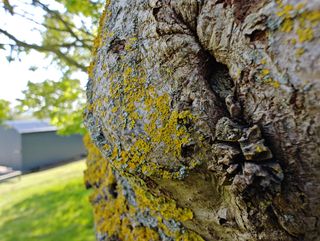 The camera we were most excited to try was the telephoto camera. While the 2x reach isn't impressive, Motorola promised us a great experience from the Sony sensor and that wide-open aperture f/1.6 lens. Specifically, it was touted as a portrait lens, however, with no OIS, and hit and miss processing, the camera actually ended up being the weakest of the three.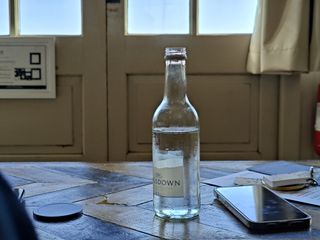 Selfies taken on the 60MP front camera look flattering for the most part, and automatically soften features a touch. The camera struggles with high-contrast lighting, and low-light selfies are noisy without the screen fill flash brightening things up, but the Edge 40 Pro's front camera is still good enough.
Video is captured at up to 8K resolution if you're happy turning off image stabilization, and 4K if you aren't. Motorola's also introduced a new horizon locking mode, which isn't dissimilar to that showcased on action cameras like the GoPro Hero 11 Black and the DJI Action 3. It's great to see this feature on a phone, and we hope more phone makers follow suit.
Video at 4K and 1080p looks good, even in mediocre lighting, though you'll only really want to use footage shot in bright environments if you need of quality material.
MOTOROLA EDGE 40 PRO REVIEW: PERFORMANCE
With a Qualcomm Snapdragon 8 Gen 2 chipset, the Motorola Edge 40 Pro performs superbly.
Whether gaming, chopping up 4K video, or projecting content to a big screen or desktop UI – more on that shortly – it's smooth as butter.
The Edge 40 Pro also runs with Android 13, the latest version of Google's operating system, and with a few fantastic value adds from Motorola laid atop a very stock interface, if you've used a Pixel before, the Edge 40 Pro isn't too dissimilar to Google's purest Android experience.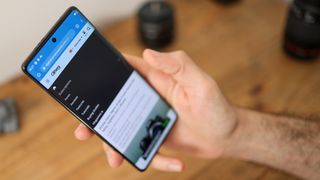 One area Moto really nails the software is with Ready For. The feature activates when you hook up your phone to a big screen via the USB-C port at the base, and projects either a Windows-style UI for upgraded productivity, quick access to media apps like Netflix, games, or video calls.
While we won't go so far as to say Ready For can replace a PC, if you hook up a keyboard and mouse, it does provide a very usable computer-like experience in a pinch.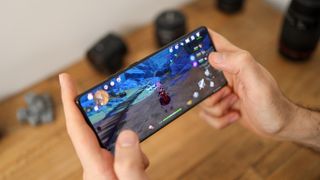 With either 256GB or 512GB storage, even with no SD card slot, you should still have plenty of space for apps and content on the Edge 40 Pro.
There's also biometric security in the form of an in-display fingerprint scanner, and the Pro's face unlock is pretty nippy too.
When we first saw the phone's specs, the 4600mAh battery gave us pause – it's smaller than the 5000mAh batteries in most flagships today. Nevertheless, we comfortably made it through a full day out with the phone.
An hour of Netflix playback over WiFi at max brightness only drained the Edge 40 Pro by 6 percent, and the fact Motorola crams super-fast 125W charging, and 15W wireless charging only adds to its battery appeal.
MOTOROLA EDGE 40 PRO REVIEW: VERDICT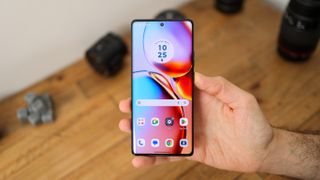 The Motorola Edge 40 Pro and Edge Plus (2023) are fantastically specced phones with brilliant screens, tonnes of power, and ample storage for the price.
Focusing on the European variant, the Edge 40 Pro, its camera is mostly good, but seldom great, and is out-ranked by a few other options at its price.
That means that while the phone, on the whole, is great to excellent in nearly every respect, its camera holds it back.
So if you're happy to sacrifice its wireless charging, the OnePlus 11 is a better shout for photographers. Alternatively, if you don't mind paying a bit extra, the Pixel 7 Pro is still one of the best camera phones at its price.
If the shots in this review look good enough for you, and you don't need to edit or crop your photos too much, though, the Motorola Edge 40 Pro is a brilliant smartphone despite its shortcomings.
Read more: See more from Motorola in our guides to the best Motorola phones in 2023, or check out how the Edge 40 compares to rivals in our guides to the best budget camera phone and the best Android phone.