Whether you are looking for the best tablet for photo editing or the best drawing tablet, the journey usually starts with the question, Android or iPadOS? In the early days, there used to be more of a straightforward answer, with Apple's tablets wiping the board against their Android rivals save for a Samsung flagship like the Galaxy S8 Tab S8 Ultra. This explains why the Cupertino giant's iPad range makes up 51.21% of all tablets sold, despite its options erring on the expensive side.
Google has done considerable work to its AndroidOS to not only make it more visually appealing than ever before with Android 13's 'Material You' theming, but it has also invested in making the operating system that works for phones better to use on tablets. Now, there are now far more compelling options for the best Android tablet.
The Lenovo Tab P12 Pro uses a very close version of the OS to the fabled 'stock Android' experience, with minimal changes to the user interface or additional apps pre-loaded onto the tablet, instead focusing their attention on making high-end hardware, including a high-quality screen, metal premium chassis and keyboard and stylus accessories.
The P12, as the designation 'Pro' in its title might suggest, is a high-end tablet, with a price tag to match. The P12 is similar in price to Apple's latest iPad Air model, however unlike Apple's device, it can be bought with a detachable keyboard and stylus pen included, making it immediately more useful as a productivity device out of the box.
Tab P12 Pro Specifications
Processor: 3.2GHz Qualcomm Snapdragon 870 octa-core processor
RAM: 8GB
Storage: 256GB + MicroSD card up to 1TB
Screen: 2560 x 1600 pixels
Battery: Up to 15 hours video playback and up to 8 hours web browsing
Speakers: 4 x JBL speakers with Dolby Atmos
Mics: Dual mic array
Camera: Rear 13MP and front 8MP
Dimensions (H x W x D): 5.8mm x 264.28mm x 171.4mm / 0.22" x 10.4" x 6.74"
Weight: 485g (without keyboard and pen)
Sensors: Accelerometer, e-compass, ambient light-sensor, gyroscope, TOF sensor, vibrator
Connectivity: 802.11 a/b/g/n/ac, 2.4GHz & 5GHz dual band, Bluetooth 5.0, GPS
Security: Fingerprint reader, face unlock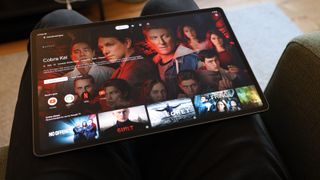 Tab P12 Pro Key Features
The Lenovo Tab P12 Pro is centered around its 12.6-inch (2560x1600) OLED screen, with built-in Dolby Vision, which should produce deeper contrast, brighter highlights, and a wide color palette. The tablet also has eye comfort certification, from TUV Rheinland, ensuring long sessions watching movies will put less strain on your eyes.
To complement the Dolby Vision screen, the P12 Pro has 4 internal speakers tuned by JBL that also support Dolby Atmos, which should provide a superior sound experience for watching movies and TV shows.
The tablet comes equipped with a Qualcomm Snapdragon 870 processor, combined with 8GB of RAM, which is powerful enough to breeze through web browsing, streaming video, or using some graphically intensive games or productivity apps from the Google Play Store.
The tablet has a claimed battery of 15 hours for watching videos already saved to the device (not streaming) or 8 hours of web browsing. The tablet also comes with a fingerprint reader built into the power button and has face unlock, although this is the 'unsophisticated' version that uses software recognition only, not hardware like Apple's FaceID.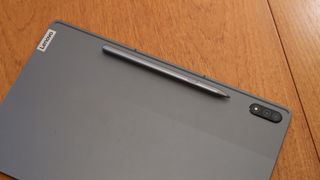 Tab P12 Pro Build & Handling
The frame is built from an aluminum alloy measuring just 5.8mm at its thinnest point, which provides a very lightweight but still strong and sturdy-feeling tablet. The screen itself has very narrow bezels measuring just 6.9mm narrow bezels around the display. The P12 feels much more premium than its price tag, the metal chassis is really nice to touch and the screen just always looks great. Lenovo has done an excellent job on the build quality here.
The screen is the star of the show. It is very bright with excellent contrast and saturation, it is a really nice screen to use to watch movies or browse through photos. The speakers are equally great quality for a tablet, providing loud deep sound for a very svelt tablet. Whilst there are better-sounding tablets out there, but you will not be disappointed when watching movies made for Dolby Atmos audio tuning.
However, the 16:10 screen is a huge problem for me, a problem shared with other top Android tablets. This screen size suits a lot of Hollywood movies perfectly, but it is not ideal for a lot of TV shows, and when it comes to some games and productivity apps it is just not the ideal ratio.
In portrait, this ratio works okay, it is possible to hold comfortably in one hand, although apps feel too long. In landscape mode, though this tablet is not easy to hold, as it is too long to hold on one side for extended periods of time. Microsoft's Surface and Apple's iPad devices are just a much more usable screen ratio for handheld and productivity purposes.
The tablet comes with a detachable keyboard and stylus. Both these are solid quality, with a smooth plastic material used. The keyboard attaches and detaches using magnets and two small notches to guide alignment, and is a very simple and fast system to use, it is very responsive with nice key travel. The pen attaches to the rear of the tablet using a built-in magnet, which also doubles as a wireless charging point. This magnetic connection is very strong, and I didn't find the pen falling off easily.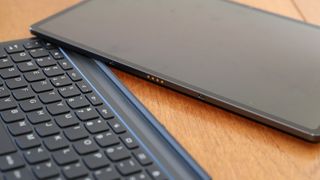 Tab P12 Pro Performance
The tablet is very fast, flying through the operating system with ease, with it's top-tier processor performing very well. During photo editing using Lightroom CC from the Play Store, the tablet handled applying and processing gradients and spot removal well with very little lag, and exporting a cropped video using Google Photos was also fast enough to not be bothersome. Gaming was fast and responsive, with almost no stuttering or dropped frames.
Battery life is also excellent, I wasn't quite getting the longevity claimed by Lenovo (manufacturer estimates are always quite generous), but I was getting respectably close, and never felt myself worrying about the battery running out prematurely.
There are still a few inconsistencies in the Android OS with spacing and font size between different apps that make the experience a little jarring, the icons and font size for portrait and landscape are wildly different for example. However, Google has made enormous strides in getting Android for tablets to now be a very enjoyable user experience, the interface is colorful and engaging as well as being highly intuitive to use. If you love using an Android phone then you will feel right at home using the Lenovo P12.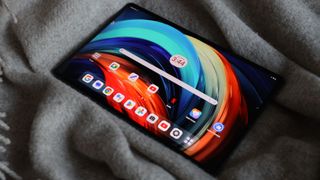 Sadly the pen experience is very underwhelming, while the stylus itself is very accurate, and the handwriting recognition is pretty perfect, the palm rejection is nearly non-existent. When taking notes using the stylus, my palm/wrist would continually hit other things on the screen causing all sorts of chaos. This is just something I have never experienced with an iPad or Surface device.
The cameras are also a dreadful experience. The rear cameras are very poor, considering the main camera has a 13MP sensor, the images look like oversharpened oil paintings. The front camera is not much better, with poor sharpness and a washed-out look, it is just about acceptable for video calls.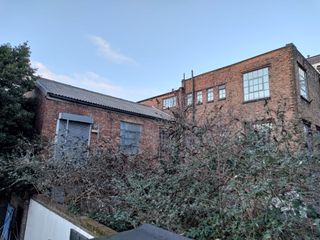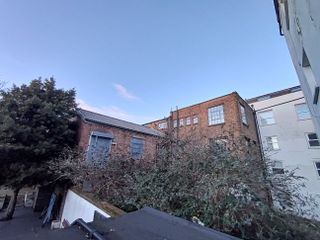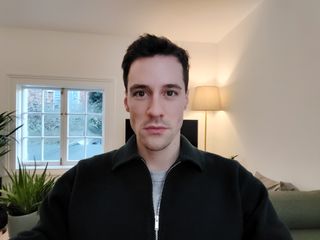 Lenovo Tab P12 Pro Verdict
If you are firmly in the Android ecosystem, and you want an affordable tablet that feels more premium than its price tag then the Lenovo P12 Pro is definitely a tablet to consider. With an excellent metal chassis, and a high-quality colorful screen that makes watching movies and looking through photos a joy. The P12 is also fast, flying through tasks such as browsing the web, streaming video, and some light photo and video editing. The included stylus and keyboard also make the tablet more of a hybrid productivity device.
Google has made huge strides forward with Android, and it is now an excellent experience, it still has a few kinks to iron out, but is edging closer in user experience to Apple's tablet OS. For the P12 Pro, unfortunately, the stylus experience is not fantastic, with poor palm rejection, it makes using the stylus without any unwanted side effects very difficult. And a raft of poor cameras as well also let down what is otherwise an excellent hardware design.