If you're new to flash photography, the Kenko AB600-R AI could be for you. An experienced photographer knows that bounce or swivel flash can give a softer, more three-dimensional looking lighting effect, compared with direct flash. However, not everyone is confident about working out the angles to fire the flash for best effect, and even the best flashguns can leave this crucial technique down to guesswork. Taking a lead from Canon's revolutionary Speedlite 470EX-AI, this Kenko flashgun employs artificial intelligence to work out the angles.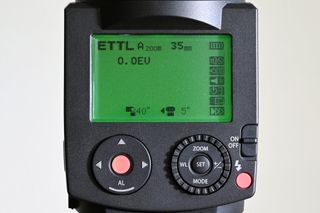 A button on the rear panel glows orange for manual mode, or blue for AI mode. In the latter, you can press any of the surrounding up, left or right cursor buttons to bounce the flash off the ceiling or adjacent walls respectively. After pressing your chosen directional button, a test flash is fired direct at the subject, after which the flash head tilts or swivels and a second test flash is fired off the ceiling or wall. The head then automatically adjusts its position for the optimum bounce or swivel angle. The whole process takes less than five seconds to accomplish. If you move position, the angle of the head adjusts automatically to maintain the ideal angle.
If you prefer to set the angle yourself, you can do this in manual bounce/swivel mode, then press the AL (Auto Lock) button to store the angle in memory. Again, the position of the flash head will adjust automatically if you move your position.
Specifications
Dedication: Canon or Nikon
Max output (ISO 100, metres): Gn 60
Bounce (degrees): 0-120 degrees
Swivel (left/right): 180/180 degrees
Zoom Range: 20-200mm
Manual Power Settings: 1/1 to 1/128
AF-assist beam: Red lamp
Wireless: Master/Slave RF
Additional Flash Modes: HSs, RC, Slow, Strobe
Supplied accessories: Pouch, stand, dome
Dimensions (WxHxD): 80x62x196mm
Weight (excl batteries): 470g
Key features
The headline feature of the AB600-R is naturally its artificially intelligent motorised head. To optimise versatility, it has a particularly generous bounce range of 0-120 degrees, as well as a full 180 degrees swivel to both left and right. The upshot is that, in either landscape or portrait orientation shooting, the flashgun can point backwards to bounce the light off an area of ceiling or wall that's behind you. And if 120 degrees isn't enough in landscape mode, the flash head will automatically spin around through 180 degrees to enable a greater angle.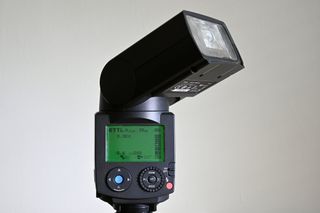 As well as going large on bounce and swivel angles, the head has a generous motorised zoom range, equating to 20-200mm in full-frame terms. There's a retractable wide-angle diffuser but no pull-out reflector card. Power output is impressive, with a Gn 60/197 (Guide number, ISO 100, metres/feet) at the long end of the zoom range.
The flashgun is most at home sitting in the hotshoe of your camera but also works well for off-camera remote shooting. Thanks to a built-in 2.4GHz radio frequency transceiver, it boasts wireless master and slave modes for multiple flashgun setups. There's a comprehensive range of flash modes too, with TTL or TTL-BL (Balanced Light) options for Nikon, and ETTL for Canon, plus high-speed sync, slow-sync, rear-curtain sync, and even a programmable multi-flash stroboscopic mode. A variety of lighting patterns are also on offer, with 'evenness' and 'centre' options as well as the regular 'standard' illumination. +/-3EV flash compensation can be dialed in for TTL flash modes, as well as a range of 1/128th to full-power settings in manual mode, all with one-third EV increments.
Build and handling
The artificial Intelligence aspect is most useful for beginners but the flashgun certainly isn't short on build quality. There's a neat locking lever rather than a rotating knob to firmly fix the metal mounting foot in place, along with a weather-resistant rubber shroud that encompasses the foot assembly.
Further luxuries in the build include an external flash sync socket, a USB port for applying firmware updates, and a socket for connecting an external power supply. All of these are mounted beneath rubber weather-seal covers. The optional external Kenko BP-1 Battery Pack is pretty pricey at £119/$129, and accepts four or eight AA cells rather than being a rechargeable Li-ion power pack.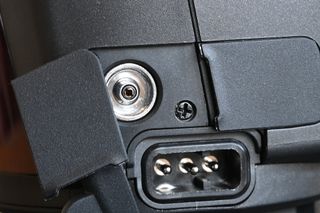 Standard accessories included with the flashgun include the now common range of soft case, table-top stand with a tripod socket on the underside, and a clip-on diffusion dome, all of which are of good quality.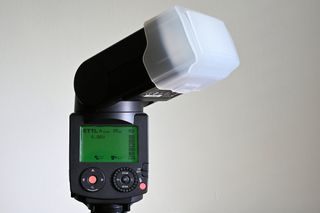 Handling is very good overall but the menu system is less than intuitive in places, and the backlit mono LCD is fairly basic. Even so, the artificial intelligence system is well implemented and basic adjustments to flash mode, power output and zoom settings are quick and easily to apply.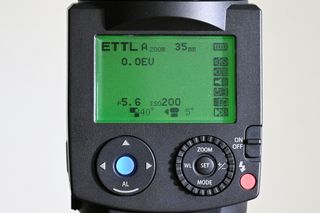 Performance
Kenko says it can take up to five seconds for the artificial intelligence system to calculate the angles and adjust the flash head, but we found it usually took just three seconds. Power output lives up to its claims, our tested levels matching those of most competing Gn 60 rated flashguns. Manual alterations of flash power are pretty accurate in one-third EV increments throughout the power range, as is the application of +/-EV steps in TTL flash mode. The colour temperature of the flash output becomes slightly warmer at very low power settings of 1/64th to 1/128th but that's not uncommon in flashgun technology.
TTL flash power accuracy proved both accurate and consistent in our tests, using both the Canon and Nikon dedicated versions of the flashgun. Recycling is swift and silent, taking 1.5 or 2.5 seconds after a full-power flash on NiMH or alkaline batteries respectively. After a half-power flash, the respective times drop to 0.9 or 1.4 seconds.
Lab data
Flash power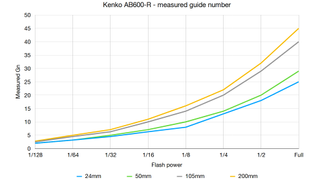 As you'd expect, maximum power output increases at longer zoom settings, as the beam of light becomes more tightly focused. The actual power range compares favourably with other Gn 60 rated flashguns.
Recycle speed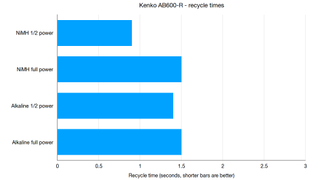 As is usually the case, recycle speeds are significantly faster when using NiMH rather than alkaline batteries. Either way, the Kenko's recycle speeds are impressively quick.
TTL accuracy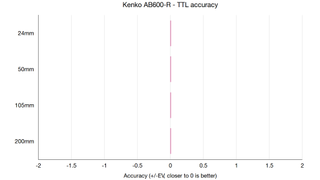 Nothing to see here, but that's a good thing! In our tests, the TTL Flash output remained very accurate and highly consistent on a shot-to-shot basis, throughout the zoom range of the flashgun. There was no unexpected over or under exposure, which would be indicated by larger bars on the chart above.
Verdict
The Kenko AB600-R certainly isn't just a gimmick. Its artificial intelligence system really does help to optimise bounce and swivel angles for getting a better, softer and more three-dimensional lighting effect. This flashgun isn't just for beginners either, as it has impressive build quality, powerful maximum output, an extensive zoom range, fast recycling speeds and a good range of high-end features including RF master/slave connectivity and a full range of advanced flash modes, including programmable multi-flash output. Even so, it's a bit on the pricey side if you're confident in setting your own flash angles and don't need the artificial intelligence.
Read more:
The best flash diffusers, softboxes and modifiers for your speedlight