LIVE: Xiaomi 13 Ultra brings world's first variable aperture 1-inch camera sensor
Compact cameras beware! Xiaomi 13 Ultra makes a big play for the best camera phone - follow along with us live!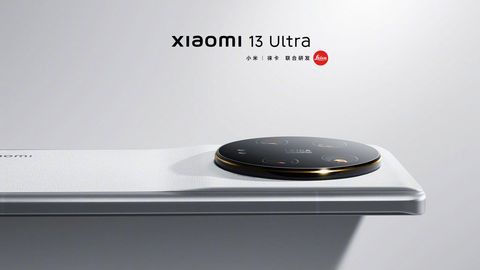 (Image: © Xiaomi)
Xiaomi is one of China's largest phone manufacturers but has still not made the global impact of brands such as Samsung or OnePlus. Although is all that about to change?
Xiaomi is preparing to launch a world's first for the camera phone market, a 1-inch sensor with a variable aperture, with its latest phone the Xiaomi 13 Ultra. Compact cameras better be wary!
Tune in as we share any updates leading up to the official launch event on April 18 at 7 AM (US) / 12 PM (UK) / 9 PM (AUS) where we will also follow along LIVE!
You can also watch along with us on the official Xiaomi live stream on YouTube below:
Refresh
Xiaomi has rained on its own parade a little today by revealing some of the juiciest information before its live event. We already know what to expect from its main camera, with Xiaomi confirming in a post below that the camera will have a 1-inch sensor with a variable aperture.
This aperture will be able to switch between f/1.9 for a more blurred background and low light capabilities, and f/4.0 for more in-focus shooting.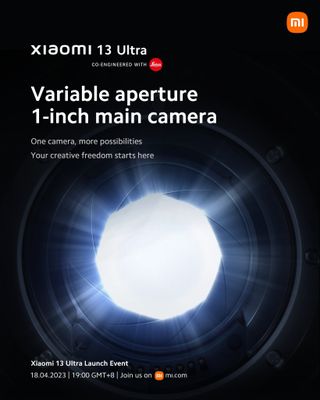 We also know which camera sensors Xiaomi has chosen for the 13 Ultra. The main camera sensor uses Sony's IMX989 1-inch sensor, which will offer 50MP images. The remaining three sensors for telephoto, super-telephoto and ultra-wide will use the new Sony IMX858, although this can't quite keep up with the larger main camera, measuring in at 1/2.51".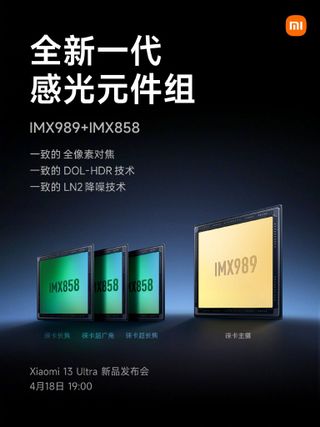 It looks like the two telephoto cameras might have a 3x and 5x lens. This keeps up with our current all-around phone camera champ, the Google Pixel 7 Pro, but would fall behind the class-leading 10x optical zoom on the Samsung Galaxy S23 Ultra. But maybe Xiaomi has some software tricks up its sleeve?
More on those lenses. Xiaomi has co-developed the lenses with Leica, one of the most renowned and prestigious lens makers in the professional camera world. The lenses even have Leica's signature Summicron branding, so we might be in for something special with these cameras.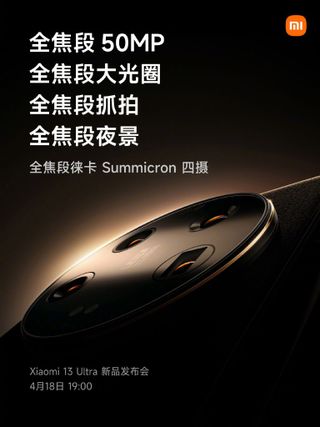 From the early images Xiaomi has shared, it looks like the camera bump is going to be quite substantial! With rumors placing it at around 16mm, it will be interesting to see how this phone feels in the hand.
Although we are not strangers now to big camera bumps or bars, but with most of us using a case on our phones to create a flatter back, does this matter anymore?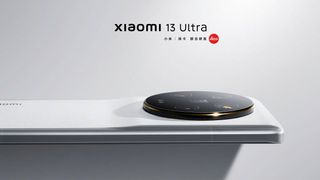 There has been a very interesting accessory teased by Xiaomi over on its Weibo page. What looks like a camera grip might balance out the top-heavy-looking design, as well as potentially adding some extra controls to really rival compact cameras.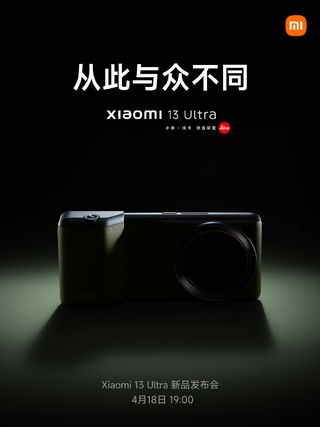 Some more information on the hand grip for the Xiaomi 13 Ultra makes me even more excited to see it in full later. As pointed out by Soyacincau, if you look closely at the ring of the camera on a bright screen you can see "67mm Filter Adapter" and "Ultra photography Kits" printed around the edge, this suggests that there might be lens adapters coming for the camera.
Will these just be regular camera filters like neutral density and polarised filters, or does Xiaomi have something much more special planned? I am certainly hoping for the latter options, and can't wait to find out more.
Might we see something announced around the incredible-looking Xiaomi 12S Ultra concept device it showed off on its YouTube channel a few months ago? You can check out the concept video below.
So far the Xiaomi 13 Ultra has been shown off in three colors, black, white, and green. There is a rumored fourth red color, although this one has been kept under wraps so far.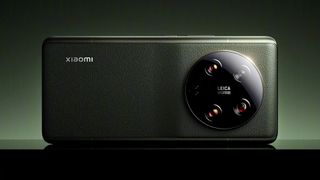 The countdown begins! less than 30 minutes until the YouTube stream begins in full, revealing the Xiaomi 13 Ultra to the world. As a reminder you can follow along here as I live blog the event for all the key updates and my first-take on the exciting-sounding new cameras.
Nestled among Xiaomi's advertising videos while we wait for the stream to begin, there are a couple of really interesting videos for camera enthusiasts on Leica, its history, and how it is contributing to Xiaomi's camera efforts.
And we are LIVE! Hope everyone is excited for this!
Xiaomi is starting with a bit of company history and information. It is amazing that Xiaomi is only 13 years old with all that they have achieved in that short time!
Xiaomi is giving huge credit to Leica for how fast they have been able to move in smartphone photography. We are already talking about imaging about how previous photos have used Leica technology for imaging.
Not clear exactly what it means, but Xiaomi has just stated they are hoping to move from computational photography to optical photography. Which is the opposite direction from the rest of the smartphone industry.
Xiaomi has also taken a lot of visual cues from Leica cameras. Xiaomi claims they have designed the Xiaomi 13 Ultra to replicate the feel of classic leather and metal SLR cameras.
The camera has a faux leather exterior, metal sides, and corners. The 13 Ultra comes with IP86 waterproofing and will be available in olive green, black and white.
The Leica designed Sumicron lens will be the 8P lens used in previous Xiaomi flagships, but with improvements to nanometer widths and coatings for the 8 individual lenses that make up the lens. The lenses have also been improved for hot and cold shooting situations without damaging the coatings.
There are some carefully curated examples shot on the Xiaomi 13 Ultra compared to the iPhone 14 Pro Max, the Xiaomi 13 Ultra looks incredible, although we will need to get our own real-world shots to truly compare.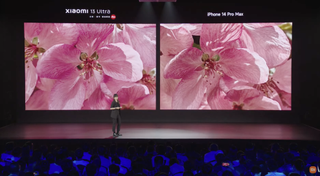 Xiaomi is showing of some photos taken with the 13 Ultra by photographers, and they look very impressive. Xiaomi is really keen to focus on the optical direction they have taken alongside Leica's lenses, and how it makes photos appear more natural.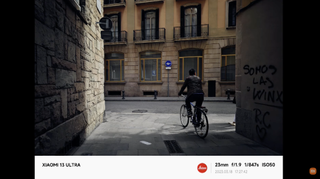 Xiaomi is talking about its choice of sensors and how they offer the usual improvements such as lower noise, sharper imaging, and better autofocus. Xiaomi claims that these particular sensors are so similar that they work in perfect harmony and will ensure images from all sensors look the same.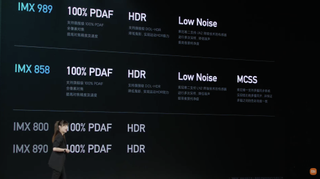 The cameras can offer a mix of optical and digital zoom with enhanced processing up to 10x zoom. The optical zoom is in white and the digital zoom is in the green color.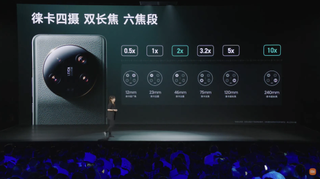 Talking now about computational photography. Xiaomi has used computational photography combined with the new variable aperture lenses and 1-inch sensor to improve night mode which should offer better noise and more accurate representations of night scenes.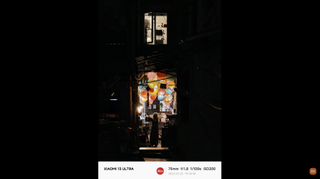 The Xiaomi 13 Ultra comes with a specialist Leica street photography app for those aspiring street photographers who want a little extra assistance while out shooting on the streets. The app can set the shooting parameters automatically for optimized street images.
Moving onto the camera case that was teased previously. The case works as a grip, with a proper shutter that can be pressed half in to focus and fully in to shoot. The case also has a zoom lever that can control the camera zoom.
Not just that, the case comes with a 67mm filter thread so filters like neutral density filters and polarisers can be used on the 13 Ultra.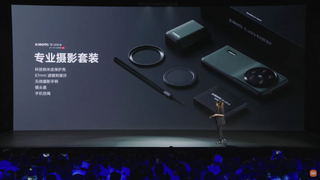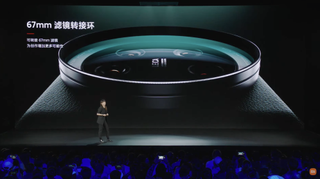 The Xiaomi 13 Ultra will be able to shoot in 14-bit RAW files for photographers who want to get in-depth with editing their images.
For videographers and vloggers, the Xiaomi 13 Ultra can shoot 8K video.
The 13 Ultra comes with a 1440 x 3200 px resolution LTPO OLED panel which is jointly developed by Xiaomi and China Star. The panel has a maximum peak brightness of 2,600 nits and supports Pro HDR content.
Xiaomi is claiming that color accuracy and color shift is the better than ever, which is key for anyone doing key photo work on their phone. Xiaomi has said they are now directly competing with Apple and its famously color-accurate displays.
For power, the Xiaomi 13 Ultra will have the Snapdragon 8 Gen 2 chipset with a liquid cooling system. This should make the 13 Ultra a decent gaming phone as well as video and photo editing on the phone a breeze.
The phone is available with 16GB of RAM and up to 1TB of storage, as well as USB-C 3.2 for faster transfer. The phone also has 50W wireless charging, which can charge the phone in 49 minutes to 100%.
At 1% battery, somehow the phone is able to make a 12-minute phone call or last for an additional 60 minutes in extreme battery saver mode.
Xiaomi is very keen to show this as the most professional camera phone that has been made to date. Especially with the additional camera case accessory and the variable aperture lens over that 1-inch sensor, neither of which are currently available on any other smartphone.
And we are on to the price. This won't mean much as the phone is currently only announced for China, which often doesn't reflect the rest of the world. The Xiaomi 13 Ultra will cost ¥5999 for the 12GB RAM and 256GB hard drive option. There are a lot of choices though of specs, which you can see below.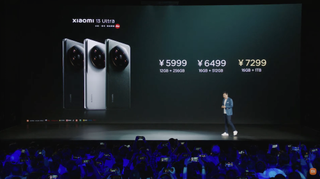 That price roughly translates to $870 in the US (where this phone most likely will never be sold).
Looks like that might be all for the Xiaomi 13 Ultra news, as the conference moves onto TVs. Here is an overview of all the specs for the 13 Ultra from earlier in the presentation.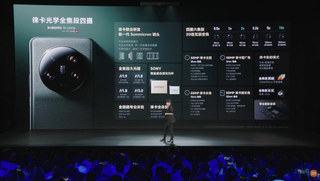 That's a wrap from me on the live blog. Thanks for joining me and following along with the launch of the very exciting-looking Xiaomi 13 UItra. I honestly can't wait now to get my hands on that Leica-engineered camera for myself.
Tune back into Digital Camera World tomorrow for our first hands-on look at the Xiaomi 13 Ultra from our phone reporter Basil who is on the ground in China.
We have some official images from Xiaomi that show off the new Xiaomi 13 Ultra in more detail. The first image shows the rear of the device in green, you can see the faux leather material on the back of the phone, and the large camera island.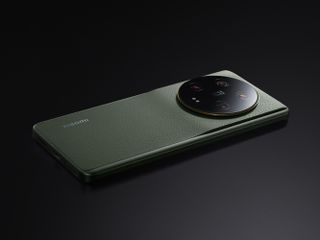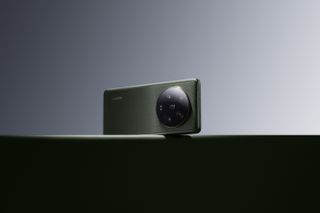 Here is also a close up of that large camera island with all four of those Leica engineered camera lenses.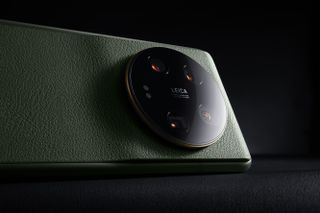 Our in-depth hands-on Xiaomi 13 Ultra review is now live. Our principal phone review Basil Kronfli gives his thoughts on using this impressive camera phone - and even has had a chance to try out the accessory grip, that turns the cellphone into something much more like a compact camera. Read his findings here…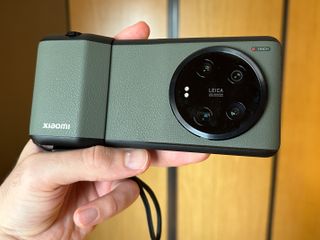 Thank you for reading 5 articles this month* Join now for unlimited access
Enjoy your first month for just £1 / $1 / €1
*Read 5 free articles per month without a subscription
Join now for unlimited access
Try first month for just £1 / $1 / €1