Fast wide-angle zooms for full-frame DSLRs tend to be fairly weighty prospects, but Tamron is out to change that with the pared-down 17-35mm F/2.8-4 Di OSD. At a mere 460g, it's the lightest lens in its class, yet it still boasts a respectable - if variable - max aperture.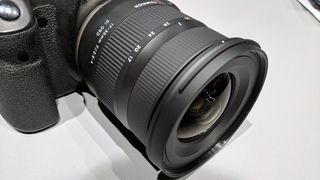 Key features
It isn't just the 460g weight figure that makes the new 17-35mm Tamron such an attractive prospect. At only 90mm long for the Nikon F-mount version and 92mm for a Canon EF-fit example, this is also an extremely compact lens for its class.
Despite this portability drive, Tamron has still weather-sealed the lens barrel and mount, while a fluorine coating is applied to the front element to enable it to resist water droplets, oil and fingerprints, as well as adding an extra layer of durability.
Delve deeper and you'll find the 15-element, 10-group optical path incorporates four LD (Low Dispersion) lens elements. These are employed to minimise chromatic aberrations, which could otherwise be problematic when shooting at very short focal lengths. Two GM (Glass Molded Aspherical) elements help reduce lens distortion, with Tamron's BBAR (Broad-Band Anti-Reflection) coating employed to control reflections, ghosting and flare.
The final section of the lens' model name, OSD, refers to the Optimized Silent Drive autofocus motor. This is said to have a special gearing system for reduced AF drive noise, while also enhancing AF speed and precision when tracking moving subjects.
Although ultrawide lenses aren't usually go-to glass for achieving shallow depth of field effects, the lens' 7-blade rounded diaphragm is claimed to provide smooth bokeh, even when stopped down two stops from wide open.
Tamron's crash diet inevitably means some features haven't made the cut, most notably image stabilization, but IS isn't essential when shooting at such short focal lengths. You do get compatibility with Tamron's optional TAP-in Console that makes applying lens firmware updates a cinch.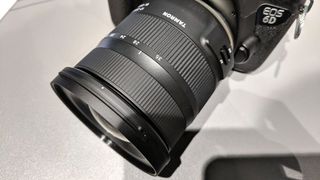 Design and build
Users of APS-C DSLRs are likely wondering what all the fuss is about here. After all, a Nikon AF-P 10-20mm DX optic is only 230g, 73mm long, yet covers a similar equivalent focal range.
But sized up alongside comparable full-frame lenses, the new Tamron really makes a case for itself. Even Nikon's relatively light 16-35mm f/4G ED VR is 50% heavier than the Tamron, as well as a full 35mm longer.
It's a weight saving that isn't just impressive on paper. Those familiar with traditional full-frame ultra wide zooms will be shocked at how light and compact the lens actually feels. Mount one to a Canon 6D II or Nikon D750 and you'll have a very well balanced setup to shoot handheld.
And yet the lens doesn't feel like it's got all the rigidity of a cola can. Sure, stick it alongside Tamron's new 15-30mm f/2.8 G2 lens and you don't get the same impression of bomb-proof solidity, but the 17-35mm easily feels a good match in quality for one of the aforementioned DSLR bodies.
The zoom and focus rings operate smoothly, with focusing being completely internal. The lens does extend when zoomed, but this is most likely inevitable for such a compact design.
In our limited time with the lens we didn't encounter any focussing concerns. Autofocussing was snappy and accurate, right down to the minimum 28cm object distance.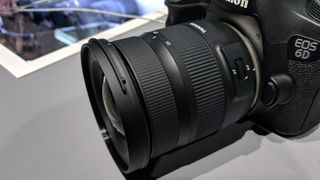 Early verdict
There's no doubt that the headline size and weight figures of the 17-35mm F/2.8-4 Di OSD really give Tamron an edge over the competition. If you're on the go all day and need to travel light, every gram counts, and the fact that this lens is significantly lighter than rival glass can't be underestimated.
But it's not just portability that makes this lens an attractive prospect. A recommended retail price of $599/£629 significantly undercuts rivals like the Canon EF 16-35mm f/4L IS USM and Nikon 16-35mm f/4G ED VR. Granted these lenses do include image stabilisation, but the Tamron fights back with a faster aperture at 17mm.
Until we can fully test the lens in our imaging labs, we'll reserve a final judgement, but the Tamron 17-35mm F/2.8-4 Di OSD is certainly shaping up well.