The wait has been long but, if our time spent with the prototype is anything to go by, it has been worth it. The Canon RF 15-35mm f/2.8L IS USM (the first of the 'holy trinity' lenses for the EOS R, which also comprises the Canon RF 24-70mm f/2.8L IS USM and the upcoming Canon RF 70-200mm f/2.8L IS USM) has arrived and appears to be every inch the pro-grade glass we expected.
We spent some time with a pre-production sample, which sadly means that we are unable to share sample images or conduct a proper lab test. However, we can offer our hands-on impressions of shooting with the optic – and whether you're an existing Canon EOS R owner or somebody who's been waiting for a premium wide-angle lens before jumping aboard the system, we don't think you'll be disappointed.
Canon RF 15-35mm f/2.8L IS USM: Specifications
Full-frame compatible: Yes
Effective focal length: 15-35mm
Image Stabilizer: 5-stop, hybrid
Minimum focus distance: 0.28m
Max magnification factor: 0.22x
Manual focus override: Electronic
Filter size: 82mm
Weather seals: Yes
Supplied accessories: None
Length: 126.8mm
Canon RF 15-35mm f/2.8L IS USM: Build and handling
What's perhaps most remarkable about the new lens, given how dang large most of the RF optics are, is just how small the RF 15-35mm is. It's actually a hair smaller than its EF counterpart, the Canon EF 16-35mm f/2.8L III USM (which measures 127.5mm in length), but it expands even wider to 15mm and also packs in Canon's 5-stop Image Stablizer technology.
Indeed, it's the first wide-angle lens to feature the new Stabilizer. It's also Canon's widest ever zoom lens to feature an f/2.8 aperture and, to complete the trinity trifecta, it's also the first fast-aperture zoom to possess the manufacturer's Nano USM system – a powerful motor that can shunt around the huge glass elements at high speed for stills, but also glide them near-silently for shooting video.
Since it's comparable in size and heft to its EF predecessor, if you've used that lens then you should feel right at home here. The RF 15-35mm is rugged, robust and deserving of its red ring, with the promise of weather sealing being as important as the promise of optical superiority.
Of course, like all Canon's native RF lenses, the 15-35mm possesses the fully customizable control ring. This can be assigned to virtually any function you choose, from aperture to white balance to ISO, and can be taken to a Canon service center for 'de-clicking' should you want to use it for video purposes.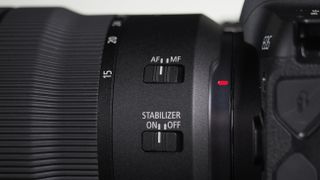 Canon RF 15-35mm f/2.8L IS USM: Performance
As an ultra wide-angle lens, the Canon RF 15-35mm f/2.8L IS USM is aimed squarely at landscape and architectural photographers – though it will also provide a second wind to events and wedding shooters, who invariably require a lot of extra width when shooting in cramped locations where longer lenses just can't do the job.
Luckily, the RF 15-35mm seems every inch as capable as the EF 16-35mm before it – more so, in fact, given the slightly wider focal length and the addition of image stabilization, which comes in incredibly handy in low light situations even with the fast aperture.
In our tests we were merrily shooting subjects and environments in extremely poor lighting conditions all the way down to 1/40 sec (at f/2.8, ISO400) without breaking a sweat. With good camera discipline, you'll be able to whittle that down much further – a combination of the highly capable IS, and the inherent lessened effect of camera shake at wider focal lengths.
Most impressively, there appears to be no visible distortion even when shooting at 15mm. Admittedly we weren't able to give the prototype a proper lab test, but our shooting environment helpfully had a large checkerboard pattern and lots of vertical lines at the edges of frame; to the eyeball, at the very least, there was no discernable distortion – an optical coup, albeit an expected one of a pricey L-series lens.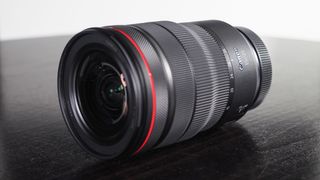 Canon RF 15-35mm f/2.8L IS USM: Early verdict
We wish we were able to share sample shots, to help convey our feelings towards this lens, but until we get a production sample in for testing all we can say is that it's currently the most exciting of the RF trinity optics.
Certainly the Canon RF 24-70mm f/2.8L IS USM is the most all-around useful, and the one that will make or break the Canon EOS R as a platform for professionals. However, to witness just how optically tight and well controlled the RF 15-35mm is really gets us excited about Canon's new lens mount.
A distortion-free 15-35mm lens with image stabilization and a constant f/2.8 aperture? This will be an undoubted must-have lens for environmental photographers, but we predict that its optical performance and wide-angle capability will make it a lust-worthy optic for everyone from street shooters to anyone looking to challenge their 'eye'.
Read more:
Canon RF 24-70mm f/2.8L review
Canon EOS R review
Canon RF lens roadmap: everything we know so far