The Fujinon GF 32-64mm F4 R LM WR is built for the journey. Thanks to the upscaled medium format image sensors of Fujifilm GFX series cameras, the zoom range equates to 25-51mm in full-frame terms. That gives you everything from a generously wide viewing angle to an entirely natural, standard perspective, ideally suited to a vast range of shooting scenarios without the need to swap between different lenses. That said, it naturally lacks any telephoto potential, compared with typical 24-70mm zooms for full-frame cameras.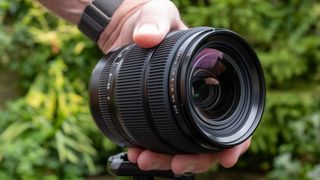 Given that Fujifilm's GFX 100-series cameras have 102 megapixels sensors, the lens needs to be able to resolve the utmost in fine detail to satisfy the demands that these bodies place on it. Fujifilm has therefore aimed high for image quality and all-round performance, while trying to shrink the physical size and weight of the lens to make it easily manageable for a zoom lens that photographers will want to take anywhere and everywhere.
Specifications
Swipe to scroll horizontally
| | |
| --- | --- |
| Mount: | Fujifilm G |
| Autofocus: | Yes |
| Stabilization: | No |
| Lens construction: | 14 elements in 11 groups |
| Angle of view: | 81-46.3 degrees |
| Diaphragm blades: | 9 |
| Minimum aperture: | f/32 |
| Minimum focusing distance: | 0.5m (W) 0.6m (T) |
| Maximum magnification ratio: | 0.12x |
| Filter size: | 77mm |
| Dimensions: | 92.6x116mm (145.5mm T) |
| Weight: | 875g |
Key features
It's often said of the finest zoom lenses that they can deliver the same performance as three or four high-quality prime lenses. In full-frame terms, this medium format lens pretty much covers off the classic 'effective' focal lengths of 24mm, 28mm, 35mm and 50mm in full-frame terms, with viewing angles of 81-46.3 degrees. Naturally, a key feature in being a zoom lens is that you get instant access to all of these focal lengths, and everything in between, with a simple twist of the zoom ring, rather than having to endlessly swap the lens on your camera body (and potentially miss shots in the process).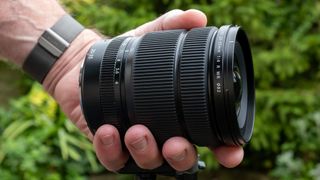 Moreover, the aperture rating of the lens remains fixed at f/4 throughout the entire zoom range. That's a bonus when using manual exposure modes and, while it might not sound particularly 'fast', it's worth bearing in mind that a tight depth of field is easier to attain with a medium format camera than a full-frame camera, just as it's easier with full-frame than a crop-sensor camera. Ultimately, the lens gives plenty of scope for isolating the main subject in a scene by blurring the background, especially for close-ups at longer zoom settings.

For extreme close-ups, the minimum focus distance good rather than entirely great, and it's not fixed. It stretches from 0.5m at the short end of the zoom range to 0.6m at the long end, giving a maximum magnification ratio of 0.12x.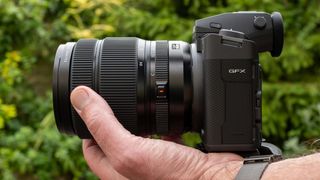 The optical path is based on 14 elements arranged in 11 groups, and features three aspherical elements, one ED (Extra-low Dispersion) element and one Super ED element. The overall aim is to maximize sharpness and clarity, while keeping the size to manageable proportions and minimizing distortions and other aberrations.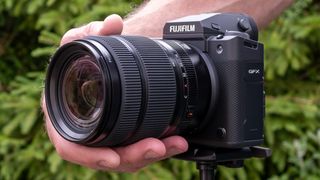 Autofocus is taken care of by a linear stepping motor, which is fast for stills and enables smooth, virtually silent transitions for movie capture. The lens doesn't feature optical image stabilization but that's not surprising, given the excellent in-body stabilization featured in most current and recent Fujifilm GFX cameras.
Build and handling
Designed as a go-anywhere zoom for walkabout and travel photography, the GF 32-64mm is conveniently compact and lightweight, at least for a medium format lens, measuring 92.6x116mm (about 4.5 inches long) and 875g (1.9lbs) in weight. That said, the zoom mechanism features an extending inner barrel and the overall physical length stretches to 145.5mm (about 5.7 inches) at the long end of the zoom range. Even so, the zoom ring operates with smooth precision and the same goes for the electronically coupled focus ring, which enables very fine and precise manual adjustments.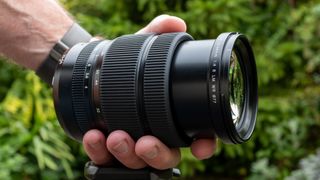 As a Fujinon R LM WR lens, there's an aperture control ring, linear stepping motor autofocus drive and weather-resistance, respectively. The aperture ring has one-third f/stop click steps but no de-click option for video capture. Locking A (auto aperture) and C (Camera-controlled aperture) positions are featured on the aperture control ring, complete with a release button.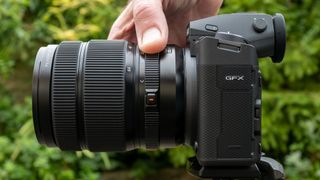 10 weather-seals are incorporated to avoid the ingress of dust and moisture, and the operating range in terms of temperature goes down to -10 degrees Celsius (14F). A fluorine coating is applied to the front element, to repel moisture and greasy finger marks. The overall standard of build quality feels of a consummately pro-grade nature, with a really solid construction and very refined handling.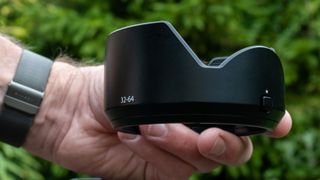 Performance
Throughout our 'real world' and lab tests, pairing the lens with a Fujifilm GFX100 II body, we were highly impressed from start to finish. As advertised, the linear stepping motor delivers rapid and consistently accurate autofocus for stills, along with smooth and virtually silent operation for movie capture.

Levels of sharpness are scintillating throughout the entire zoom range, even when shooting wide-open at f/4, from the center of the image frame right out to the edges and corners. The lens certainly makes the most of what Fujifilm's 102 megapixel image sensors in its top-end GFX series cameras have to offer, capturing incredible levels of fine detail and texture. Clarity and contrast are excellent, even in dull conditions or when shooting against the light.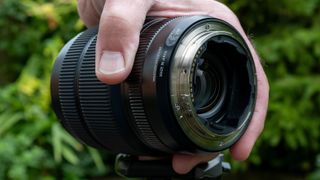 Bokeh is beautifully smooth and remains of very good quality when stopping down a little, helped by a well-rounded 9-blade aperture diaphragm. Color fringing is mostly negligible and distortions are extremely well controlled, more so than in the ultra-wide-angle Fujinon GF 20-35mm F4 R WR zoom. Ultimately, image quality and overall performance are exemplary.
Sample images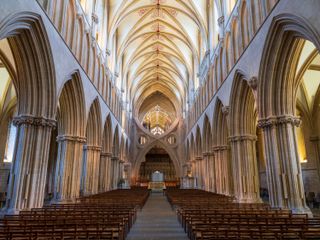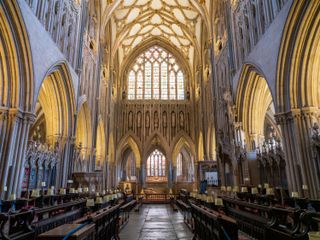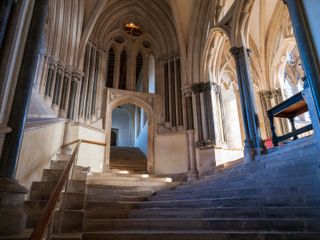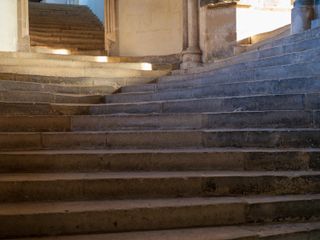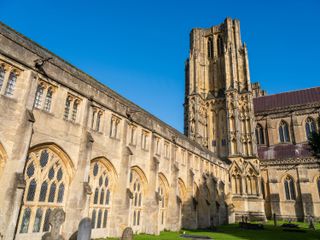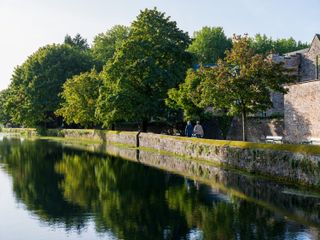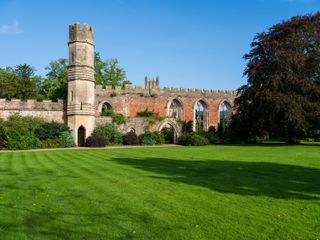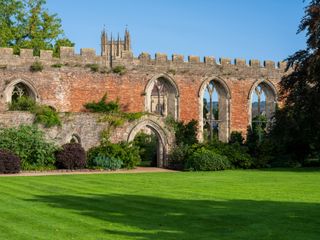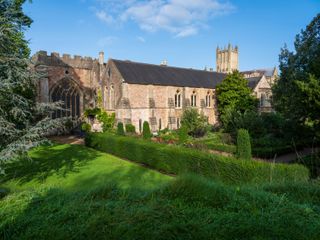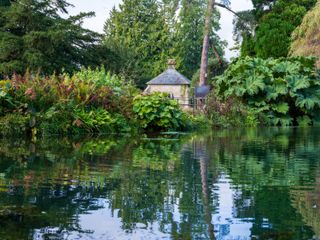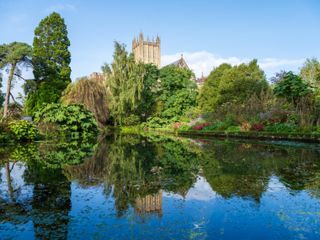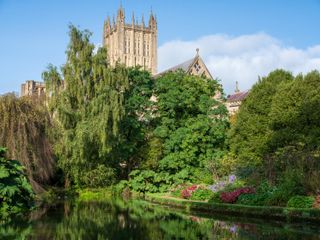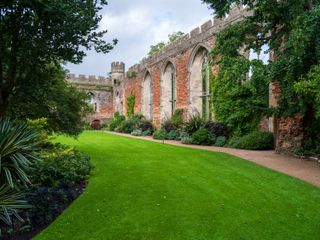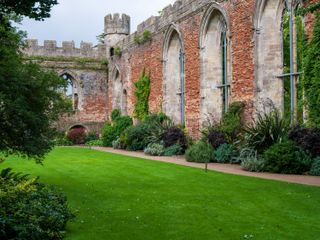 Lab results
We run a range of lab tests under controlled conditions, using the Imatest Master testing suite. Photos of test charts are taken across the range of apertures and zooms (where available), then analyzed for sharpness, distortion and chromatic aberrations.

We use Imatest SFR (spatial frequency response) charts and analysis software to plot lens resolution at the center of the image frame, corners and mid-point distances, across the range of aperture settings and, with zoom lenses, at four different focal lengths. The tests also measure distortion and color fringing (chromatic aberration).

Sharpness: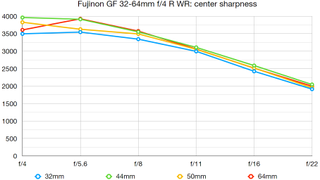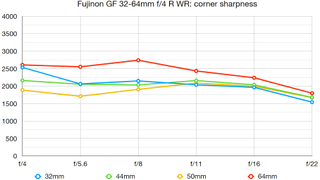 Levels of center-sharpness are absolutely superb throughout the entire zoom range, even at the widest f/4 aperture setting. There's fairly little drop-off even at the extreme edges and corners of the image frame, although it pays to stop down a little towards the long end of the zoom range.

Fringing: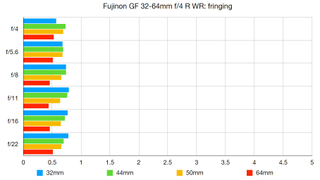 There's only slight color fringing at the short end of the zoom range when shooting at f/4 but it becomes negligible when stopping down a little, and remains so throughout the rest of the zoom range at all aperture settings.

Distortion: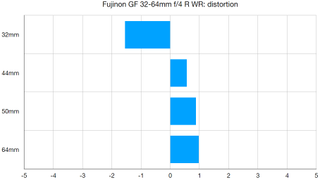 Barrel distortion is minor at the short end of the zoom range and there's very little pincushion at mid-range to the longest zoom setting. And that's without any automatic correction being applied.
Verdict
Weighing in at 875g or just under a couple of pounds, the GF 32-64mm is a fairly lightweight lens for a medium format zoom. On Fujifilm GFX cameras with upsized image sensors, it gives an 'effective' 25-51mm zoom range, taking you from wide-angle to standard angles of view with a flick of the wrist, and with a constant f/4 aperture rating. That makes the lens tremendously versatile for a whole variety of shooting scenarios. The weather-sealed build quality is deeply satisfying, handling is assured, and image quality is exceptional. All in all, it's a terrific lens.
Read more: find out more with our top picks for the best Fujifilm GF lenses.