The Celestron NexYZ 3-Axis Universal Smartphone Adapter fills a real gap, rather literally, between all kinds of optical devices and your smartphone. If you've never taken a photo with your smartphone through a telescope you're missing out. So-called digiscoping or afocal photography – literally, placing your smartphone's camera in front of the eyepiece of a telescope, a spotting scope, a pair of binoculars or monoculars – is surprisingly effective whether you're pointed at wildlife or the Moon. However, it always comes with one huge problem; stability, or lack of.
Cue the Celestron NexYZ, the latest in a long line of smartphone adapters that seek to bring rigid solidity to the art of afocal photography. Essentially a double-clamp that locks onto an eyepiece and also cradles a smartphone, the Celestron NexYZ, is a big-brand entrant to what has been, until now, a commodity market.
It's somewhat fitting that smartphones can now easily be used to take images of space. After all, the charged coupled device (CCD) that was integral to the invention of the digital camera was initially dreamed-up by a NASA inventor for imaging planets from spacecraft.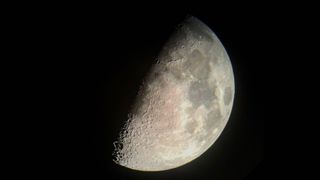 However, the Celestron NexYZ is more advanced than most, bringing to the market a three-axis design that at its best achieves a precise alignment that allows the taking of some impressive images, particularly of the Moon.
Designed for to clamp around 1.25" or 2" eyepiece barrels and to fit any eyepiece from 35mm to 60mm in, what's different about the Celestron NexYZ is that once locked around an eyepiece holder there are three knobs to tweak for the X, Y and V axis positions. So as well as being adjustable up and down to align a smartphone camera with the eyepiece, it's possible to slide it in and out to cater for the thickness of the smartphone you're using.
Specifications
Compatibility: telescopes, binoculars, spotting scopes, monoculars and microscopes
Eyepiece clamp range: 35-60mm/1.37"-2.36"
Eyepiece clamp range: 65-90mm/2.55"-3.54"
Adjustment axes: 3
Materials: cast metal and injection-moulded fiber-reinforced plastic
Dimensions: 165.1x139.7x107.95mm/6.50"x5.50"x4.25"
Weight: 283g/10 oz
Design and performance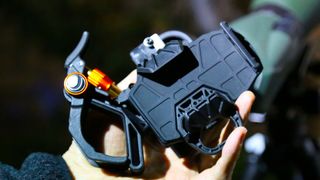 The Celestron NexYZ is not exactly small. Weighing 283g when empty, the addition of that third axis makes it something of a handful. It's not going to be a problem if you plan to use it at home with a telescope, but it's not going to easily fit into a pocket for travel.
The smartphone clamp itself is spring-loaded and it can take a smartphone up to about six inches in diameter. However, it's not wise to put a phablet-style device into the Celestron NexYZ because that introduces a distinct wobble that makes the entire structure unstable. That's despite the Celestron NexYZ including an effective clamp that fits around the eyepiece holder and secured there by a cone-shaped screw nut. It's a good and reliable fit, but don't overload it.
Getting a smartphone in and out of the clamp while the Celestron NexYZ is attached to a telescope was not a problem during our review. Aligning a smartphone's camera with the sweet spot of an eyepiece also proved relatively trouble-free, at least initially. While pointed at a crescent Moon, it was necessary to slightly pinch to zoom in order to get a whole-screen image with our telescope. That's not a problem per se, but if you zoom just a little too much there's the risk of a smartphone defaulting to a different camera – this means a scramble to re-align the Celestron NexYZ. So while it's an impressive device compared to rivals, it struggles to be a truly likeable device simply because smartphones have got more complicated to use for afocal photography.
Verdict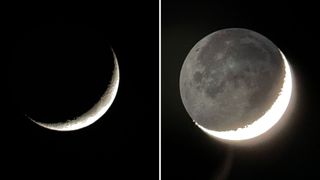 The Celestron NexYZ is as good a smartphone adapter as exists. Sure, it can droop a little while in use, but it's more secure and more stable than most, and at no time did we fear our smartphone would fall off and hit the ground. Some pleasing images of the Moon proved possible using the focal photography technique the Celestron NexYZ enables. Attaching a smartphone to a telescope in this way also creates a live view screen that simplifies the sharing of whatever the telescope is pointed at, with no need for anyone to bend and strain to look through the eyepiece.
However, just as a thoroughly decent smartphone adaptor has arrived the game has changed, with now mainstream quad-camera smartphones presenting another big challenge that the Celestron NexYZ doesn't quite overcome.
Read more:
• Astrophotography: How-to guides, tips and videos
• Astrophotography tools: the best camera, lenses and gear
• The best lenses for astrophotography
• The best star tracker camera mounts
• The best light pollution filters
• The best CCD cameras for astrophotography
• The best spotting scopes in 2021
• The best binoculars
• The best microscopes