The Zhiyun-Tech Crane 3 Lab handheld stabilizer is widely regarded as one of the best gimbals on the market today. And, today only, you can take advantage of an enormous $500 discount on it!
This incredible offers means that you can buy the Zhiyun-Tech Crane 3 Lab for just $399 at B&H, but you'll have to hurry – this deal expires at midnight EDT (and don't forget that B&H ships worldwide, so this offer is available across the globe)!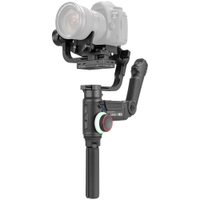 Zhiyun-Tech Crane 3 Lab: $399 (was $899)
For today only, save a mammoth $500 on one of the best gimbals on the market that can take a payload of up to 4.5kg / 10lbs, making this suitable for smaller mirrorless bodies, DSLRs, and even some cinema cameras!
The Zhiyun Crane 3 Lab can support camera-and-lens combinations of up to 4.5kg (compared to the 3.2kg limit of its predecessor), and the motors in the three-axis stabilizer are also said to be the twice as powerful, half as noisy, and one-and-a-half times faster. The rechargeable batteries give up to 7.5 hours of operation.
The device can also be linked wirelessly to a smartphone, to give you an external HD monitor via the ZY Play app. A mobile phone holder is available as an optional accessory, making this an incredibly adaptable motorized stabilizer.
Read more:
The best gimbals for your iPhone, GoPro, mirrorless camera or DSLR in 2020
The 10 best pro video accessories in 2020
The best gimbal heads for tripods in 2020: heads that handle big lenses with ease
The best camera for video in 2020