In a pattern we've started to see in the last few Black Friday seasons, in the lead up, about a couple of weeks before, we see deals from a lot of the best security cameras and best smart doorbell brands. (You can find the best on our Black Friday security cameras deals page.)
Then, when Amazon declares its Black Friday sale has started – which, they year, it did the Friday before, there are suddenly some amazing deals on products from Amazon-owned companies – Ring & Blink – and even better bundles with Alexa products that integrate with them.
So it has been, so it is again – and this time the highlight bindles are the Ring Video Doorbell – perhaps the classic product in the space. Sure, there are newer models, like the Ring Video Doorbell 3, but the Ring Doorbell is still a popular choice because the battery means it can be installed without drilling if you don't already have wiring.
At the same time you can get an Echo Show 5 – which is a smart speaker with a screen. All this comes less than the list price of the doorbell, but the Echo Show can act as a remote monitor for the doorbell camera, which you place anywhere you like in your home. You can also use if for all your other favourite Alexa stuff (playing music, answering questions, setting timers etc).
Speaking as someone who ran cabling to his own doorbell (which isn't cheap and involves a lot of painting over damaged plaster), this looks like a very inexpensive option by comparison!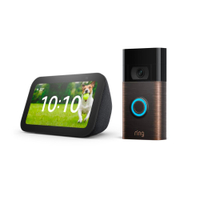 Ring Doorbell + Echo Show 5 | was $189.98 | now $64.99
Save $124.99 Both parts of a video entry system in this bargain bundle are hard to ignore. The Echo Show can do all Alexa can and "Show me who is at the front door," though you can still use your phone app too. What a deal!
Another option, if you're not looking for anything with a screen inside the home, is a bundle with one of the Echo smart speakers, like the Ring Video Wired with Echo Dot.
Don't forget to check out our other Black Friday smart home security camera deals on our regularly updated page.