Now I know this sounds pretty obvious, but you might be surprised at how much regularly updating your Instagram will improve your engagement. Sharing content every day isn't as easy as it sounds, not only do you need to have a backlog of content to share, but you also need to create engaging captions, make sure you post it at the optimum time to get the most views and use relevant hashtags so your post can be seen by people who don't follow you.
I've never been one to post religiously to Instagram. Sometimes I go months without even realizing I haven't posted anything new and am often surprised to see my follower count drop. As a part-time professional photographer, I know that the amount of followers you have and the amount of likes a posts get isn't really that important however, I do find that the better my engagement, the more work I get via Instagram. And that is important to me.
• Check out the best cameras for Instagram and browse a range of systems from camera phones to compact point and shoot cameras
Since I use Instagram for business purposes, I switched to a professional account so I can better track which posts do well, how many accounts my posts have reached, which of those accounts are followers and which are those are new, how many accounts engage with my posts (i.e. like, comment or save) and where in the world my engagement is coming from.
Instagram enables you to track your content from anywhere between the last 7 days to the last 3 months which is very helpful if you're trying to work out month-on-month growth. It's equally helpful in trying to work out why your engagement might be dropping and see whether what you post or when you post has changed.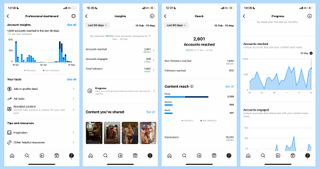 In my overview from February 15 - May 15, I've reached a staggering 67.5% more accounts than I did between November 17 and February 14. In the last 30 days alone, my content has reached more than 1.5K accounts and more than half of those accounts have been people who didn't already follow me. While lots of followers won't necessarily mean lots of jobs, if your content is good and you have the following to back it, there may be opportunities to work with some of your favorite brands as an ambassador in the future - always something to keep in mind.
Account insights aside, I love using the professional version of Instagram is it comes with lots of features such as an inspiration section that includes reels and content ideas plus you can post paid-for ads to further increase your reach. Although I rarely use the ads section, I have done so in the past and it has driven my engagement but sadly not always resulted in jobs so often it doesn't massively seem worth the money.
To make myself clear, I'm not saying posting every day will necessarily bring you in more work. But the more you post, the more visible your account will be so there is a bigger chance of someone stumbling across your page who needs some photos taken. Regularly updating your page also makes you look active which can be appealing to someone looking to book a photographer.
FAQS
What's the difference between a personal and professional Instagram account?
A personal account is for sharing what you get up to in your free time, it's a great way of connecting with friends and family and sharing your favorite personal photos. A business account gives you features that enable you to see engagement insights, post ads, create a shop, schedule content and supply contact information for your business.
How do I set up a professional Instagram account?
Switching to a professional account is easy, simply go to your profile, click the three lines in the top right hand corner, go to settings then click switch to professional account.
Why not check out the 20 famous photographers you should follow on Instagram and our 10 tips for Instagram success