The Vatican has renewed its broadcast partnership with Sony, adding a broad range of camera equipment to its media facilities.
Vatican Media (formerly Centro Televisivo Vaticano) is responsible for official broadcasts of the Pope and Vatican activity. It has just reupped its relationship with Sony to upgrade its broadcast system, making use of the manufacturer's suite of 4K, PTZ and broadcast cameras.
• Take a look at the best Sony cameras across a range of categories
"The institution aims to make the look and feel of the Vatican accessible worldwide, and to provide high-quality footage for the historical archive through its broadcasts," reads the official announcement.
"Sony has created a bespoke package providing the best quality footage with the smallest possible impact on the beautiful and historic surroundings of the home of the Catholic church."
The across-the-board upgrades include switching older cameras to Sony HDC-5500s, offering high-end 4K, FullHD and HDR capability – including, crucially, under low light conditions.
For the first time ever, St Peter's Basilica has been outfitted with Sony BRC-H800 PTZ cameras. Not only does their small footprint mean they can be sensitively installed around the building, their remote operation removes the need for human operators.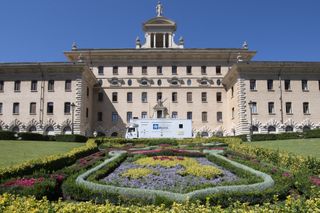 Finally, St Peter's Square will be filmed 24/7 by a Sony FX9 "to improve image quality, and to provide a more cinematic feel" of the plaza situated in front of the Basilica.
"Thanks to Sony's innovative solutions, we've built a high quality and future-proof system which will transport viewers to The Vatican and help spread our message worldwide better than ever before," said the director of The Vatican's Technology Department, Francesco Masci.
"Building such a complex system while in-keeping with the historic location was never going to be an easy task, but by using the expertise of our long-term partners Sony we were able to find the perfect solution."
Sony, understandably, is enormously proud of its ongoing relationship with The Vatican, and the opportunity to demonstrate its imaging systems.
"Our long-standing partnership with Vatican Media has enabled us to offer a scalable and reliable system that meets the need for shooting, producing and broadcasting around the world with a low impact on historical environments," noted Sony Professional Europe's head of Live Production Solutions, Norbert Paquet.
"We look forward to continuing to work closely with Vatican Media as a technology partner and helping them to expand in crescendo the potential of broadcasting from this historic place with such a valuable heritage to always reach every corner of the world."
Even if you're not outfitting a holy landmark, take a look at the best PTZ cameras and the best cameras for streaming for top quality imaging.