Yes, there is a new film camera on the way. From Pentax, no less, the company that fittingly refuses to give up on DSLRs.
We previously reported on the talk of Pentax making a new film camera but now the manufacturer has issued a new video on the thoughts of the "Film Project" and has revealed some details that the film community might find interesting.
Firstly, Takeo Suzuki, who's a member of the product planning and design team at Ricoh (Pentax's parent company), discusses how thrilled the team was to receive so much support from the film community around the world – and Pentax hopes it can develop film cameras in the future to support both film enthusiasts and professionals.
While many wanted to see the revival of some of the best film cameras out there, including the Pentax 6x7, Suzuki confirmed that the first camera they will develop is a compact film camera.
You can view the full video in Japanese with subtitles below:
Suzuki goes on to say that this new compact film camera will be an entirely new model from Pentax, which might come as a bit of a concern to loyalists, but it will also be developed with a fixed non-interchangeable lens.
Interestingly, the engineers at Pentax and Ricoh have decided to incorporate a hand film-winder mechanism into this new compact camera. The idea behind this is to develop the hand-wind mechanism for future in a possible SLR, if demand calls for it.
While developing this mechanism, the team called upon old film camera engineers for assistance, after 3D CAD drawings were proving difficult. While the old engineers said the current team "didn't know anything", which isn't encouraging, this was all meant in good humor.
It was agreed that even the hand-wound lever system is very complicated, with many gears to rachet your film onto the spool. The whole team concurred that this would have to be the option, as it is the "true sound" of film cameras, and Pentax wants users new and old to experience that in a modern compact film camera.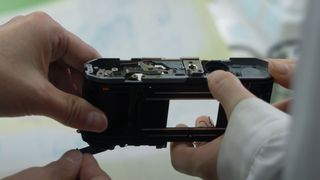 While this new development is a completely new model from Pentax, Suzuki says these developments will lead to future models – including an SLR film camera. He highlighted that this technology is all "new" to current engineers and, while working with those who used to develop film cameras in the past, Pentax and Ricoh can develop interesting cameras for the future of film photography.
While the "Film Project"'s main goal is to produce cameras, it is also a movement for film photographers, engineers, repair shops, and others within the film community to come together and support one another. Although Suzuki did not mention brands by name, he did suggest that other corporations have offered guidance, equipment, and expertise to get this project off the ground, which is a wonderful thing.
How long it will take to get this new compact film camera on the market is still unknown, but it certainly is an interesting project to keep an eye on.
If you enjoyed this article we would recommend taking a look at the best film cameras on the market today, and while there you're going to need some film. Luckily we have the best 35mm film and best 120 roll film guides for you.