The Benro 3XS Lite has a series of locking hinges that allow the main arm to fold across the top of the handle and the phone clamp to lie along the side. It weighs just 430g.
The Benro is one of many stabilising gimbals now available for vloggers, bloggers and filmmakers. The best gimbals offer smoother, more professional camera movements than you can get by simply filming with your camera phone hand held. It's also an interesting alternative to a dedicated pocket filming device like the DJI Osmo Pocket.
One of the Benro's key features is a one-button switch from landscape to portrait filming – and you can switch between front and rear cameras with another button. Between them, these features make the Benro 3XS Lite ideal for vloggers who want to switch quickly between filming and presenting. This is why some of the best cameras for vlogging are camera phones!
There's a tripod socket in the base of the handle, and the Benro even comes with a compact set of folding tripod feet so that you can quickly swap from handheld to table-top shooting.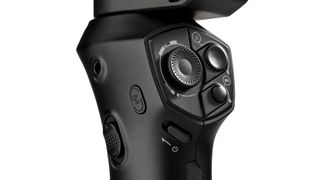 Benro 3XS Lite features and controls
The 3XS Lite connects with a Benro Gimbal companion app on the camera phone, and there are filming controls on the gimbal itself – you can start/stop recording, adjust the zoom setting and control app settings and menu selections with these.
Shooting modes include a Universal Follow mode for smooth movements as you change the angle of view, direction and position, and a Locked Down mode for a horizontal panning movement.
There's also a 3.5mm microphone port for connecting an external mic to the gimbal (which requires an additional lead/adaptor to connect the phone's audio input to the gimbal). The idea of this is that you can connect a mic to your smartphone without the cabling interfering with the gimbal's operation.
Benro says the 3XS Lite companion app offers multi-shot panoramas, time-lapse images with dynamic motion or object tracking, and face and object tracking. It comes with a 2,000mAh battery offering up to 24 hours off operation.
The Benro 3XS Lite Smartphone Gimbal is available now and costs a very reasonable sounding $99/£90.
Read more:
• The best gimbals for your iPhone, GoPro and camera
• These are the best cameras for vlogging right now
• The complete guide to vlogging: how to become a content creator!