Tripod maker Slik has been pretty quiet recently, but now it's back, and with two new PRO CF carbon fibre tripods, and two pro ball heads to go with them.
It's already tough enough trying to choose the best tripod, but these two new Slik models do seem to be priced pretty keenly. The largest is the Slik PRO CF-834, which measures 48cm when folded and has a maximum height of 165cm, excluding the head. It's designed to support a payload of 7kg.
The Slik PRO-635 is smaller, measuring 37cm when folded and with a maximum extended height of 159cm. This model is designed to support camera kits up to 3kg in weight.
Both models use 8-layer carbon fibre legs for strength, light weight and rigidity. You can get either model with 4-section or 5-section legs, so effectively there are four versions to choose from. They each have 3-step, variable-angle legs, with twist-locks on the leg sections and a splittable centre column for low angle shots.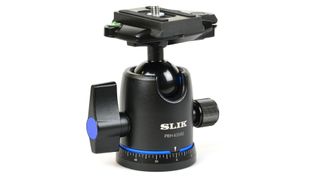 New Pro-Ball-Heads
These are designed for use with the new PRO CF carbon fibre tripods and also come in two sizes. The larger PBH-635AS is designed for a payload of up to 6kg, while the smaller PBH-535AS is for weights up to 5kg.
Both heads incorporate Slik's 'Cam-Lock' Arca-Swiss compatible quick release system, and both have three separate knobs for locking, panning movements and friction control.
The Slik PRO CF-834 and PRO-635 are on sale now priced from £219-299 / $230-300, while the PBH-635AS and PBH-535AS heads will be £85-90 / $75-80
Read more:
• Which is the best tripod to get right now?
• How to choose the best ball head for your tripod
• These are the best carbon fibre tripods today