NASA has recently published a photograph of Jupiter's giant moon Ganymede, taken by the organization's Juno spacecraft as it flew past. This photo shows Ganymede's surface, revealing craters and long structural features that NASA has suggested could be linked to tectonic faults on the moon. Along with a second photograph of Ganymede that NASA has published, this image also shows the dark and light terrain of the moon in stunning detail.
Juno's flight past Ganymede was actually the closest that any spacecraft has flown to Jupiter's largest moon in over two decades. One photograph was taken by Juno's JunoCam imager, while the other image was shot with the Stellar Reference Unit star camera.
• Read more: Best camera for astrophotography
NASA explains (via DP Review) that the JunoCam image was shot "using its green filter…" with the visible-light imager capturing "almost an entire side of the water-ice-encrusted moon". While the photograph we see above is currently in black & white, "later, when versions of the same image come down incorporating the camera's red and blue filters, imaging experts will be able to provide a color portrait of Ganymede."
Scott Bolton, Juno Principal Investigator at Southwest Research Institute in San Antonio, says, "This is the closest any spacecraft has come to this mammoth moon in a generation. We are going to take our time before we draw any specific conclusions, but until then we can simply marvel at this celestial wonder."
When Juno captured the two photographs we see here, it was within 1,038km (645 miles) of Ganymede's surface. The JunoCam shot the incredible wider image of the moon, shown above, using "image strips [that] were captured separately through the red, green and blue filters".
Meanwhile, the Stellar Reference Unit (which is a navigation camera that helps keep Juno on course) captured a second black & white photograph (below) of Ganymede's dark side, which is dimly lit by light reflected from Jupiter's surface.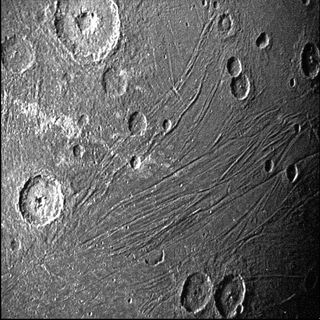 The photographs captured by Juno will be used to gain insight into the moon's composition, ionosphere, magnetosphere and ice shell. The NASA website says, "The Juno science team will scour the images, comparing them to those from previous missions, looking for changes in surface features that might have occurred over four-plus decades. Any changes to crater distribution on the surface could help astronomers better understand the current population of objects that impact moons in the outer solar system."
Between NASA's Mars Perseverance rover and the recent Ring of Fire solar eclipse, there's plenty of astrophotography excitement going on this year.
Read more
How to improve your astrophotography: tips, tricks and techniques
The best telescopes for astrophotography
The best CCD cameras for astrophotography
The best light pollution filters
The best lenses for astrophotography
The best star tracker camera mounts