Ricoh has officially announced the new Ricoh WG-70, its latest weatherproof outdoor camera. However, the new name and new orange color are essentially all that's new, as the camera is almost identical to its predecessor – right down to the lack of 4K.
The Ricoh WG-70 virtually photocopies the specs of the Ricoh WG-60 – which isn't entirely a bad thing, as the previous model is one of the best waterproof cameras on the market.
That means the new model features the same 16MP backlit CMOS sensor, the same ISO sensitivity of 125-6400, the same equivalent 28-140mm lens with f/3.5-5.5 aperture, the same 2.7-inch monitor with 230k dots… and yes, the same video that maxes out at 1080p 30 frames per second (or 120 frames at 720p).
The lack of 4K video is obviously a huge missed trick for the WG-70 – not only because its best in class rival, the Olympus Tough TG-6, features 4K, but because every camera in 2020 should really come with 4K as standard.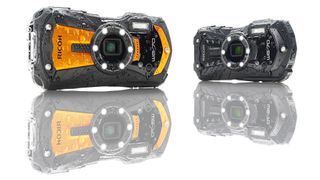 That said, the important stuff for a rugged all-weather camera is also reassuringly familiar. The Ricoh WG-70 is waterproof down to 14m / 46 feet, shockproof to drops of 1.6m / 5.25 feet, crushproof to 100kg / 220 lbs, and freezeproof to -10°C / 14°F. In other words, you'll have to go some way to break this thing!
It's not entirely without additions; as well as the new color option, Cross Process has been added to the Image Tone Mode filters, and the Digital Microscope mode has been improved. Images in this mode were limited to 2MP (1920x1080) on the WG-60, but the recording size can now be set to a maximum of 12MP (4608 x 2592, with a 16:9 ratio).
The camera is available in black or orange, and will start shipping from 21 February for $279.95 / £279.00 (Australian pricing to follow). The Ricoh WG-70 can be pre-ordered from Adorama for $276.95, and ships worldwide.
Read more:
The best waterproof camera in 2020: underwater cameras for fun and action
Ricoh WG-60 makes a splash
Olympus Tough TG-6 review