Thought the iPhone 11 Pro was pretty rapid with its 240fps slow motion FullHD video? Well, to be honest, we did too. But now that figure has been dwarfed to the point it looks about as slow as an asthmatic slug on an ice rink.
Claiming the new title of "world's fastest camera", this 70 trillion frames per second marvel of photographic engineering eclipses the positively pedestrian 10 trillion fps burst rate achieved by the previous record holder. Frankly, a seven-fold increase in speed over what is already a phenomenally fast frame rate is simply staggering. Usually records are broken incrementally, as mankind gradually pushes the boundaries of what is technically and physically possible, but not here.
Now I know what you're thinking. What could possibly require such an insanely fast frame rate? Well, this camera is not intended for shooting the 100-metre sprint final at the Tokyo Olympics, that's for sure. Rather, we're talking about the outer reaches of physics - capturing neuron pulses, shockwaves, nuclear fusion, and the movement of light waves themselves.
They say nothing can be faster than the speed of light, but this camera comes amazingly close. To put this in perspective, this camera is able to capture approximately 230 individual frames in the time taken by light itself to travel a single millimetre. No word has been mentioned on what resolution these frames are being captured at, or even if such a mainstream measure of camera performance is even relevant to such exotic hardware.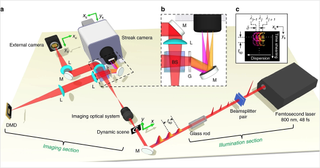 Created by researches are Caltec - a company with a track record of producing "trillion+ fps" cameras - this latest lightning-fast camera uses Compressed Ultrafast Spectral Photography. This combines a laser that emits short pulses of laser light that last only one quadrillionth of a second, with optics that break up each individual pulse into a train of even shorter light pulses, each of which is capable of producing an image in the camera.
This has been nicely illustrated in the animation below, where a pulse of light is flashed over the name of the camera manufacturer. The graphic on the left shows the pulse captured at 10 trillion frames per second, whereas the new camera captures the right-hand graphic at a noticeably smoother 70 trillion fps. The pulse itself lasts a mere 1.5 picoseconds, or 0.0000000000015 seconds. That's almost as brief as *insert politician's name here* attention span.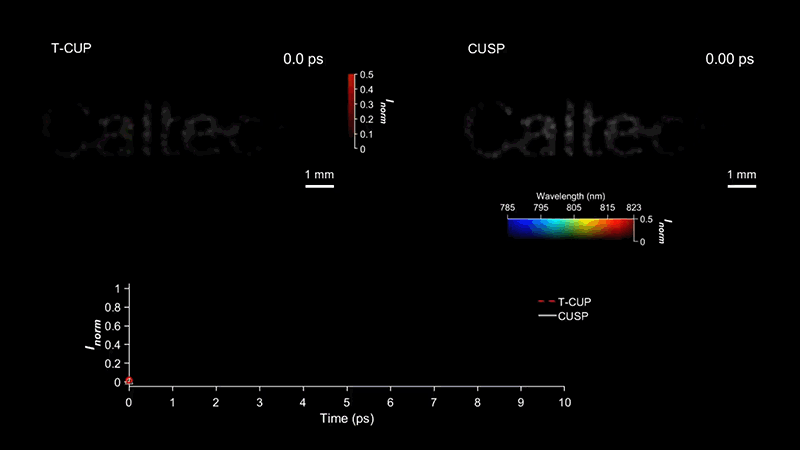 Now, we'd love to try getting one of these cameras into our lab for a full DCW review, however creating a suitable nuclear fusion test to photograph might not get an enthusiastic response from our health and safety department!
Story credit: Petapixel
Read more:
The 7 fastest lenses you can buy
The world's largest lens is a whopper