As of August 28, you are officially able to order professional prints of the photos from your own personal Flickr account - without ever having to leave the site. With a variety of size options available in paper, canvas or metal, printing your images just became a whole lot easier.
Flickr's owner Smugmug has helped to bring this service to life, but Flickr has also partnered with the Bay Photo, Loxley Colour and White House Custom Color photo labs to ensure that you receive professional quality prints each time you order.
Read more: Best photo printing online
To take advantage of this service, you simply need to log into your Flickr account and select the brand new Prints menu item in the top menu. Choose Prints & Wall Art and you'll then be able to choose which image you want to print. Then simply select the product style, size and finish, and then add it to your cart and check out.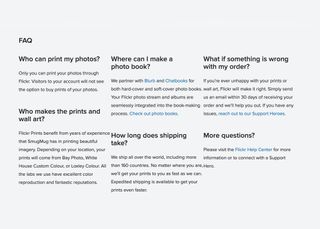 Alternatively, you could also order a print when you're browsing through your Photostream. Simply choose an image, click the new shopping cart icon, select the product you want and then add it to your cart.
You can print your photos on either metal, canvas or paper. Metals prints are known for delivering unparalleled color and vibrance. Meanwhile, canvas prints are an instant way to add class to your living room. Alternatively, if you're a traditionalist or on a budget, paper prints are a fantastic way to show off your favorite photos.
At the moment you can only print your own photos, but we do wonder whether this service might be extended in the future to allow you to purchase other photographers' photos - and sell your own.
If you want some handy tips on how to prepare your photos for printing, finding inspiration on what to print - or to be the first to see exclusives and deals - join the Flickr group Print Boldly.
In the meantime, enjoy exploring this new feature and rediscovering the joys of printing your photos.
Read more
Best digital photo frames in 2019
Best canvas print services in 2019
SmugMug acquires Flickr, promises a new beginning