On the first day of the year, 2023, twenty countries allowed transgender military personnel to serve openly. In 2014, the British Army granted transgender people permission to serve openly in its military forces.
Award-winning photographer Rory Lewis, who has previously captured celebrities, and members of the Royal family, exhibited unseen images of famous faces, and photographed military personnel, has been working on a project featuring transgender soldiers, capturing those who serve with pride.
• Check out the best camera for portraits
One of the most striking portraits is that of Warrant Officer Class 2 Deborah Penny, who served 30 years in the British Army's Royal Logistic Corps as a Bomb disposal expert and made Army history as the first transgender Soldier to serve on the front line. Her portrait has been acquired by The National Portrait Gallery in London, UK.
"The British Army is a wonderfully diverse organisation and I'm pleased that my portrait has helped to recognise a true British Army Hero," Rory says. "Deborah will take her rightful place in the National Portrait Gallery's permanent collection."
We've reached out to Rory to find out more about this project, including how they were captured and what he plans to do with the final collection.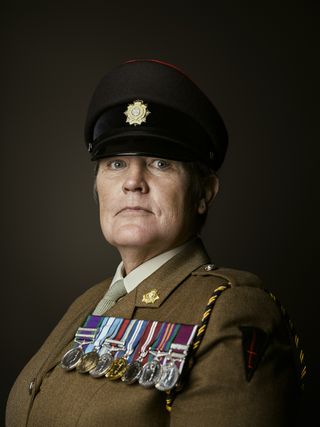 Rory Lewis is an acclaimed portrait photographer who has worked with a wide range of subjects, from members of the Royal Family to army generals to famous actors such as Sir Patrick Stewart, Dame Judi Dench and Sir Ian McKellen. Lewis is still inspired by art rather than photography, dramatically depicting his subjects in the style of Caravaggio. Rory believes the key to good portraiture is being bold and taking risks with your subjects, pushing them to release emotion.
How did this project come about?
The opportunity came during a larger project entitled Soldiery, from 2016-22, collaborating closely with the Army in a busy schedule of hundreds of military portrait sittings. The British Army is a diverse and proud organisation with a cherished heritage. 'Soldiery', has been a project focusing on historically documenting the modern British Army in a contemporary reflection of historical portraiture of days gone by.
After meeting service personnel who are part of the LGBT community, I was keen to highlight the story of Transgender Soldiers. Only since 2014 have they been able to serve openly in the British Army.
"Just by looking into the eyes of the men and women you can see those soldiers who have just passed out looking fresh-faced and ready for action, and then look at those who have been veterans of conflicts in Iraq and Afghanistan with more experienced and vivid emotions." This is Army life through the lens. Each portrait depicts a different story.
I was delighted to capture the series, especially WO2 Deborah Penny, who was the first Transgender British Soldier to serve on the front line. Her portrait was acquired by The National Portrait Gallery and won the Portrait of Britain Prize.
The full Soldiery project including Transgender Personal is on display at the National Army Museum in London as part of the Museums collection.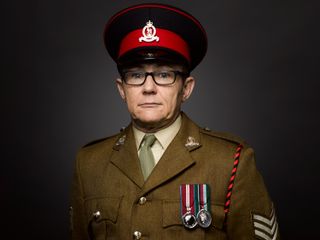 How did you direct your subjects?
Directing soldiers isn't very hard, as they are used to orders, and capturing each in a plain way, with an off-camera gaze, offered a deep thoughtful portrait.
What camera kit did you use?
Hasselblad X1D II 50C + Hasselblad XCD 90mm f/3.2 Lens
Profoto D10 X Duo Kit
Profoto Translucent Umbrella S
Profoto OCF Octa Softbox
Manfrotto Black/Grey Collapsible Backdrop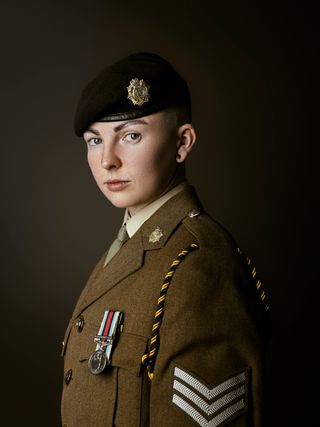 Where do you see the images being used in the future? Will there be an exhibition?
The portraits are on display at the National Army Museum in London for the foreseeable future. The portrait of Deborah Penny is part of the National Portrait Gallery Permanent Collection.
You might also like:
• The best lens for portraits
• The best Nikon portrait lens
• The best Canon portrait lenses