Amazon-owned Blink offers a great, and reasonably priced, range of indoor security cameras, but by fitting them I found myself in conflict with the rest of my family. I'd expected pushback on privacy grounds – fair enough – but it was a subtle, hidden aspect of the device's workings that irked them most. One which, once you've noticed, you can't ignore.
The first culprit was the Blink Mini, a 1080P security camera that doesn't stand much taller than a Lego man, but can offer live view and two-way-talk. All this it manages for a bargain price, and (once set up) the Blink app means you can view video from anywhere. Adding a cloud subscription offers to record events, but basic operations and alerts are free.
I placed the camera in the living room, where it can keep its eye on the outward-facing window in case burglars should choose the least subtle approach. After a few worries about the sinister eye, it essentially disappeared into the background. That was until it came time to turn down the lights and enjoy some Netflix.
At that point, there was a surprise clicking sound which we soon identified as emanating from the Blink Mini. The click is loud enough that you can't just leave the camera on and forget about it, especially in a bedroom – or a room that occasionally serves as one, say with a sofa-bed in it. That's actually a lot of places in most homes.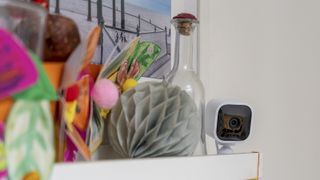 How to stop Blink cameras from clicking
The click is not unique to Blink cameras but is a result of the camera's ability to switch from color to night modes. In the latter, the camera captures infrared light (there is a small built-in infrared LED to invisibly illuminate the room). Instead of building a device with two separate cameras, however, the Blink has an IR cut filter that physically moves inside the camera, hence the click.
Plenty might see it as a satisfying indication that their device is in operation, but – as noted – there are reasons you may want to disable it.
To stop a Blink camera from clicking follow these steps:
In the Blink app's home page, click the sliding settings icon at the top-right of the camera in question
Go to the 'Video and Photo' settings
At the top of the page, turn the Night Vision, Control option to 'Off'
At the top right, press 'Save'
The price you pay is that, for the camera you apply this setting to, you can't see in the dark. Perhaps add turning this setting back on might be a good thing to add to a holiday checklist. That way, when you're leaving the home so security, rather than home monitoring, is key, it'll still work in the dark.
Check out our reviews of Blink cameras:
• Blink Mini review
• Blink Indoor review
• Blink Outdoor review
• Blink Mini Pan-Tilt camera review