Motorola has unveiled a satellite device at MWC 2023 that will let you call and text from your smartphone, even when there's no signal. The Defy Satellite Link can be used with any Android or Apple and for just $99 it offers a pretty serious upgrade.
We've all found ourselves in a sticky situation with absolutely no signal. It always seems to happen at the worst moments, when you've broken down or gotten incredibly lost and cannot contact help. In an age where we rely so much on our phones for communication, it's a little surprising more phones don't have satellite functionality but at least the Defy Satellite Link is a great alternative.
• Check out the best satellite phones and communicators
The Motorola Defy Satellite Link is a rugged Bluetooth device that works with an app to send SOS messages, a location and two-way text chats. Its compact, lightweight design makes it perfect for taking anywhere with you. And with an IP68 rating, it's sand, dust, dirt and water resistant too! Included is a handy attachment loop so you can fix it securely to your bag
While it is more designed for travelers and outdoor adventurers, the low price-point of the device makes it accessible for everyone. Starting at just $99 for the device itself or $149 for the device plus 30 messages a month and SOS assistance from FocusPoint for the first year, it won't break the bank but it could save literally save your life.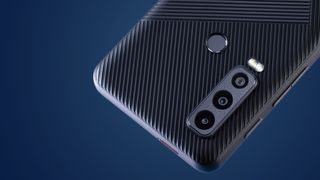 As well as launching the Defy Satellite Link, Motorola also announced a brand-new Motorola rugged smartphone with satellite connectivity built-in, The Motorola Defy 2 benefits from an extremely robust design, it's drop proof from 1.8 meters, dust and weatherproof, can be used in extreme temperatures, offers wireless charging, a 50MP main camera and extra Micro SD storage with prices from $599.
Each product has its own unique benefits but for us, the Defy Satellite Link is by far the most exciting of the two. As a keen hiker, I have on more than one occasion where this device would've been so handy and saved me from walking extra miles to find a signal. With messaging plans for the Satellite Link starting at just $4.99 per month (plus the cost of the device) you'll soon be able to message from anywhere in the world may that be high up a mountain, in the middle of the desert, or deep in the jungle.
Also see the best handhel GPS devices and the best rugged tablets