Motorola has revealed its second 5G-ready camera phone, the moto z4 – and the impressive mid-range handset is taking aim at the latest offering from Google.
Powered by the company's Quad Pixel technology, the Motorola moto z4 boasts a 48-megapixel rear camera and a 25-megapixel selfie camera – a massive leap over the 12.2MP back and 8MP front cameras seen in the Google Pixel 3a and XL.
That alone should make the z4 one of the best camera phones, but the impressive imaging specs don't stop there.
In fact, the z4 levels a significant broadside at one of its rival's key features; the new phone features Night Vision – Motorola's take on Google's much vaunted Night Sight – to deliver much improved low light performance.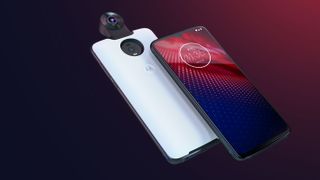 This is where the Quad Pixel technology comes into play, combining four pixels into a single photosite to capture 12MP images with less noise and improved brightness and clarity.
The moto z4 also packs optical image stabilization to reduce camera shake, as well as a host of AI features such as Smart Composition, Auto Smile Capture and AI Portrait Lighting.
On top of that, it can take Cinemagraphs (semi-animated images where most of the frame is still, but a portion contains motion, such as a bouncing ball or vape smoke being blown), Hyperlapses, and can incorporate augmented reality stickers to add character to your shots.
Perhaps the most intriguing aspect of the z4, though, is that it supports Motorola's Moto Mods – meaning that you can modify your phone with optional add-ons, including a 360 camera, battery pack, game controller, Alexa-powered speaker, Hasselblad camera housing or a 70-inch projector.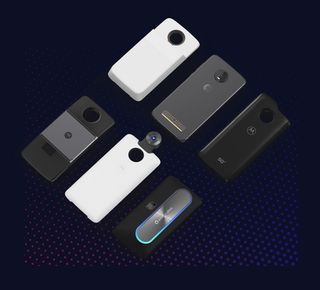 It can also be expanded with the Motorola Moto 5G Mod, which has already clocked speed tests of 1.3 Gbps on the Vorizon network, to take full advantage of the superfast 5G network.
In terms of pure specs, the z4 features a Qualcomm Snapdragon 675 octacore processor with 4GB of RAM, 128GB of storage (expandable to 512GB with a microSD card), a 6.4-inch 19.5:9 OLED screen with integrated optical fingerprint sensor, and a whopping 3600mAh battery that lasts up to 2 days.
Oh, and it's got a 3.5mm headphone jack, too.
The Motorola moto z4 will be available from 06 June for $499, and will come bundled with the Moto 360 Camera Mod from select retailers.
Read more:
What is 5G, and what does it mean for photographers?
Google Pixel 3a & XL: premium camera phone performance at mid-range prices
The best camera phone in 2019: ultimate smartphone cameras on test