Modern phones are so good at photography and video that you'll probably want to use them EVERYWHERE. And now, with Peak Design's ultra-clever magnetic mounting system, you probably can.
It's based around the company's SlimLink mounting system, which we're told has been in development for four years. It's a slim, square attachment mechanism just 2.4mm thick that's built into Peak Design's Everyday Case, which will be available for a iPhone and Samsung devices, but there is also a slim Universal Adaptor which can attach to practically any phone or hard non-textured case via its own adhesive pad.
The SlimLink system has a square inner mounting slot/recess backed by magnets, and the Peak Design mounts have corresponding square panels which snap into this slot via powerful magnets. Some mounts, like the bike mount, will have an additional spring loaded physical lock for extra security.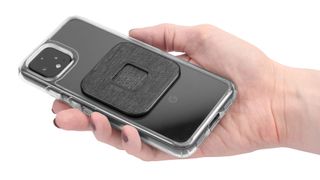 We've tried early pre-production samples, and the magnets are extremely powerful and once in place the phone mounts feel rock-solid. The mini-tripod is mini-masterpiece of design and engineering, folding flat to a shape no longer or wider than a credit card.
The square mounting design of the SlimLink system means you can attach the mount with the phone either horizontal or vertical.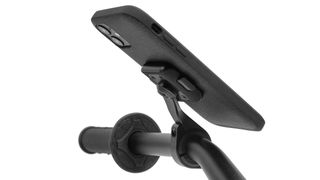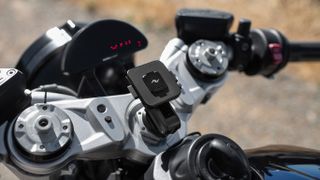 What about iPhone 12 MagSafe?
Phone fans will be aware that the just-launched iPhone 12 has its own magnetic mounting system. That sounds like it could be bad news for a company that's just launched its own magnetic mounting system, but Peak Design says the timing is perfect and it's aiming for cross-compatibility between its own system and Apple's MagSafe.
Peak Design says its own soft-locking mounts and accessories including the Tripod, Wallet, Charging Stand, Wall Mount and Car Mounts, will work with Apple MagSafe phones and cases.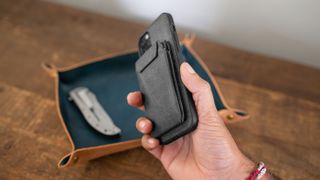 You will also be able to charge your iPhone 12 in a Peak Design Everyday Case on an Apple MagSafe charger and other Apple MagSafe accessories, like the Apple wallet, will attach to the Peak Design case.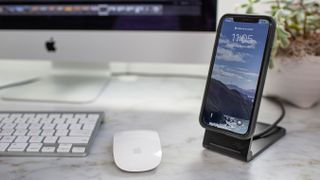 What are the mounts and when can you get them?
There's good news and bad news. The good news is that the mounts will include the mini-tripod, bicycle mount, motorcycle mount (steering stem), car (dash) mount, wall mount, tilting desk mount and wallet.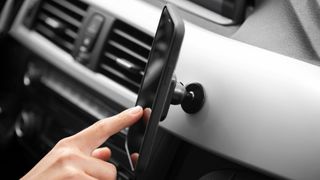 The bad news is that although the products are announced now, Peak Design is not expecting to start shipping them via the Peak Design website or retailers until Spring 2020.
We also have no word yet on pricing – from previous Peak Design products we would expect premium pricing based on the quality of the manufacture, but affordable nonetheless.
Peak Design's aim is to make your phone available for a whole range of uses and a constant companion not just in your pocket but available to record all your travels and adventures, which does make the Mobile by Peak Design system sound a lot more interesting than just another phone case.
Read more:
• Best iPhone for photography
• Best phone cases
• Best iPhone 11 cases
• Best iPhone supports
• Best smartphone gimbals