Samsung has seriously set the bar when it comes to producing commercials, as it teams up with Marvel Studios to promote the Galaxy S23 Ultra.
I think commercials might be my guilty pleasure. Even the awful ones I find entertaining, but this one from Marvel and Samsung is a pure stroke of genius – and I'm not alone in thinking that.
I'm by no means the biggest Marvel fan; I know who Loki is, but I've barely scratched the surface when it comes to Marvel films. However, it's hard not to be impressed by the creativity behind this advert. It's entertaining, it's beautifully shot and it shows off the capabilities of the S23 Ultra in a new and creative way. You can watch it below:
From what I've gathered, Loki is missing or on the run, and two detectives enlist the features of the S23 Ultra to help them find him. Using the nighttime photography mode, the pair are able to brighten a medieval-style wanted poster, translate Latin text using Google Lens, and take a bunch of silly selfies with Renaissance artists.
By combining comedy, cinematic footage and an engaging storyline, Marvel and Samsung have managed to do something not many companies can: they've created an ad that feels like a film.
As a steadfast iPhone user, I have to take my hat off to them; it's better than anything Apple has ever come up with, and I have a sneaky suspicion it all comes down to the fact Samsung doesn't take itself quite as seriously as the California-based tech giant.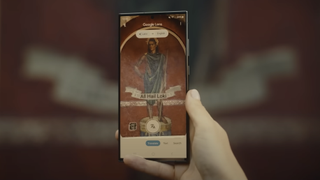 I might not be running to switch phone brands after watching the ad but I have added Loki starring Tom Hiddlestone to my watchlist. However, if the ad was enough to persuade you to upgrade, Samsung UK is currently offering a free 12-month subscription to Disney+ when you purchase a new Samsung Galaxy Ultra S23 handset.
You'll find the best Samsung phones and the best iPhones in our guide to the best camera phones. After something a little less expensive? Check out the best budget camera phones for older models that can still take a damn good picture.