Leading British documentary photographer Mark Power is one of the big names to speak on the Super Stage at The Photography Show & The Video Show 2021 – catch him on 18 September at 1.15pm.
He will offer an insight into two of his projects which are separated by 16 years: The Shipping Forecast and Good Morning, America (Volume Three).
We caught up with Mark to find out more about what he will be covering on the Super Stage – thanks to Covid-19, the special gallery event in London that was held for Good Morning, America in February 2020 feels like a long time ago…
What have you been working on during the last 18 months?
I found it very difficult to produce new work during the pandemic. I made some pictures during long walks through Brighton, where I live, and more recently I've started to photograph a wood we frequently visit, but I think I needed time away from a camera.
That said, the last 18 months haven't been wasted: I moved studios (an enormous task), edited, sequenced and published Good Morning, America (Volume Three), edited and sequenced my next book, Terre à l'Amende, which goes on press next week, and I'm progressing well with a planned, much expanded reprint of my first book, The Shipping Forecast.
Looking back, it feels like I've achieved a lot, and I have to say I've enjoyed spending much more time at home.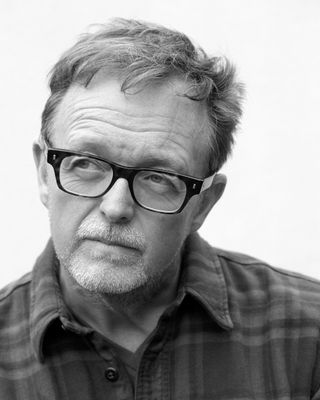 Thanks to Covid-19, are you now a little behind schedule with 'Good Morning, America'? When will you be returning to the US to carry on with it?
Yes, I'm behind schedule. I had two trips planned for the latter part of 2020, and another booked for early 2021, all of which had to be postponed.
I'm hoping I can get back there before Christmas, but of course that's pure speculation. I'm not concerned about the schedule, however; the project will be finished when it's finished.
How many states are there still to visit? In February 2020 you said you had passed 40.
Off the top of my head I think there are 10 states I've yet to go to, as well as a similar number I need to revisit.
I'm not trying to be a completist just for the sake of it, but along with the realisation that I was getting ever closer to making work in all 50 states came the decision to at least try to visit them all.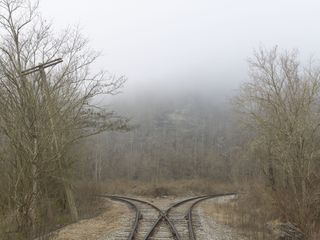 At the gallery event, you likened the Good Morning, America project to building an enormous jigsaw puzzle but not knowing what the completed picture will be. How creatively challenging is that?
Certainly it's challenging, but it's also very exciting. To be honest, I try not to think about it too much… the idea of publishing a series of books as a work-in-progress is very unusual and does ask the difficult question so relevant to all artists – exactly when is a work finished?
The nearer I get to the end, the less inclined I am to feel I need to come up with a single, definitive answer to all the questions the pictures have so far posed – can there be a single picture, or better still a final sequence of images, that says something profound about my experience of America and where it is now, or rather where it will be then?
The plan is to include several essays in the fifth and final volume in order to contextualise the work, and in so doing I'm hoping that everything will come together at once.
But for the time being, the greatest challenge is getting back to America at all…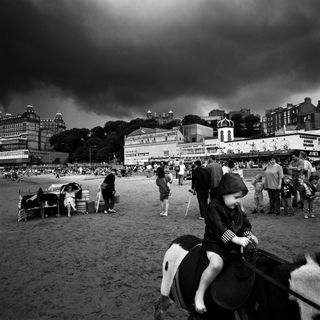 'Landscapes of the Imagination' is the title of your Super Stage talk. Was 'The Shipping Forecast' your first work to explore this theme?
Yes, I believe so. I really had nothing else to work with, since the idea of making a project inspired by a radio broadcast gave me very little to work with that was concrete.
And the project was inspired by a tea towel in 1992. For any of our audience who might not be familiar with it, how did you execute the work?
I bought the tea towel in the early 1990s, from the Royal National Lifeboat Institute (RNLI) shop in Great Yarmouth.
Maps of the Shipping Forecast's coverage seem to be ten-a-penny these days, but back then I'd never seen, or even thought about, the actual geographical locations of each of the 31 sea areas.
All at once, those wonderfully evocative names – Dogger, Fisher, German Bight and all the rest – appeared to be real places, even though the borders between them, which all lie at sea, are completely invisible.
The Shipping Forecast had been very much a part of my childhood, drifting daily from the old radio/gramophone in our Leicester home.
Ironically, Leicester is about as far away from the sea as you can get in Britain, but my Dad loved all things nautical, and much of that rubbed off on me.
Slowly but surely, the names of those 31 areas entered my consciousness (and I wasn't t alone; it turned out that hundreds of thousands of others felt the same) and after cogitating on the idea I finally decided to head out in order to discover if the reality of those places bore any resemblance to the landscapes that already existed so powerfully in my imagination.
The project took four years to complete; each picture is captioned by the 6am forecast for that particular sea area on that date. I tried to make pictures which acted as a metaphor for the beautiful, evocative, yet strangely esoteric language of the broadcast.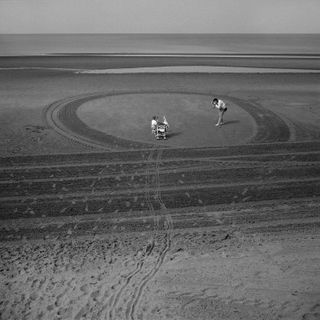 Is your former use of large-format cameras, and now a medium-format technical camera, purely an aesthetic choice? Or does it necessitate a certain way of approaching photography that produces the kind of images you want?
In my earlier years as a photographer I made that classic mistake (at least, I think it's a mistake!) of virtually superglueing a 24mm wide-angle lens onto my 35mm camera.
Looking back at those pictures, the lens seems to dominate everything, almost to the point where it becomes more important than the subject matter.
When I bought my first 5 x 4 camera, early in 1997, I knew without question that I'd found the perfect tool. These days I work almost exclusively with a standard lens, striving to make pictures which are as close as possible to the way we see.
Unless (for instance) you're standing right underneath the Empire State building, looking up at the summit, our brains always sort out perspective; buildings and horizons are straight, there are no converging verticals, there's no distortion.
In other words, a technical camera is able to replicate, albeit only in two dimensions, the way we see. So you could say my choice is closer to your latter description than the former.
See Mark Power at The Photography Show 2021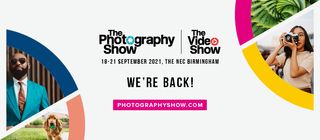 Mark Power's talk 'Landscapes of the Imagination' takes place at 1.15pm on 18 September at The Photography Show & The Video Show 2021.
To find out more, and buy tickets, visit www.photographyshow.com
Read more
The Photography Show 2021 Super Stage line-up
The best medium-format camera in 2021
The ultimate guide to street photography